Vietnamese Pho is a Viatnamese soup that is very well known for it's healthy benefits and delicious flavor.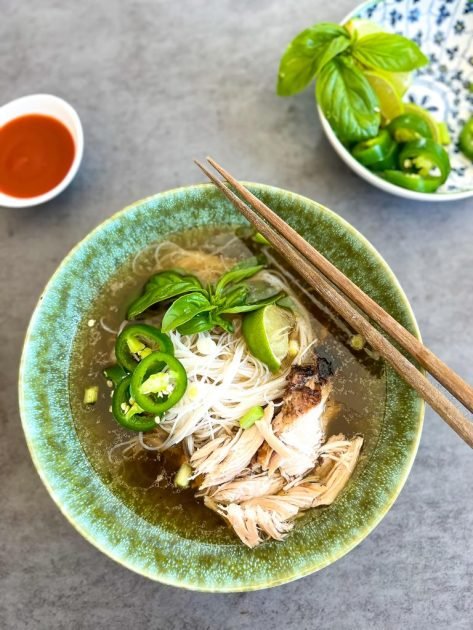 Rice noodles, organic chicken, spiced broth, mint, basil, cilantro, sriracha, and hoisin sauce, create this widely popular and delectable dish, Pho.
A favorite of my own, I always thought Pho was too complicated to make at home. Boy was I wrong!
Pho is incredibly easy and can be made in a crockpot so all you have to do is set it and forget it.
Serve this recipe with chicken, steak, or vegetables. It's the perfect comfort meal on a cold day, or when you're under the weather and need a healthy boost.
This recipe is packed with nutrients and natural collagen from the chicken bones that help to optimize gut, skin, nails, and muscles.
Serve with my kimchi salad for the perfect meal!
If you like this recipe, please leave a comment or share it with someone you know.
For more recipes like these try some of our other recipes:
To follow Nikki regularly and stay up to date on what she's doing, follow her on the gram!
Ingredient Lists:
filtered water
chicken broth
beef broth
whole chicken
carrots
celery
onion
bay leaves
garlic peels
ginger
whole cloves
coriander seeds
cinnamon stick
whole star anise
fish sauce
cooked rice noodles
fresh mint leaves
fresh basil leaves
fresh cilantro
jalapenos
sriracha sauce
hoisin sauce
bean sprout
avocado oil
salt and pepper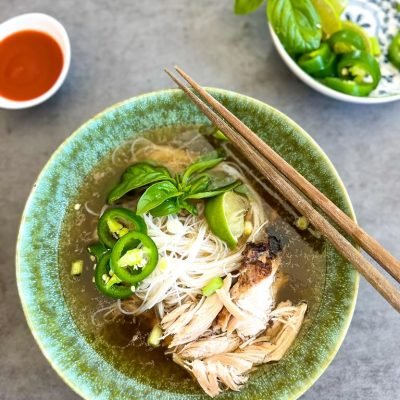 Vietnamese Pho
Ingredients
4

cups

of filtered water

2

cups

chicken broth

2

cups

of beef broth

1

whole

chicken

2

carrots, peeled and roughly chopped

2

stocks

of celery, roughly chopped

1

onion, peeled and cut in half

2

bay leaves

3

3 garlic peels

2

inch

piece of ginger, peeled and roughly sliced

1

tablespoon

of whole cloves

1

tablespoon

of coriander seeds

1

cinnamon stick

1

tablespoon

of whole star anise

1/4

cup

fish sauce

1

package

of cooked rice noodles

fresh mint leaves

fresh basil leaves

fresh cilantro

2

jalapenos, sliced

sriracha sauce

hoisin sauce

bean sprout

avocado oil for drizzling

salt and pepper to taste
Instructions
Rinse and clean out the chicken. Season the inside and outside with salt and pepper. Place a large pan over medium heat and drizzle the bottom with avocado oil. When the oil is hot, add the chicken and brown both sides. When the chicken is golden brown, remove it and place it in a large crock pot.

Next, put the whole clove pieces into the onion and add the onion, garlic, carrots, celery, and whole spices to the pan. Cook for 5-10 minutes on medium heat or until the ingredients are lightly brown and toasty.

Place the spices, vegetables, and ginger into a crock pot and pour in water, chicken broth, and beef broth. Make sure the chicken is covered. If the chicken is not covered, add more water. Add the fish sauce, cover, and let it simmer for 6 hours.

When the mixture is done simmering, remove the chicken. It should be falling off the bone; then, place it on a cutting board until ready to use and set aside. Take the broth and strain through a fine mesh sieve to discard the whole spices.

To serve, place the rice noodles in a bowl and pour broth over the top. Add the sliced chicken and garnish with mint, basil, green onion, bean sprouts, jalapenos, or whatever you desire, and serve with a side of sriracha sauce and hoisin sauce. Enjoy!