Chicken Pozole Verde is a traditional Mexican soup made with roasted green chilis, tender white flesh chicken, and garbanzo beans. Pozole is a traditional Mexican dish prepared with pig, red chile, and hominy.
The season has returned when the weather turns cold, the leaves change, and we crave hearty, savory fare. That is, if you happen to reside in a cooler region; here in Arizona, we simply dress as though it were Fall, donning long sleeves and cooking hearty soups, stews, and other comfort meals despite the fact that the temperature is still hovering around 90 degrees F.
For all of the lucky people that get to soak up the Fall weather this recipe is perfect for those chilly temps!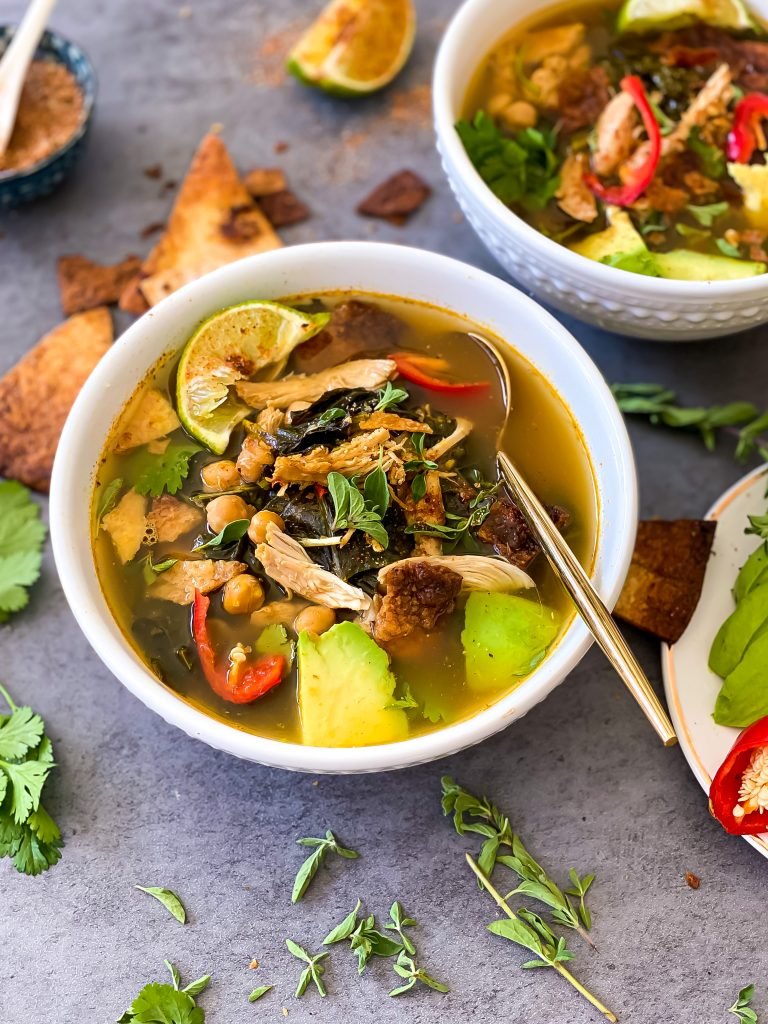 This version of Mexican Pozole is a quick version that can be made in about 30 minutes or less, making it the perfect winter soup for any night of the week.
Serve Chicken Pozole Verde with fresh avocado, crispy homemade tortilla chips, and zesty lime wedges.
Chicken Pozole Verde
green chili, onion and garlic roasted in a blend of Mexican spices and then added to organic chicken broth to create a tasty and healthy soup. Topped with fresh chicken and garnishes.
Ingredients
1/4

cup

Mexican spice blend

3

tbsp

avocado oil

2

serrano peppers

2

jalapeños

2

green anaheim peppers

1

white onion

4

cloves

garlic

6

cups

chicken stock

1

bunch

kale

2

cups

garbanzo beans

1

rotisserie chicken- cut up

1

avocado- sliced

1

package

corn tortillas- cut into wedges

1-2

limes- cut in wedges
Instructions
Pre-heat the oven to 425 degrees

Place onion, green chilis and garlic on a cookie sheet. Drizzle avocado oil on top and sprinkle 3 tbsp of spice blend over the mixture. Using your hands, rub the oil and seasoning blend all over the chilis, onion and garlic. Place in the oven and roast for 15 min.

When chilis are done roasting place them into a food processor or blender and set aside. On the same baking sheet add your tortillas. Sprinkle with avocado oil and seasoning blend. Mix well and place in the oven for about 10 minutes, or until they are brown and crispy.

Place chicken stock in a pot over medium heat. While stock is heating, place the chili mixture in a food processor and puree. Add 1-2 large tbsp of the chili puree to the pot and bring to a boil. Note: you can add additional chili puree if you desire a spicy soup.

Next, add garbanzo beans and kale. Let the mixture simmer for a few minutes and then taste. Add more seasoning blend as needed.

Finally, add the chicken and allow the soup to simmer for 10 minutes.

To serve, add soup to a bowl and garnish with fresh avocado, lime, extra seasoning and homemade tortilla chips.

Enjoy!
If you like this recipe, please leave a comment or share it with someone you know.
For more recipes like these try some of our other recipes:
To follow Nikki regularly and stay up to date on what she's doing, follow her on the gram!
Ingredient Lists:
Mexican spice blend
avocado oil
serrano peppers
jalapeños
green anaheim peppers
white onion
garlic
chicken stock
kale
garbanzo beans
rotisserie chicken
avocado
corn tortillas
limes