This Pasta with Prosciutto and Pumpkin Cream Sauce takes 30 minutes to wow your hungry guests and… its festive. There's no time to waste, lets get to it!
Let the countdown begin!!
I don't know about you, but I am beyond excited to get this Holiday season underway. Don't start stressing about what to make for the 20 plus guests you're about to have…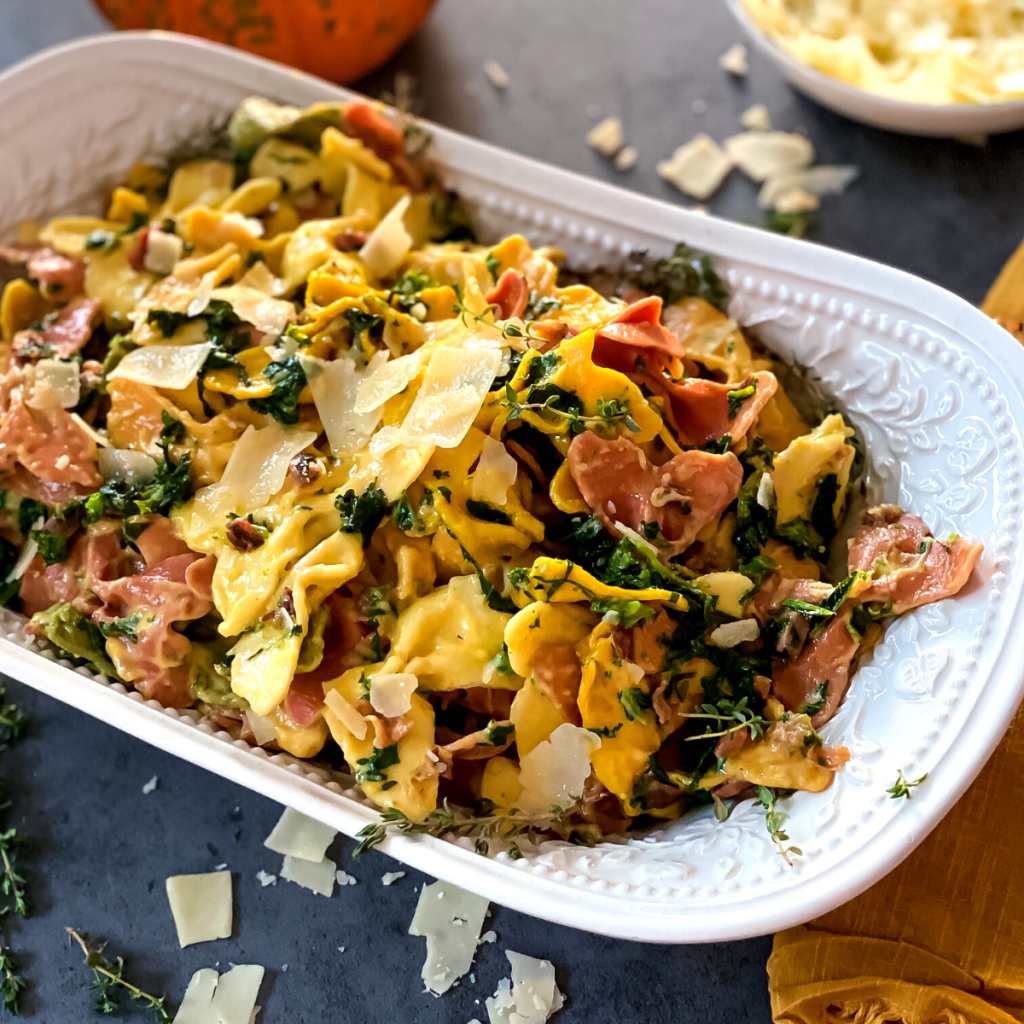 To prepare for our Pumpkin Prosciutto Pasta, finely chop broccoli rabe and a package of prosciutto, along with 2 cloves of garlic. In a large sauce pan, add in your prosciutto and chopped garlic, cook until garlic is fragrant and prosciutto is crispy and golden. Then add in your broccoli rabe and sauté all three ingredients until broccoli rabe is soft. Reduce the heat to low, so you can start the pasta.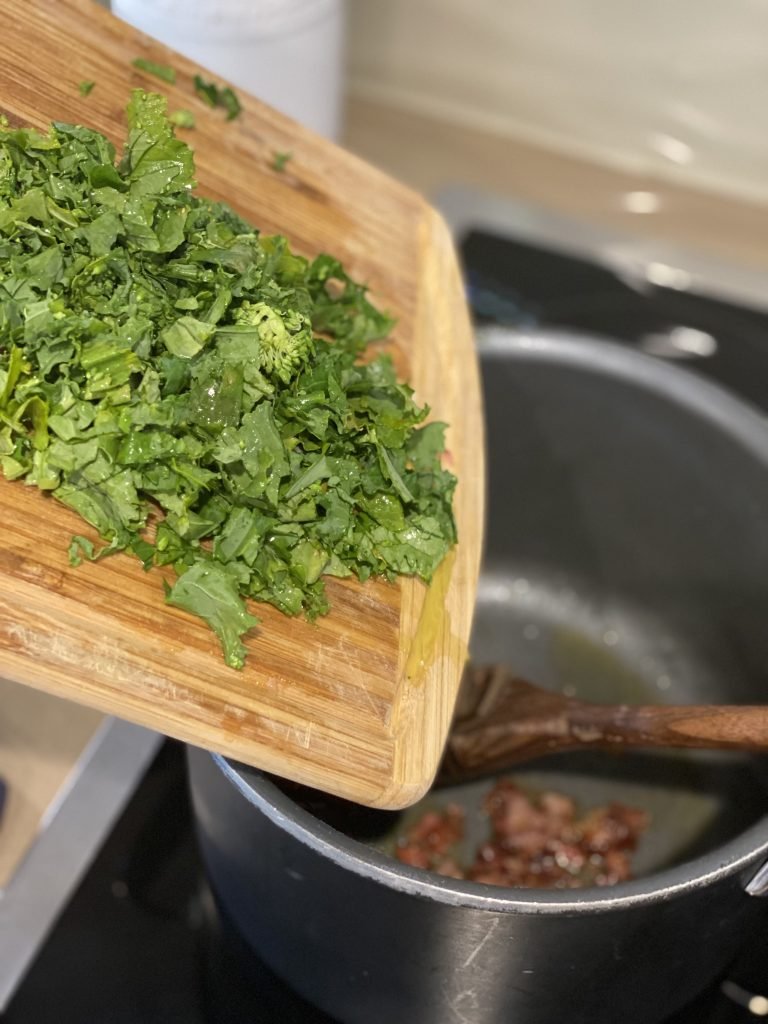 I chose Bowtie pasta for this recipe, but absolutely any type of pasta works. Start by bringing a large pot of water to a boil, adding 1 tbsp. of olive oil to the boiling water then and add your pasta. We want the pasta to be Al Dente, not uncooked and not overcooked, tender and not mushy. After pasta is Al Dente, measure out 1/4 a cup of the water that the pasta was boiling in, and drain the rest. Set aside your drained pasta. This water will be placed Into the pumpkin sauce later on.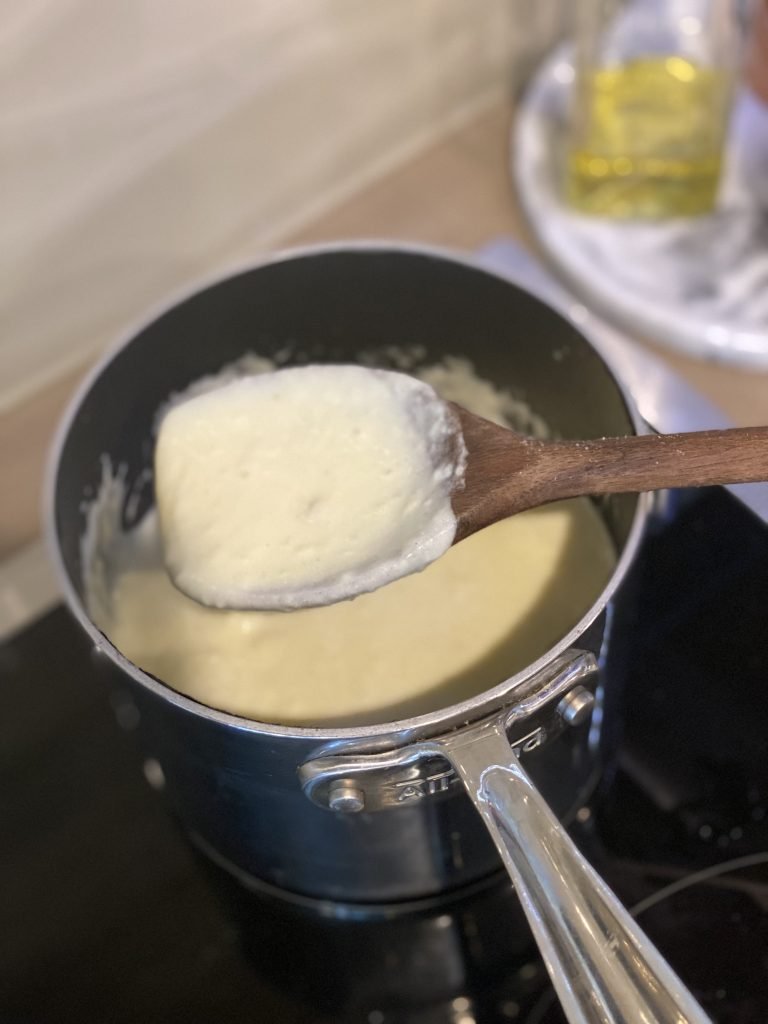 For the pumpkin sauce portion of this recipe you'll need a small to medium sauce pan. Melt 3 tbsp. of butter over medium heat. When the butter is melted stir in the 2 tbsp. of flour, slowly, until a roux is formed. A roux is just a combination of a fat, like butter and flour, to form a pasty thick sauce. Remembering the 1/4 cup of pasta water that was set aside, add it into the roux along with 1/2 cup of heavy cream. Stir to combine and allow it to boil. Once boiling, reduce the heat to a medium low.
Now here's the where the magic happens, fold in 1 cup of Italian cheese. The sauce should be getting thicker, the desired consistency should effortlessly cover the back of a spoon. Our last step is adding in 1/4 cup of pumpkin and season with salt and pepper if needed. I highly doubt you'll need a lot, the pumpkin brings the flavor for you. Combine all the ingredients, serving the Pumpkin sauce on top, or mixing it into the pasta in it's entirety.
Serving this dish with fresh parmesan cheese over top added that last bit of holiday magic. The creamy sauce has all the right hints of the Holidays will keep the bellies of those hungry guests happy. With not too much time to waste in the kitchen, you'll be able to sit down and enjoy your delicious Pumpkin Prosciutto Pasta with everyone!
If you like this recipe, please leave a comment or share it with someone you know.
For more recipes like these try some of our other recipes:
To follow Nikki regularly and stay up to date on what she's doing, follow her on the gram!
Ingredient Lists:
bowtie pasta
prosciutto
broccoli rabe
garlic
flour
butter
Italian cheese blend
heavy cream
water
pumpkin
parmesan cheese
olive oil
salt
pepper
Pasta with Prosciutto and Pumpkin Cream sauce
Fresh Italian pasta cooked to perfection and then mixed with prosciutto, broccoli rabe, and a creamy pumpkin cream sauce.
Ingredients
1

package

bowtie pasta

any pasta can be used

1

package

prosciutto- chopped

1

bunch

broccoli rabe- finely chopped

2

cloves

garlic- chopped

2

tbsp

flour

3

tbsp

butter

1

cup

Italian cheese blend

1/2

cup

heavy cream

1/4

cup

water

1/4

cup

pumpkin

this is optional depending on taste and season

1/2

cup

parmesan cheese- grated

olive oil for drizzling

salt/pepper for taste
Instructions
Bring a large pot of water to a boil. Add your pasta and 1 tbsp of olive oil. Cook until al dente. Scoop out 1/4 cup of pasta water and then drain the pasta and set aside.

In a large sauce pan over medium heat add prosciutto and garlic. Saute for a few minutes until garlic is fragrant and prosciutto becomes crispy. Add the broccoli rabe and saute for a few minutes until soft. When cooked, reduce heat to low.

In a small sauce pot melt butter over medium heat. When butter is melted, add the flour and stir until a light paste is formed. Slowly pour in the cream and water. Stir to combine the ingredients. When the mixture comes to a boil reduce heat to medium/low and add Italian cheese blend. Stir continuously until a sauce has formed. It should be thick enough to coat the back of a spoon. Last, stir in pumpkin. Taste and add salt as needed.

Add the cooked pasta to the prosciutto and broccoli mixture. Spoon the sauce over top and mix the pasta with all of the ingredients. Add desired amount of cream sauce. Pour in a couple of tablespoons of water to help the sauce stick to the pasta. Taste and add salt/pepper if needed.

Pour pasta mixture into a large serving bowl and sprinkle with fresh parmesan cheese. Enjoy!