Everyone loves comfort food, especially Macaroni and Cheese. This recipe caters to anyone who has a gluten intolerance, or tries to steer clear from gluten. The best part is that you still get the same great flavor and taste. Gluten Free Macaroni and Cheese is made with a three cheese sauce that is so creamy and velvety. This incredible sauce is placed over organic gluten free pasta and then topped with Parmesan, garlic, parsley and panko bread crumbs. The dish is then placed under the broiler to lightly toast the top. This topping gives the Gluten Free Macaroni and Cheese and nice crunch and also adds a layer of flavor. If you're looking for a gluten free alternative to Macaroni and Cheese this recipe is for you!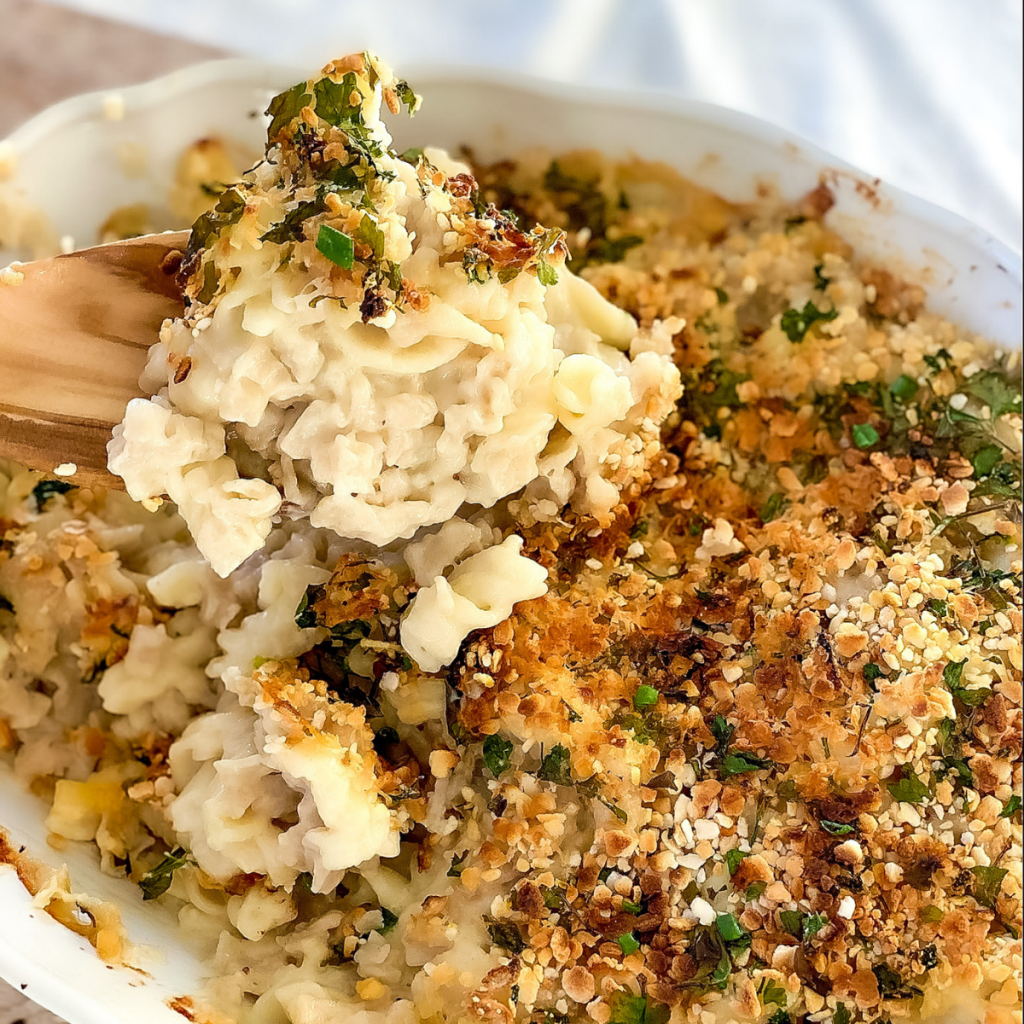 What kind of flour is used to make the sauce? 
When making a cheese sauce you will need to start with a roux which is the foundation of the cheese sauce. What is a Roux? A roux is a mixture of flour and oil/butter to create a paste. This paste helps to thicken the milk that is added and give it the thick sauce consistency. To make a roux you normally use traditional flour. In this recipe I use gluten free flour. Arrow root starch can also be used, but I suggest gluten free flour instead, it has a better taste.
What kind of noodles can be used? 
Any gluten free noodles can be used in this dish. Look for noodles that are smaller in size and not spaghetti or fettuccini. When cooking the noodles be careful not to overcook them. If the noodles are cooked for too long they will become mushy. It's better to undercook them slightly because they will continue to cook when mixed with the sauce and placed under the broiler.
How long do the bread crumbs need to toast under the broiler? 
After you sprinkle the panko topping onto the macaroni and cheese you want to place it under the broiler to lightly toast. This should take a matter of minutes. You want to make sure and watch the bread crumbs to ensure they don't burn. The goal is to lightly toast the panko and garlic to release the flavors into the macaroni and cheese.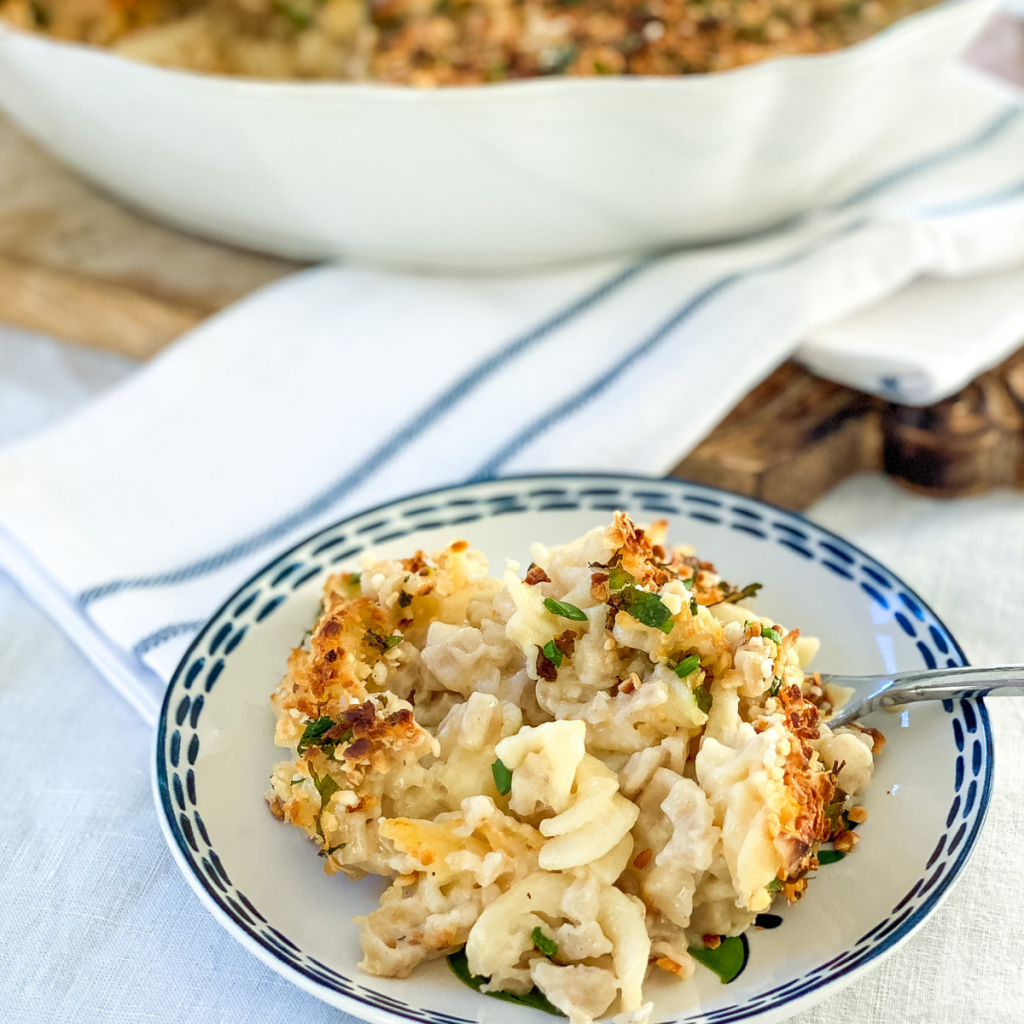 Gluten Free Macaroni and Cheese
Gluten free pasta that is covered in a homemade three cheese sauce, then topped with a gluten free garlic and Parmesan crumb topping.
Ingredients
2

cups

gluten free pasta

use macaroni or any other small pasta

8

oz

cheddar cheese- shredded

1/2

cup

parmesan cheese- grated

1/4

cup

gruyere cheese- grated

1/4

cup

cream cheese

1/4

cup

gluten free flour

arrow root starch can be used as well

2

cups

milk

1/3

cup

olive oil or butter

1/8

tsp

cayenne pepper

1

tsp

nutmeg

1/4

cup

panko bread crumbs- gluten free

1/4

cup

parsley

2

cloves

garlic- chopped

salt for taste
Instructions
Bring a medium pot of water to a boil. Add a tsp of olive oil and gluten free pasta and cook until al dente (cooked but not mushy).

Place a second pot over medium heat and add olive oil/butter. When oil is hot add the flour. Stir continuously to ensure the flour doesn't burn. Cook the roux (flour mixture) for about five minutes. The goal is to cook it enough to get rid of the flour taste. Next, add the milk and bring the mixture to a boil. Continue to stir to make sure the roux and milk are well combined.

When milk mixture starts to boil and thicken add the cheddar and cream cheese. Using a whisk stir the mixture to get rid of any lumps and to help smooth the sauce. Turn the heat down to medium low so the bottom of the sauce doesn't start to burn. Last, add 1/4 cup parmesan cheese, gruyere cheese, cayenne, nutmeg, and salt for taste. Using a spoon taste the sauce to see if it has been seasoned properly. Add more salt if desired.

Right before the pasta is done cooking take a metal measuring spoon and scoop out about 1/4 of the pasta water. Set aside until ready to use.

When the pasta is done cooking drain into a colander. Place the pasta into an oven safe dish. Spoon the cheese sauce over the pasta a little at a time until the pasta is well sauced. Add a small amount of the pasta water that was set aside. Pour it in slowly so the sauce doesn't get watery. The starch in the pasta water will help bind the sauce to the pasta.

In a small bowl combine bread crumbs, parsley, 1/4 cup parmesan cheese and garlic. Mix well. Sprinkle the bread crumb mixture on top of the mac and cheese. Place under the broiler to toast slightly.

When bread crumbs are toasted remove from the broiler and serve hot. Garnish with extra parsley.