Chicken with Olives is a beautiful blend of Mediterranean flavors. Organic chicken simmered in a white wine, saffron, crushed red pepper, and lemon sauce. Then sprinkled with green olives and fresh basil, giving this sauce a unique freshness. The chicken comes out so tender and juicy, paired with the sauce it's melt in your mouth good. Served on the side is a creamy whipped potato with hints of celery root that give these potatoes a nice bite. All of the flavors in this recipe combine to create a healthy and tasty dinner. It's a great option for a weeknight meal when time is of the essence. Chicken with Olives is an easy gourmet recipe is done within 35 minutes. Serve with your favorite vegetable to complete this meal!
What Vegetables go well with this dish?
Pretty much any vegetable would pair nicely with this recipe. Brussel sprouts or green beans are a nice paring. Anything that doesn't have a lot of seasoning. The chicken and potatoes have so many different and unique flavors that you want to keep your vegetable on the simpler side, seasoning with just salt and pepper. Too many flavors may throw off the flavors of the main dish. You can roast the vegetables in the oven or blanche them in a pot of water until tender, then lightly season with salt and pepper.
What does blanche mean?
Blanche is a cooking term that means to cook vegetables slightly in a pot of water until tender, but not soft or mushy. Usually cooks/chefs will bring a pot of water to a boil then add the vegetable and cook it for a few minutes. Once a few minutes has gone by they will then test the vegetable by tasting it to see if it has the right consistency. Once the desired result is achieved the cook will place the vegetable in an ice water bath to stop the cooking.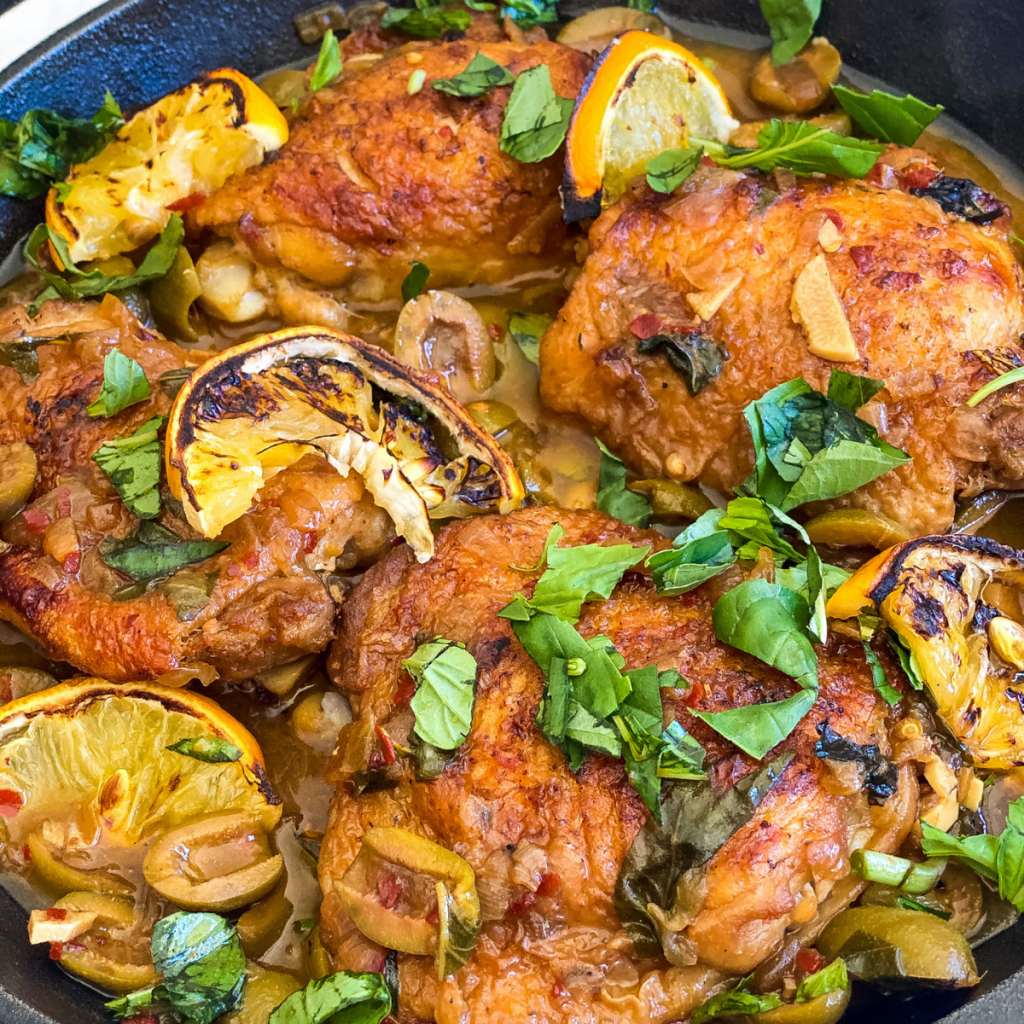 Can you make this meal ahead and then freeze it?
You can absolutely make the chicken ahead of time and then freeze it. Make sure that you put the dish into an airtight container to keep the Chicken with Olives fresh. You really want to make sure to package the potatoes nicely so they keep their freshness as well. If you're going to freeze this meal you may just want to freeze the chicken and make the potatoes the day of to ensure a good result.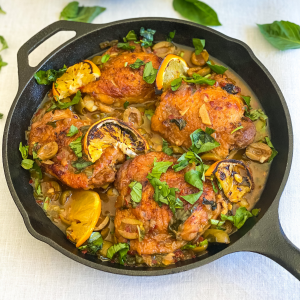 Chicken With Olives and Lemon
Organic chicken browned and then simmered in a white wine, lemon, and saffron sauce. Topped with green olives and fresh basil.
Ingredients
6

organic chicken thighs with skin on

1/2

cup

white wine

1

tbsp

anchovies-chopped

3

cloves

garlic-chopped

1

white onion-chopped

2 1/2

cups

chicken stock

pinch

saffron

1/4

cup

chopped basil

1

jar

green olives- cut in half

1

lemon- sliced

1-2

tbsp

crushed red pepper

salt/pepper for seasoning

avocado oil for drizzling

4

russet potatoes- peeled and quartered

1/2

celery root- peeled and sliced

1/2

cup

cream cheese or mascarpone cheese

3

tbsp

chicken/vegetable bullion

optional
Instructions
Season chicken thighs on both sides with salt and pepper. Place a large pan over medium/high heat. Drizzle avocado oil in the bottom. When oil is hot place chicken thighs skin side down in the pan. The goal is to brown both sides to create a crispy crust. When one side is golden brown (about five minutes) turn to the other side and brown for another five minutes. When both sides are brown place chicken on a clean plate and set aside.

In the same pan reduce heat to medium and add your sliced lemons, cook until brown on both sides. Remove lemons and place on a plate. Next, add onion and saute for a minute or two. Add garlic and anchovies to the pan, saute for about 3-4 minutes. Pour white wine into the pan to deglaze the onion mixture. Using a wooden spoon scrape up the browned bits from the bottom of the pan, this will help to add a nice seasoning to the onions. Let the white wine simmer until reduced by half. When wine reduces add 2 cups of chicken stock, pinch of saffron, crushed red pepper, and chicken back to the pan. Sprinkle olives and basil over the chicken. Bring the mixture to a boil and then reduce heat to medium/low. Let the chicken simmer for 20-25 minutes. The longer it simmers the more tender the chicken will be.

While chicken is cooking bring a medium pot of water to a boil. Add chicken/vegetable bullion to the pot (if desired). When water boils add potatoes and celery root. Cook until tender. When potatoes are soft when pierced with a fork, drain mixture into a colander. Place the potatoes back into the same pot and add cream cheese/mascarpone and remaining chicken stock. Using a mixer or hand held blender puree the potatoes. Add the stock a little at a time to ensure the mixture doesn't become too watery. You should have fluffy whipped potatoes. Taste and add salt/pepper if needed.

When chicken is done cooking taste the sauce and add salt/pepper as needed. Garnish the dish with fresh basil and browned lemon slices. Serve the chicken with whipped potatoes and desired vegetable.