Tandoori Salmon is anything but boring. Originally from India, Tandoori is usually made with chicken thats been marinated in Greek yogurt mixed with a variety of different spices, lime juice, fresh garlic, and ginger to create a marinade and sauce that is a party for your taste buds. The salmon is then placed in this flavorful sauce and marinated before baking in the oven. The salmon is then browned to create a golden brown crust that will give the salmon a nice crunch. Tandoori salmon is served with the Tandoori sauce that has been topped with a chili and green onion oil.
If you're tired of the same old salmon recipe then I highly recommend this recipe. Not only is the taste incredible, but it takes little to no effort to make this amazing dish.
Is Tandoori Spicy?
Tandoori can be spicy depending on where you go and who's making the marinade. In this recipe it was made with the spice in mind. The spice that is added to the yogurt is actually very mild and just adds a touch of heat. If you desire more spice then add a little bit extra cayenne pepper, but if you're sensitive to spice then go ahead and reduce the amount that is added to the yogurt.
How do you tenderize the salmon? 
When using salmon you really don't have to tenderize it, especially if you're using a good quality salmon. In this recipe the marinade will help to tenderize the salmon so when it's cooked the salmon comes out buttery and moist. The dish so good that it will melt in your mouth!
What can be served with Tandoori Salmon?
When it comes to this dish the salmon is so good that you could really just eat it with a sautéed vegetable. Sautéed bok choy, broccolini, asparagus, or carrots would be some of the vegetables that you could use. If you want a starch, steamed basmati rice would work very well as a side dish. Add a little coconut milk to the rice to give it a creamy and mild finish.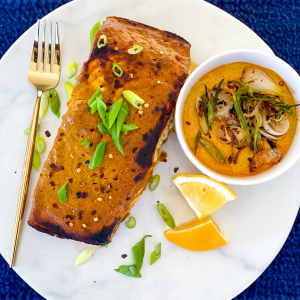 Tandoori Salmon
Wild caught salmon marinated in a greek yogurt sauce that has been loaded with fresh spices and lime.
Ingredients
2

pounds

salmon filets

1

cup

greek yogurt

2

cloves

fresh garlic- grated

1

tbsp

fresh ginger-grated

1

tbsp

paprika

1

tbsp

cayenne pepper

1

tbsp

turmeric powder

1

tbsp

cumin powder

1

tbsp

coriander powder

2

tsp

salt

2

tsp

pepper

1

tbsp

fish sauce

1/2

lime-juiced

1/4

cup

green onions- sliced diagonally

1/4

cup

olive oil

1

tbsp

crushed red pepper
Instructions
In a bowl place greek yogurt, ginger, garlic, spices, fish sauce, and lime juice. Mix well. Remove 1/4 cup of the marinade and place in a separate bowl.

Place salmon in a large bowl and pour the remaining marinade over top. Rub the marinade all over the salmon so it's coated nicely. Cover with plastic wrap and place in the refrigerator for 20 minutes.

Pre heat oven to 375 degrees. When salmon is done marinating minutes remove it from the marinade and place in an oven safe pan. Put salmon in the oven and bake for 20-25 minutes. The more well done you want your salmon the longer it should bake.

While salmon is baking place olive oil in a small pan over medium heat. When oil is hot add green onions and crushed red pepper. Saute for a few minutes until lightly browned. Once onions are cooked turn the heat off and pour the oil over the yogurt sauce.

When salmon is done cooking turn the oven off and turn the broiler on until salmon develops a golden crust on top. Make sure to watch the salmon to ensure it doesn't burn. When you see a nice golden brown color on top of the salmon it is done. Remove from the oven.

Serve salmon with the Tandoori sauce. Garnish with any leftover green onion and lemon/lime wedges.