Fresh organic cucumbers, shredded carrots, garlic, and ginger marinated in vinegar and spices to create a healthy and delicious salad.
I have always loved kimchi, not only fo the flavor, but also for the health benefits. It is something that I could eat on almost anything. The only problem is that authentic Kimchi takes a long time to create because you have to let the ingredients sit and ferment before it's ready to eat. I don't know about you, but I don't have the time to make "authentic" kimchi salad and need recipes that are fairly quick and easy for every day. That is why I love this recipe so much! You get the flavor of traditional kimchi without spending hours in the kitchen. Cucumber Kimchi Salad is made in less than 15 minutes and then marinates for 20 minutes. So easy! I do recommend making extra because this salad will go fast.
What kind of cucumbers should be used in the recipe?
This recipe uses traditional cucumbers, but the recipe can also be made with Persian cucumbers. The Persian cucumbers are smaller in size and make a nice "mini" kimchi salad. I use the smaller Cucumber Kimchi Salad when I am making mezze platters or if I want more of a garnish for my main course. Both options work well and will taste great.
How long will the salad stay fresh? 
This salad will stay fresh for several days. Unlike other salads the Cucumber Kimchi Salad gets better with time. The longer that it marinates in the fridge, the better the salad will taste. Time allows the flavors to really soak into the cucumbers and carrots to make the salad come alive.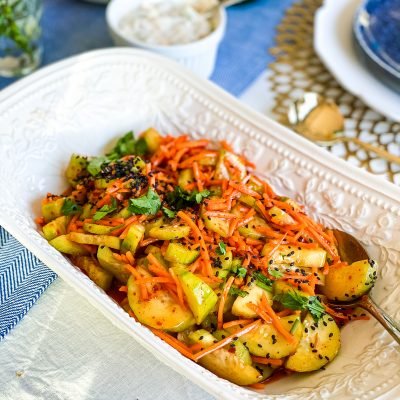 Cucumber Kimchi Salad
Fresh organic cucumbers and shredded carrots marinated in sesame oil, rice wine vinegar and red chili sauce.
Ingredients
2

cucumbers- peeled, cut in half and then sliced

1

cup

shredded carrots

1/4

cup

toasted sesame oil

3

tbsp

rice wine vinegar

1

tbsp

red chili sauce (sambal oelek)

can be found in any grocery store

1

tbsp

garlic- grated

1

tbsp

ginger- peeled and grated

1

tbsp

korean chili flakes

can be found at the grocery store.

black sesame seeds

salt/ pepper for seasoning
Instructions
Place cucumbers and carrots in a large bowl. Add garlic, ginger, oil, vinegar, chili flakes, and chili sauce to the bowl. Mix well to combine all of the ingredients.

Taste the salad and add salt and pepper to season. Be sure to add a little salt at a time so the salad doesn't become too salty. Cover and place the salad in the refrigerator for 20 minutes or longer. The longer the salad has time to marinate in the dressing, the better the salad will taste.

When ready to serve, place salad in a serving bowl and garnish with sesame seeds and extra chili flakes (if desired).