Gluten free pasta covered in rich and creamy cheese sauce, then topped with a thick and hearty mushroom bolognese sauce. Garnished with fresh Parmesan Cheese.
Being Italian I love any pasta dish, especially a good traditional Bolognese. There's nothing that beats the true comfort of a hearty Bolognese sauce. That's why I wasn't sure how a MushroomBolognese sauce would work, but I was pleasantly surprised that I didn't miss the meat. The flavor of the mushrooms simmered in red wine, tomato, and spices created a delicious sauce that was just as incredible. From start to finish Mushroom Bolognese took me 30 minutes to cook, making this recipe super quick. If you have picky eaters and/or eaters with dietary restrictions this recipe will be perfect for you. It's gluten free and vegetarian!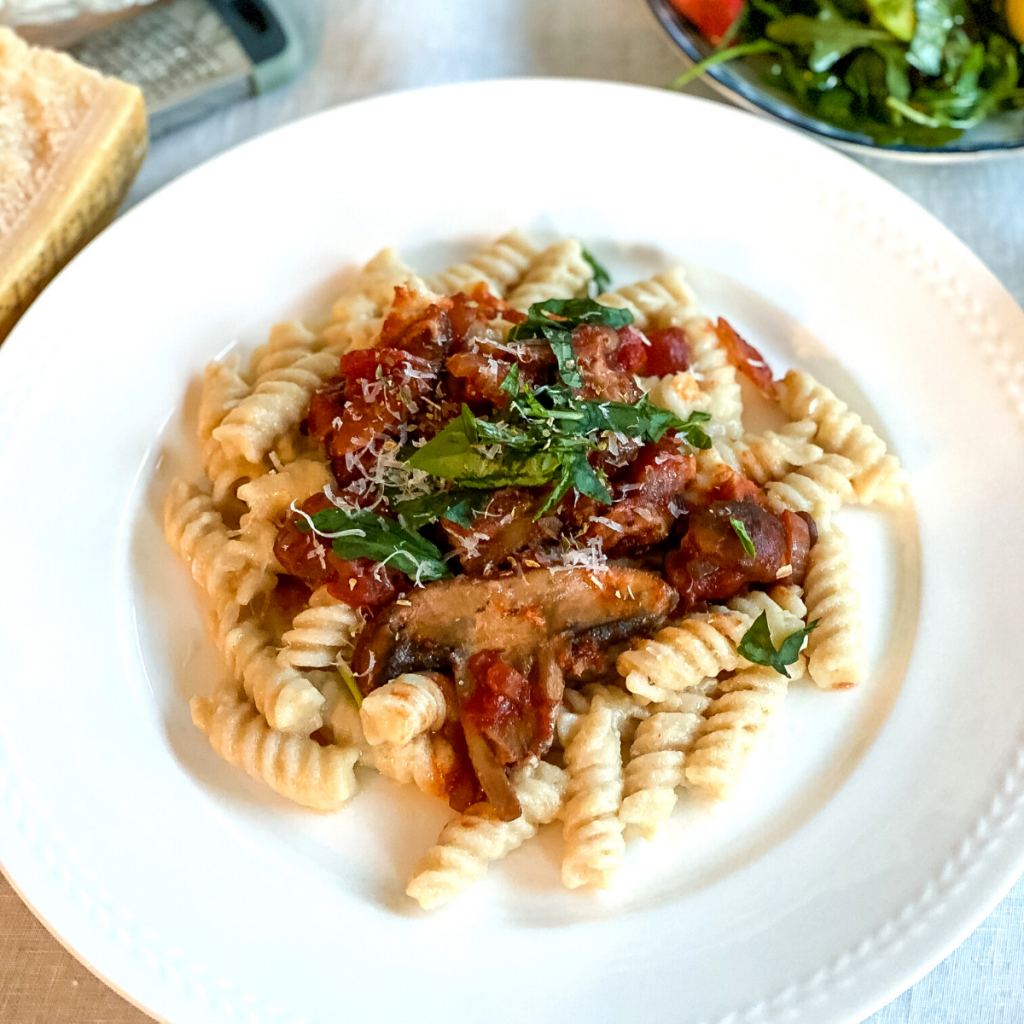 What is Bolognese Pasta?
Traditional Bolognese Pasta is a hearty meat sauce containing a mixture of bacon, pork, beef, and sometimes veal. The sauce is often thicker and creamier than your traditional Italian meat sauce. For the Mushroom Bolognese recipe the creaminess will come from the cheese sauce that is covering the gluten free pasta, adding depth of flavor to the dish.
What kind of mushrooms can be used for the sauce?
This recipe used cremini and portobello mushrooms. The portobello mushrooms offer a certain meatiness to the dish that still is able to capture the heartiness of Mushroom Bolognese. Different mushrooms can be added or mixed with the portobello mushrooms depending on desire or preference.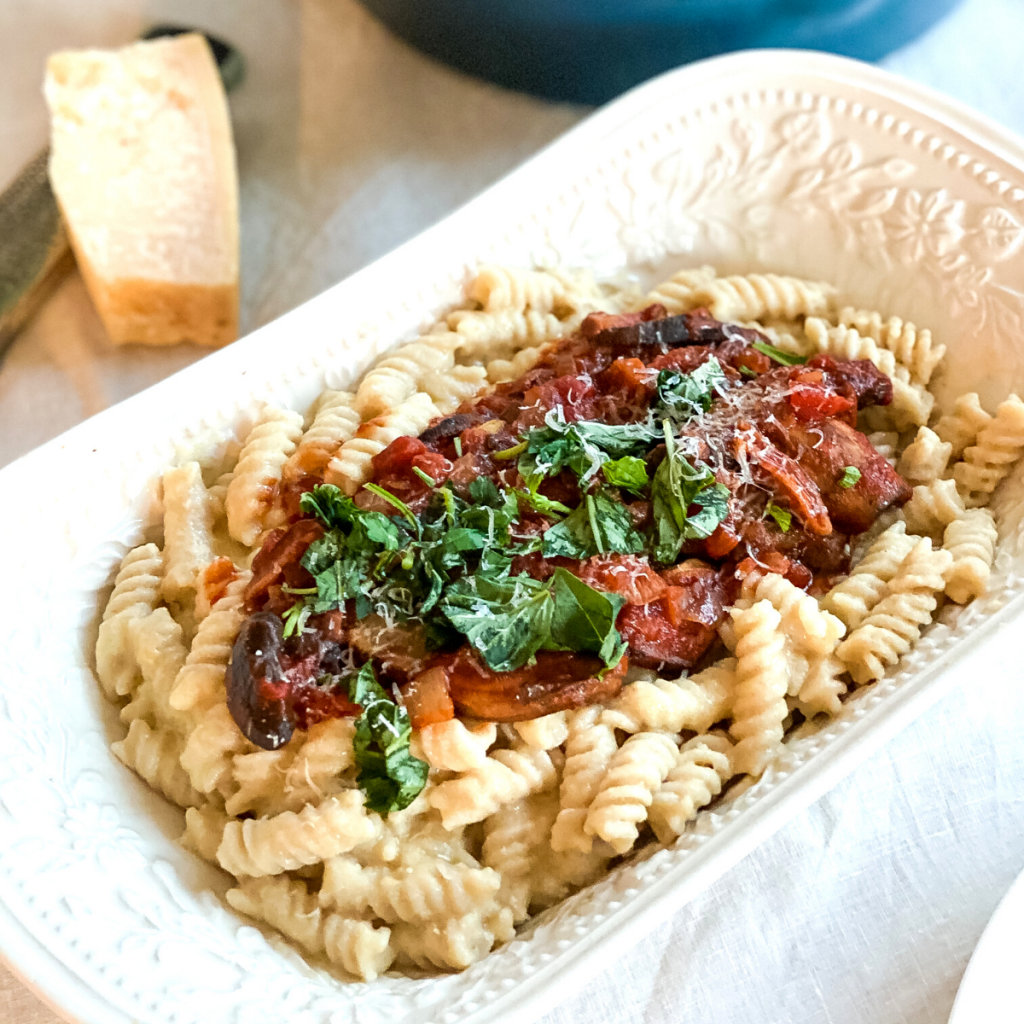 What can be served with this dish?
Mushroom Bolognese is a meal in itself. A nice salad would work well with the recipe, as well as a gluten free or regular garlic bread to soak up the saucy goodness. Don't forget to serve the meal with extra Parmesan cheese!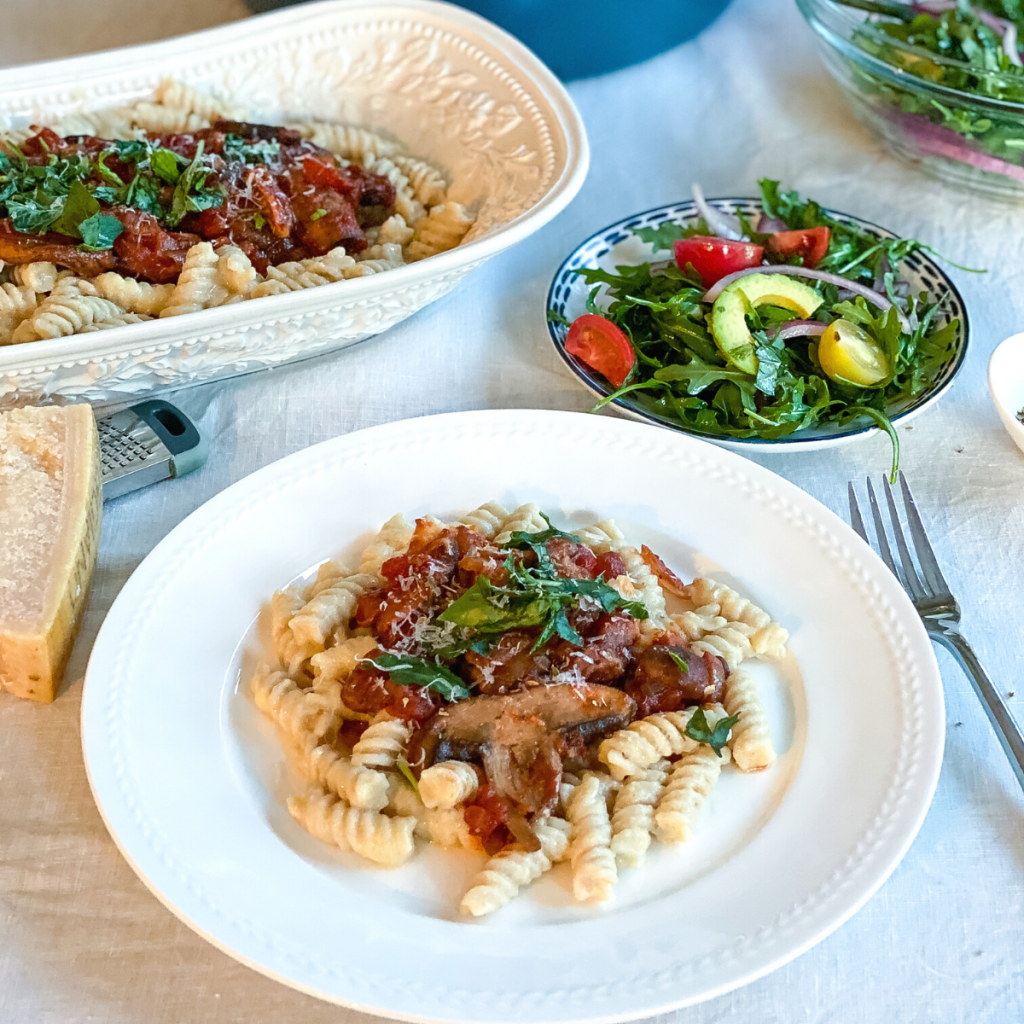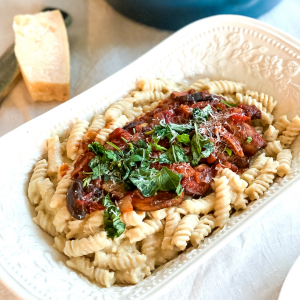 Mushroom Bolognese
Ingredients
1

box

rotini pasta- gluten free

3

tbsp

butter

3

tbsp

flour

Gluten Free if desired

8

oz

Italian Cheese Blend

can be found at whole foods or any other grocery store.

2

cups

sliced crimini and portobello mushrooms

28

oz

can of crushed tomatoes

1

tbsp

oregano

1

bay leaf

1

whole

onion- chopped

2

cloves

garlic- chopped

1

carrot- finely chopped

1

celery stalk- finely chopped

1/4

cup

red wine

olive oil for drizzling

salt/pepper for taste

shredded

parmesan cheese

the amount is preference
Instructions
Start by cooking the cheese sauce. In a small pot over medium heat add butter and flour. Allow the mixture to cook for about 5 minutes until a nice and golden color is achieved. Pour the milk into the flour mixture (roux) and bring to a boil. When mixture boils and a thick consistency is achieved add the Italian cheese blend. Make sure to stir continuously to get rid of any lumps and to keep the cheese from burning. When cheese has completely melted and sauce is smooth, reduce heat to low in order to keep the sauce warm. Season the sauce with salt.

Note: always taste the sauce as you go to ensure the right flavor has been achieved.

Place a medium pan over medium heat and drizzle the bottom with olive oil. Add chopped onion and saute until the onion is translucent. Add garlic and saute for another minute before adding the carrot and celery. Let the vegetables cook until soft. Next, add the mushrooms to the pan and stir the mixture to combine all of the ingredients. Season the mushroom mixture with salt, pepper, and oregano. Deglaze the pan with red wine. When wine reduces in half add crushed tomatoes and bay leaf. Bring the sauce to a boil and then reduce heat to medium/low and let simmer.

While sauce is cooking bring a medium pot of water to a boil. Drizzle a little olive oil in the pot to keep the pasta from sticking. When water starts to boil add your pasta. Cook pasta until al dente. When Rotini is done cooking use a metal measuring cup to scoop out about 1/4 cup of pasta water. Drain the pasta into a colander and then pour the pasta back into the same pot that it was cooked in.

Pour the cheese sauce over the noodles and stir to combine. Add a touch of pasta water to the mixture and stir again. Place the rotini in a serving platter.

Next, taste the bolognese sauce to see if it needs seasoning. Season with salt and pepper accordingly. Pour some of the Bolognese sauce over top of the rotini mixture. Sprinkle the dish with grated parmesan cheese for added flavor. Enjoy!