Need something yummy to make for St. Patrick's Day? These Mini Chocolate Stout Cakes are the answer. Rich decadent chocolate cake with hints of aged stout, then topped with a mint whipped cream, make these cakes the perfect combination for your St. Patrick's Day celebration. The outside of these mini cakes is nice and fluffy and the inside is a little undercooked and oh so good! Even if it's not St. Patrick's Day you can make these delicious Mini Chocolate Stout Cakes for any event or gathering. In about 30 minutes you have a restaurant worthy dessert.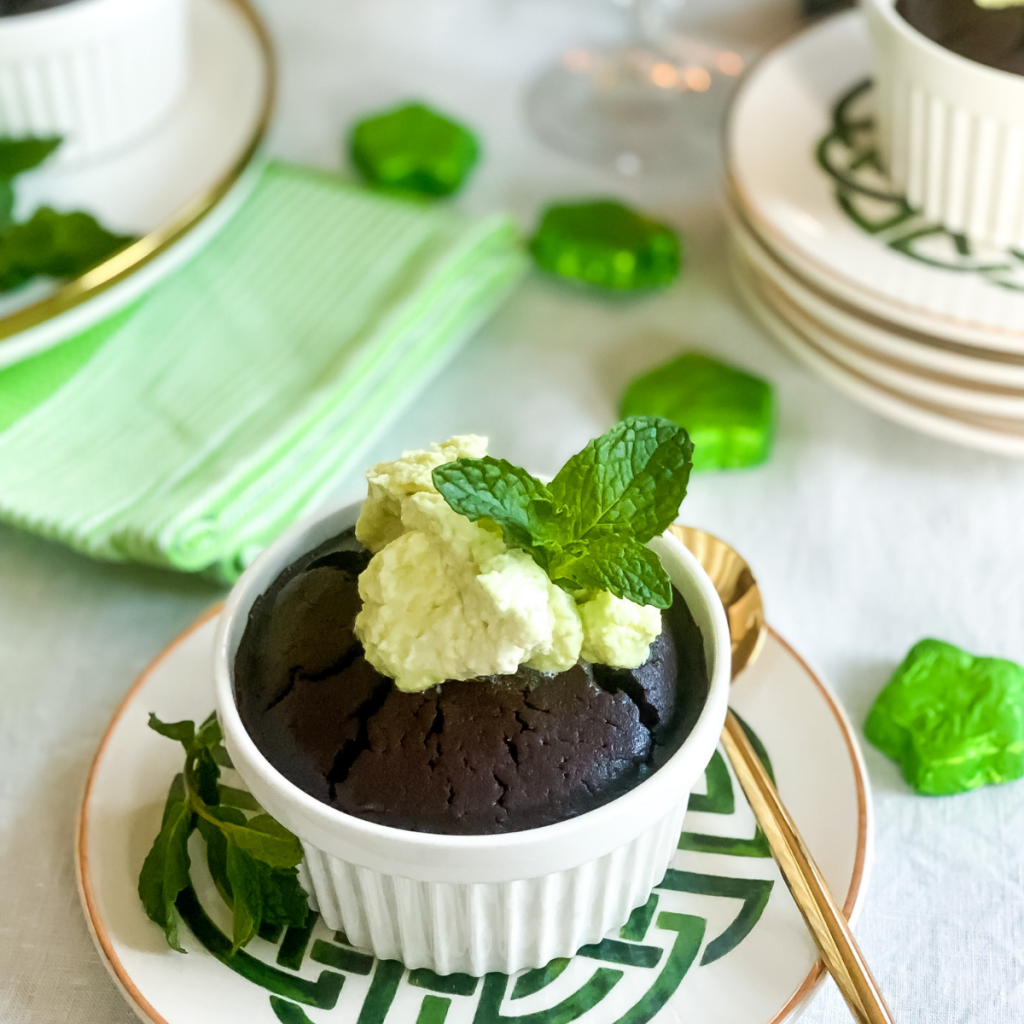 How do I make these mini chocolate cakes? 
These mini cakes are so incredibly easy to make and take no time at all. I love the simplicity of this dessert. To make these cakes you start by making the chocolate sauce and then mixing it into an egg and sour cream mixture. Once that is done then you add the flour mixture and mix to combine. Then pour the batter into ramekins before placing in the oven for 30 minutes.
What Stout should be used in the recipe?
In this recipe stout beer is used to help flavor the cakes. Some people use Guinness as their beer of choice, but in this recipe an aged whiskey stout was used. I like to experiment with different flavors, so I went to my local grocery store to browse their beer selection. I looked around until I found a stout that sounded good. You can use any stout that suits your taste.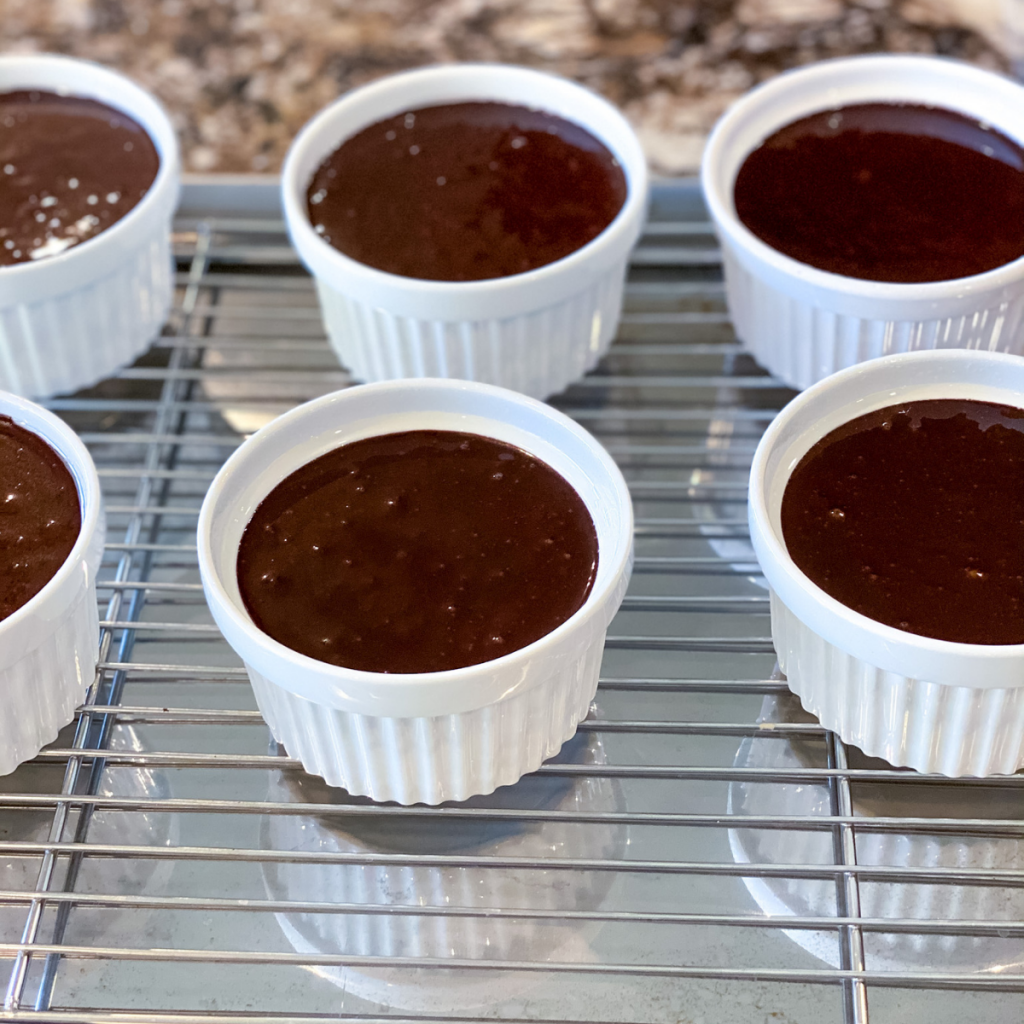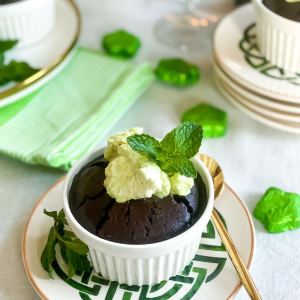 Individual Stout Chocolate Cakes
Chocolate mixed with aged stout beer to create delicious individual cakes that are topped with mint whipped cream
Ingredients
2

cups

cake flour

2

cups

sugar

2

sticks

unsalted butter

2

cups

stout beer

1/3

cup

sour cream or greek yogurt- at room temperature

3/4

cup

cocoa powder

1/2

tbsp

baking powder

3/4

tsp

salt

2

eggs- at room temperature

1

cup

heavy whipping cream

1/4

cup

mint-minced

1/4

cup

powdered sugar

avocado oil spray
Instructions
Grease 4 individual ramekin dishes with butter or avocado oil spray.

In a medium sauce pan place butter and stout over medium heat. When butter completely melts use a whisk to mix and smooth out the mixture. Remove the mixture from heat and add cocoa powder. Whisk until well combined. Set aside to let cool.

In a large bowl mix the salt, baking powder, flour, and sugar together until well combined.

Using a stand up mixer or hand held mix the eggs and sour cream together until light and fluffy. Slowly add the stout and chocolate mixture until well combined. Little by little add the flour mixture to the mixer. Keep the mixer on a slower speed and mix until well combined.

Pour the cake batter into each of the ramekin dishes. Make sure they all have an even amount. Place the dishes on a cookie sheet and place into the oven for 30 minutes, or until a toothpick comes out clean when inserted. Note: It's ok if the toothpick isn't completely clean. If you desire you can leave the center a little gooey.

While cakes are baking make your whipped cream. Add cream to a large bowl and turn on the mixer to medium/high speed. Mix until the cream thickens up into stiff peaks. As the cream is whipping start adding the powdered sugar and mint slowly. When cream is whipped and fluffy turn off mixer and place in the refrigerator until ready to use.

When cakes are done baking remove from the oven and let cool.

Once cakes are cool add a dollop of whipped cream and garnish with mint. Serve with your favorite ice cream or gelato.