Cioppino is an Italian/American fish stew using fresh fish that is simmered in a spicy tomato and wine broth. Although this dish is of Italian roots it gained it's popularity in San Francisco. The recipe was more than likely brought over by Italian immigrants and made famous in the heart of San Francisco bay where the seafood was fresh and the culture was booming. What I love about this recipe is how incredibly easy it is to make. Most people think of Cioppino and think that you will have to spend hours in the kitchen cooking it. With this Easy Cioppino recipe that's not the case, you can have fresh seafood stew made in about 30 minutes. Serve this flavorful stew with your favorite crusty bread and garden salad.
What kind of fish can be used in this recipe?
Cioppino is such a versatile recipe because you can really use any seafood that you prefer. You would want to use primarily white or shell fish in the recipe. Any crab, lobster, shrimp, mussel, clams, octopus, or white fish would be great in a Cioppino recipe. Go to your local fish market or grocery store and buy what they have in fresh that day. The fresher the fish the better the stew will be.
What can be served with this recipe?
Cioppino is great because it truly is a meal in one pot, or a "one pot meal". There are so many different ingredients in this recipe that are warm and comforting and will satisfy your every craving. That being said a good crusty bread is always a great pairing for this dish. Fresh warm bread right out of the oven that is crunchy on the outside and soft and fluffy on the inside to soak up the amazing Cioppino broth and all of it's delicious flavors. Sourdough or French bread would both work great with this dish. A beautiful garden salad with a light vinaigrette dressing would complete the meal.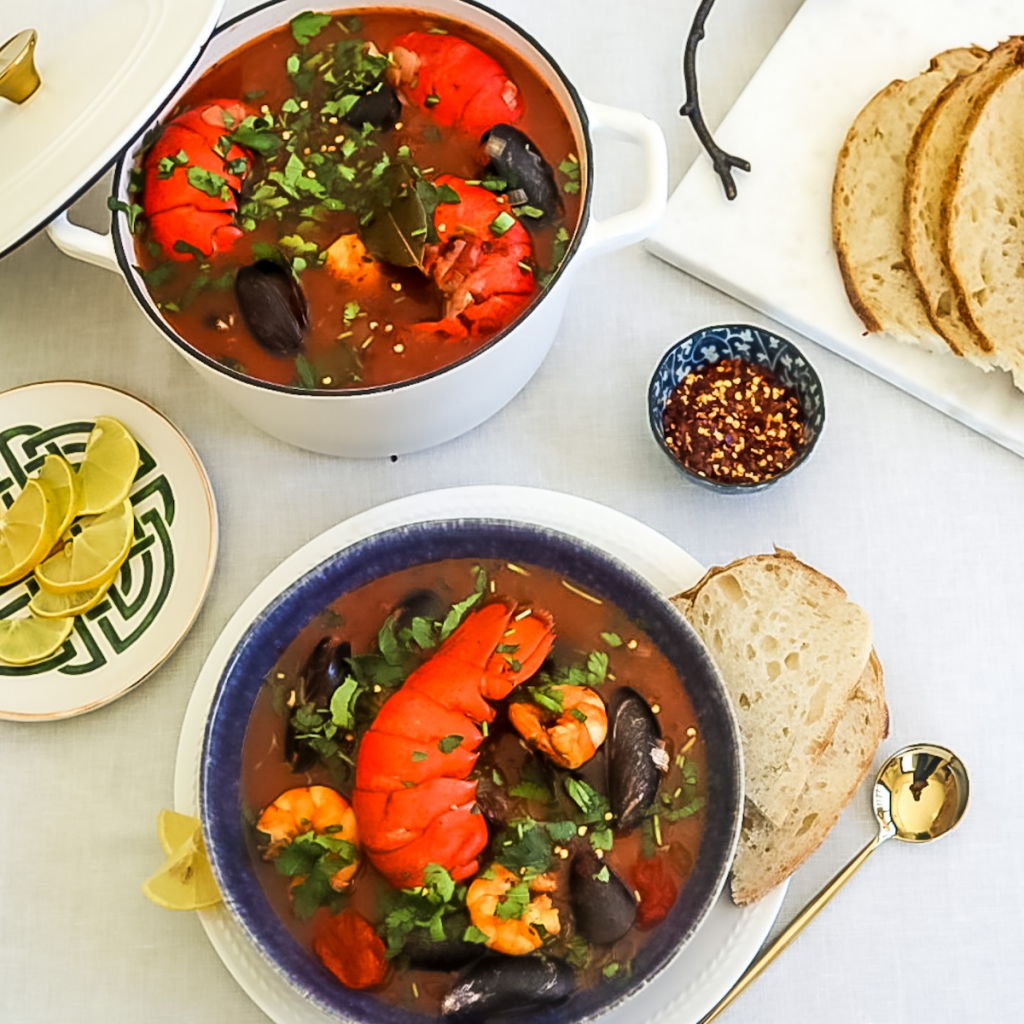 Easy Cioppino
Fresh lobster, mussels, and shrimp simmered in a spicy tomato broth.
Ingredients
1

white onion- chopped

3

cloves

garlic- chopped

2

stalks

celery- chopped

2

tbsp

tomato paste

1

cup

white wine

4

cups

fish stock or lobster stock

I use better than bullion brand

1

28oz can

chopped tomatoes

1

tbsp

dried oregano

1

bay leaf

1

tbsp

crushed pepper

add extra if you like more spice

4

lobster tails

1

pound

whole shrimp

1

pound

mussels

avocado oil for drizzling
Instructions
Place a large pot over medium heat. Cover the bottom with avocado oil. When oil is hot add the chopped onion. Let the onions saute, stirring with a wooden spoon to be sure the onions don't burn. Next, add your garlic and saute for another minute or two. When the mixture is fragrant and onions are opaque add the celery. Saute for a few minutes to allow the vegetables to become tender.

Add tomato paste to the onion mixture and saute for a minute or two. Use your wooden spoon to stir the mixture and combine all of the ingredients. Next, add the wine to your mixture to deglaze. Let the mixture simmer on medium heat until reduced by half. Once the wine reduces start adding the can of tomatoes and fish stock. Bring to a boil and add the bay leaf, crushed red pepper, and oregano to the pot. Stir to combine. Last, add all of your fish to the pot. Cover the pot with a lid and let simmer on medium/low heat for 25 minutes.

When fish stew is finished cooking, remove the lid and stir the mixture. Using a spoon taste the mixture to see if salt needs to be added. Add salt and pepper to reach desired taste. If you wish to add extra spice you can add additional crushed red pepper.

Ladle the Cioppino into bowls and serve with a side of crusty french or sourdough bread.