Garlic Biscuits is the perfect addition to any home cooked meal. No dinner is complete without warm, flaky biscuits on the side, and it doesn't get better than home cooked. I figured that because the holidays were coming up, and guests are coming to town there is no better way to spread love than with food. And no better way to spice up bland rolls than with this recipe.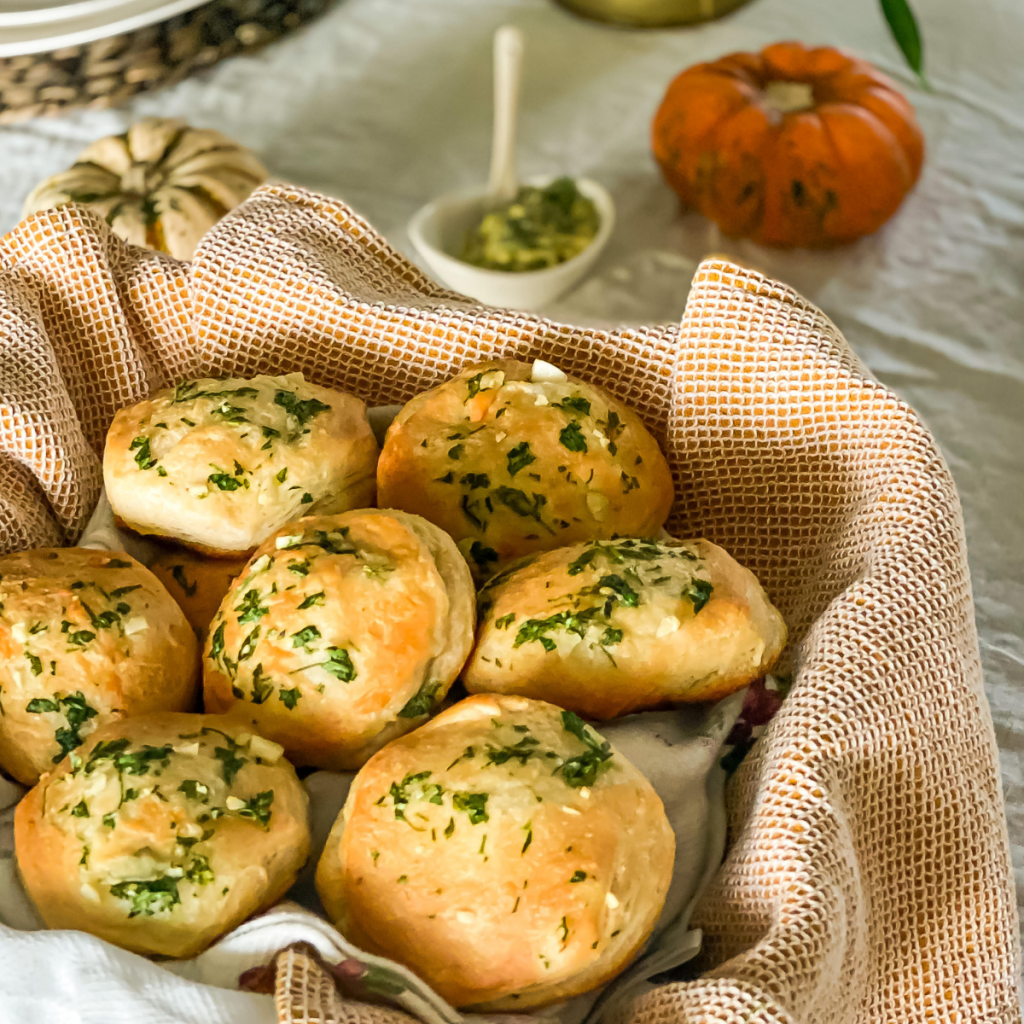 For this recipe I used an organic biscuit dough, although if you want to take it to that extra step, you can make the dough from scratch and the results will be just as delicious. I started by preheating my oven to 350 degrees Fahrenheit, and while that was warming I got to work on our simple, yet delicious, biscuit mixture. Melting one stick of butter to a liquid, adding more or less for good measure, combining 4 cloves of finely chopped garlic, 1/4 cup of  chopped parsley, and 1/4 cup grated parmesan cheese. stirring to combine into a thick paste.
Set aside mixture and open your can of biscuits. Remove all biscuits and place them onto an oiled baking sheet, I used avocado oil, but any cooking spray will work just as good. Tear or cut each biscuit in half horizontally, coat the bottom half of your biscuit with your butter mixture. Then replace the top half onto the bottom half and coat the top of the biscuit in its entirety.
Repeat this process for each biscuit and cook them in the 350 degree oven until golden brown and flakey. And in about 16 minutes they are ready to be served. To add a little extra TLC serve warm with more butter as desired.
You can never go wrong with some good old fashioned biscuits, so might as well do them the right way. I promise they will be a fan favorite. So good you'll need them for all other occasions too.
If you like this recipe, please leave a comment or share it with someone you know.
For more recipes like these try some of our other recipes:
To follow Nikki regularly and stay up to date on what she's doing, follow her on the gram!
Ingredient Lists:
butter
garlic
parsley
organic biscuit dough
parmesan cheese
avocado oil
Garlic and Parmesan Biscuits
Soft and buttery biscuit dough glazed with a garlic and parmesan butter. Baked until golden and flaky.
Ingredients
1

stick

butter- melted

4

cloves

garlic-chopped

1/4

cup

parsley chopped

1

can

organic biscuit dough

1/4

cup

parmesan cheese

avocado oil spray
Instructions
Pre-heat oven to 350 degrees

mix butter, garlic, parsley, and parmesan cheese in a bowl.

Spray a baking sheet with avocado oil spray. Remove biscuits from the can and place on a baking sheet.

Taking one biscuit at a time, pull the top part off of the biscuit. This will leave you with two halves. Spoon butter mixture on one half and then place the other half on top. Spoon extra butter mixture on top. Repeat this process until all of the biscuits are glazed.

Place the biscuits in the oven for 16 minutes, or until golden.

Remove the biscuits from the oven and serve with extra butter. Enjoy!