I don't know about you, but here in Arizona it is starting to get warm again. I was craving something fresh and light, so I came up with this recipe. Not to mention the fact that this weekend is the Super Bowl. This Mediterranean Chicken Pasta Salad would be a perfect snack for you and your guests.
This recipe is super simple and super delicious, so lets get right into it! Fill a medium sized pot about half way with water, place the pot over medium/high heat and bring it to a boil. When your water is boiling add in 8 Oz of your favorite Pasta, choose something that isn't stringy like linguine or spaghetti, anything works even vegan and gluten free options. Cook your choice of pasta until it is Al Dente, firm but not hard. Drain your pasta and place your noodles in a heat safe bowl. Set this aside to let it cool as we work on the other aspects of our salad.
For the chicken portion of the dish I grilled 4 Chicken Breasts that I cut into small cubes. It is optional if you want to season your chicken, I lightly seasoned mine with Salt and Pepper. Once your chicken is cooked and golden brown on the outside, remove it from your heat and let it cool on a plate.
The preparation for the veggies in this dish isn't too complicated and you can adjust the process however fits your preference. To start I peeled 2 Cucumbers, as well as sliced them into rounds. Next cut 1/2 cup of Cherry Tomatoes, and 1 cup of Olives, in half. Lastly roughly chop 1/4 cup of Basil and 1/4 cup of Parsley. These ingredients can be immediately combines with the cooled pasta, with 1/2 cup of crumbled Feta Cheese.
the dressing
In a small mixing bowl add in 1/2 cup Olive Oil, the juice of half a Lemon, along with 2 tbsp. Liquid Seasoning. I added about 1 tsp of both Sea Salt and Garlic Salt, as well as 1/8 tsp of Black Pepper.
Serving
In a large serving bowl combine your vegetables, pasta and chicken. Toss or mix this a couple of times and then drizzle the dressing on top. If you plan on taking this as part of your Super Bowl contribution, save the dressing on the side and add it right before serving.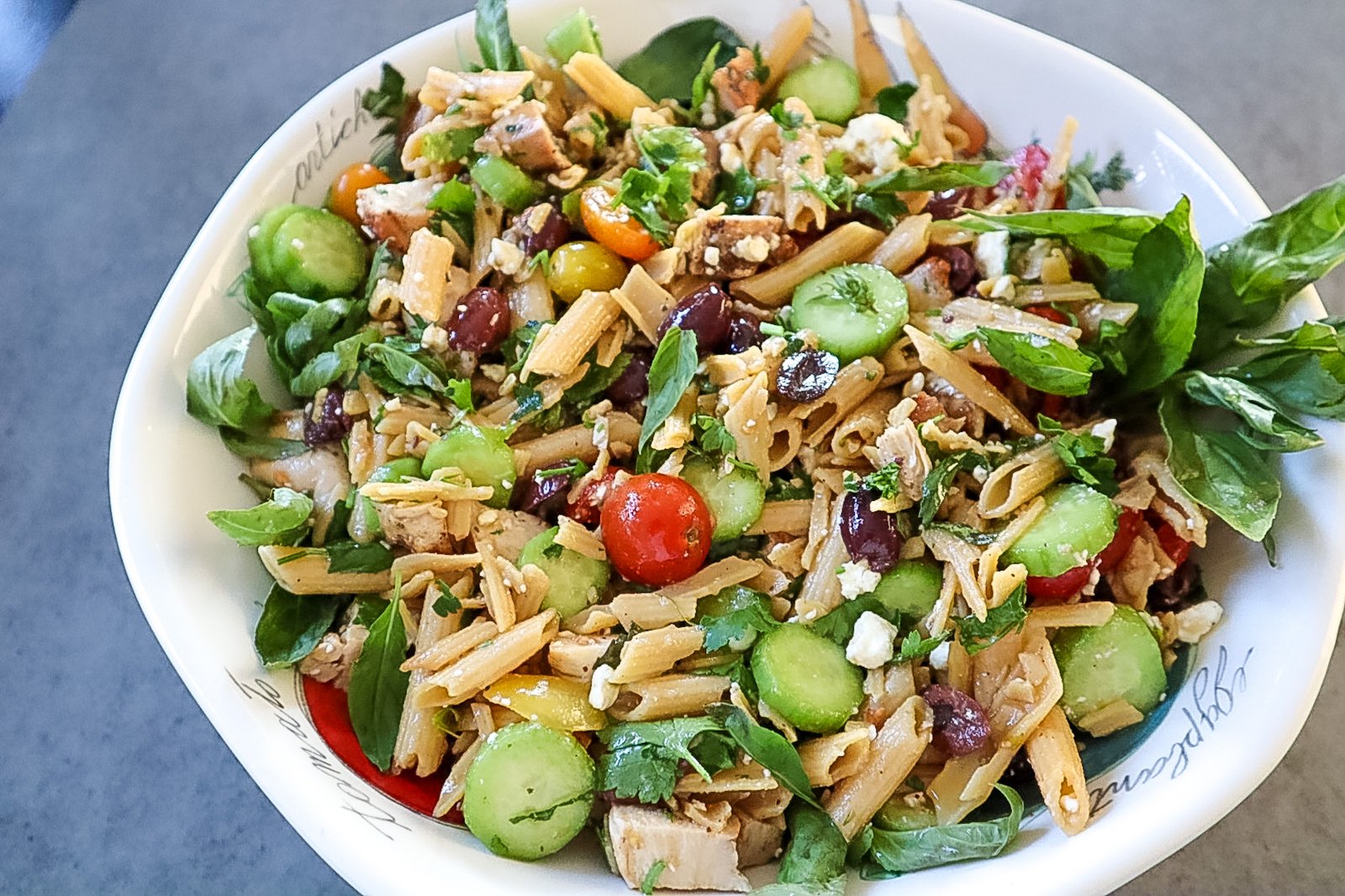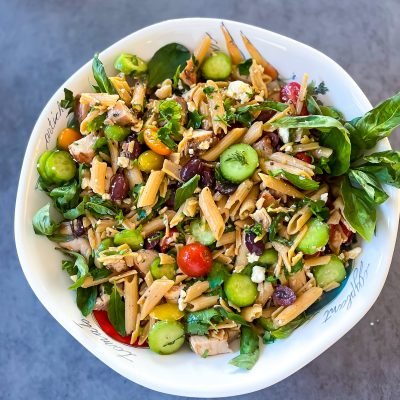 Mediterranean Chicken Pasta Salad
Grilled chicken, cherry tomatoes, cucumber, herbs and feta mixed together with sweet potato noodles then topped with a lemon vinaigrette.
Ingredients
4

Grilled

chicken breasts- cut into cubes

8

oz

penne pasta- gf or regular

I used veggie craft sweet potato noodles

2

persian cucumbers- peeled and sliced

1

cup

kalamata olives-cut in half

1

cup

cherry tomatoes- cut in half

1/2

cup

feta cheese

1/4

cup

basil-chopped

1/4

cup

parsley-chopped

1/2

cup

olive oil

1/2

lemon-juiced

2

tbsp

liquid seasoning

1

tsp

sea salt

1

tsp

garlic salt

1/8

tsp

black pepper
Instructions
Cook noodles until al dente. Drain the water and place noodles in a large bowl.

Add chicken, tomatoes, olives, cucumber and herbs to the pasta. Mix all fo the ingredients until well combined and then add herbs and feta.

In a small mixing bowl add olive oil, lemon, liquid seasoning and spices. Mix well. Pour the dressing over the salad and toss.

Serve as a main dish or a side to your favorite meal. Enjoy!