For Valentines Day I created a special treat that reminds me of everything "Love" related. From delicious strawberries, to fluffy cake, and everything in between. This Strawberry Shortcake Recipe is perfect for your special someone any time of the year.
Strawberry Mixture
We've got no time to waste, so to start off wash and de-stem 2 cups of strawberries, slice the strawberries pretty thin, so that they'll be easier to mash. You can use a fork to mash them, or even a potato masher. Then after they're mashed, mix in 1/2 cup of Sugar. I used Coconut Sugar as a healthier alternative. Set this aside for later and pre-heat your oven to 400 degrees.
The Batter
Next, in a large bowl, sift 4 cups of Flour, 1/2 cup Coconut Sugar, 1/4 tsp Salt, and 5 tsp of Baking Powder. If you don't have a sifter, I find it easy to use an Aluminum Mesh Strainer, with the ingredients inside it, and tapping on the side repeatedly until all the powder has fallen through without clumps. There is a video at the end of the post that may explain it better.  When your dry ingredients are sifted, mix in1 1/2 cup Olive Oil, with a fork. Then add in 2 of your 3 cups of Heavy Cream, and combine until a dough is formed.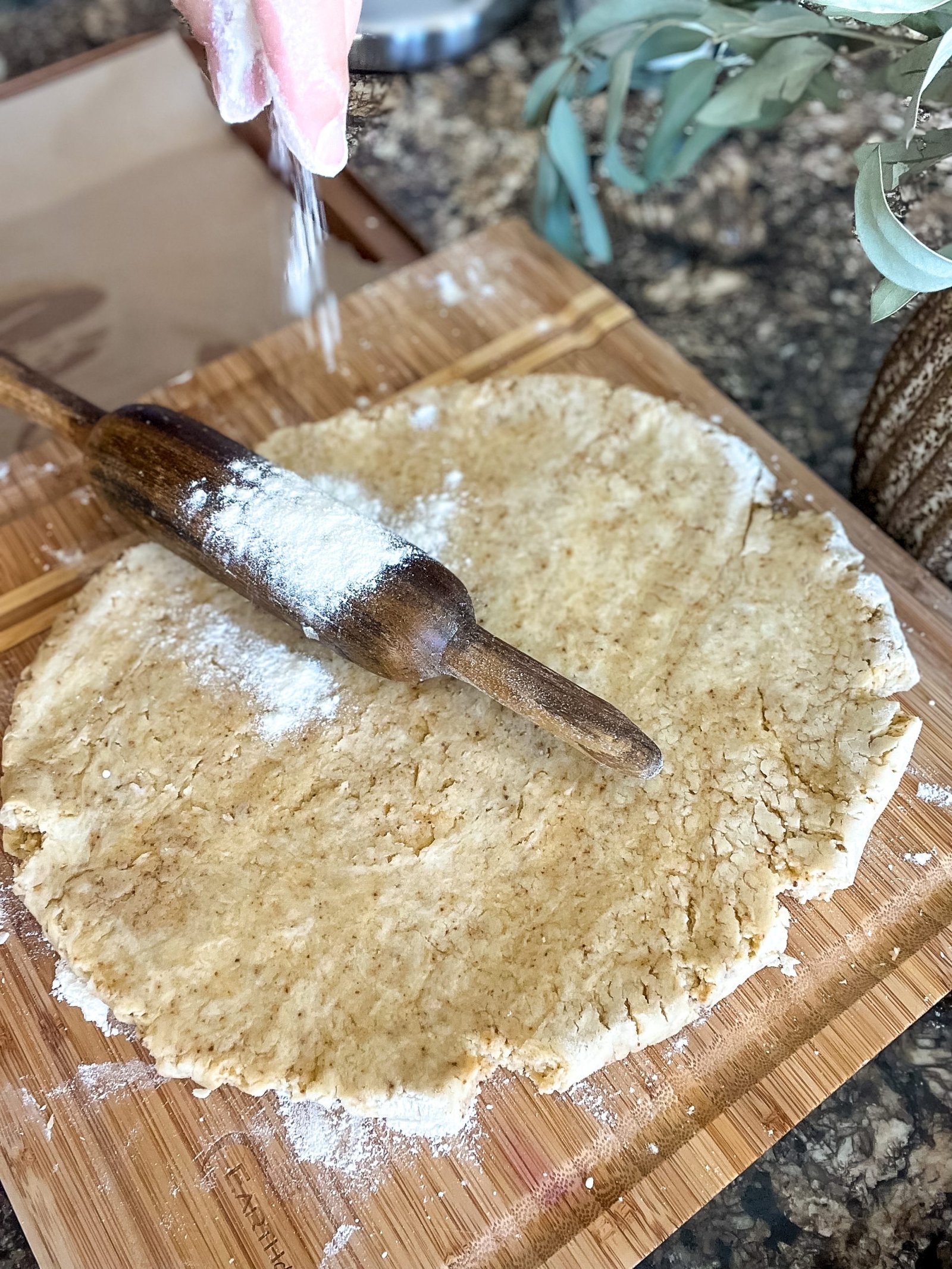 Light and Fluffy dough
On a clean, flat surface, powder flour in a thin layer. Then using your hands place your dough on the floured surface and knead it for 1-3 minutes. This will ensure that your cake will be light, airy, and chewy. When you've finished kneading the dough, use a floured rolling pin and roll the dough about 1/2 and inch thick.
Then using a cookie cutter, I used one about 3 inches thick, but I assume any shape/size will work. Cut out as many as your dough allows for and place them on a parchment lined baking sheet. Brush the tops of each with a small amount of olive oil, and place them into your 400 degree oven for 10-12 minutes.

Whipped cream
While the cakes are baking add the remaining cup of Heavy Cream to a bowl or stand mixer. Then add in 1 tbsp. of Vanilla Extract and 1/2 cup Powdered Sugar. Using a hand mixer and a whisk attachment or the whisk attachment on your stand mixer, whip the ingredients on a medium speed. When the mixture is light and fluffy, you'll know it's ready.
When the cakes are finished cooking, let them cool. To serve them cut the biscuit/cake in half horizontally and fill the inside with your Whipped Cream, like a sandwich. Drizzle the strawberry mixture on top, and add strawberries in the center with the whipped cream, or on top.
I hope you enjoy this delicious treat as much as I did, and enjoy it with the ones you love this Valentines Day!!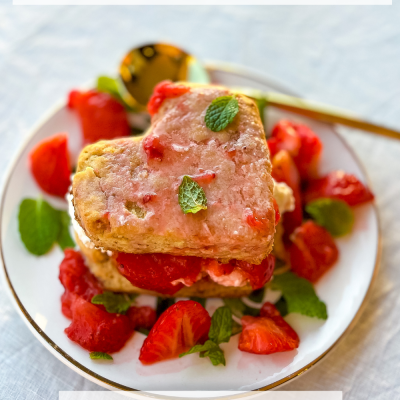 Healthier Strawberry Shortcake
Soft olive oil biscuits with fresh strawberries and whipped cream
Ingredients
4

cups

flour

1

cup

coconut sugar

1/4

tsp

salt

5

tsp

baking powder

1 1/2

cup

olive oil

3

cups

heavy cream

2

cups

strawberries- washed, stems removed and sliced

1

tbsp

vanilla extract

1/2

cup

powdered sugar
Instructions
Place 1/2 of the strawberries in a bowl and mash with a fork or potato masher. Add 1/2 cup of sugar and let the mixture sit until ready to use.

Pre-heat oven to 400 degrees

In a large bowl, sift flour, remaining sugar, salt and baking powder. Add olive oil and mxx with a fork until well combined. Slowly add in 2 cups of cream to the bowl and mix until dough is formed.

Flour a clean surface and place the mound of dough on top. Using your hands work the dough for a few minutes. Using a rolling pin, roll the dough into a large circle that is about 1/2 inch thick.

Using a 3-inch biscuit cutter, cut rounds and add to a parchment lined baking sheet. Brush the tops of each biscuit with olive oil. Place in the oven for 10-12 minutes.

While biscuits are baking add the remaining cream to a stand mixer. Add vanilla and powdered sugar. Using a whisk attachment, whip the mixture on medium speed until light and fluffy.

When biscuits are done baking, remove from the oven and let cool.

To serve: Place biscuit on a plate and cut in half or use two biscuits to make a sandwich. Place whipped cream in the center and drizzle strawberry mixture on top. Garnish with remaining strawberries and serve.