Italian Wedding Meatball Soup is a simple yet delicious version of the traditional classic. This recipe uses spicy Italian sausage to make the meatballs. The Italian sausage adds so much flavor to not only the meatballs, but also to the soup. Combined with the lemon zest and crushed red pepper, the Italian Wedding Soup is full of flavor and hearty goodness!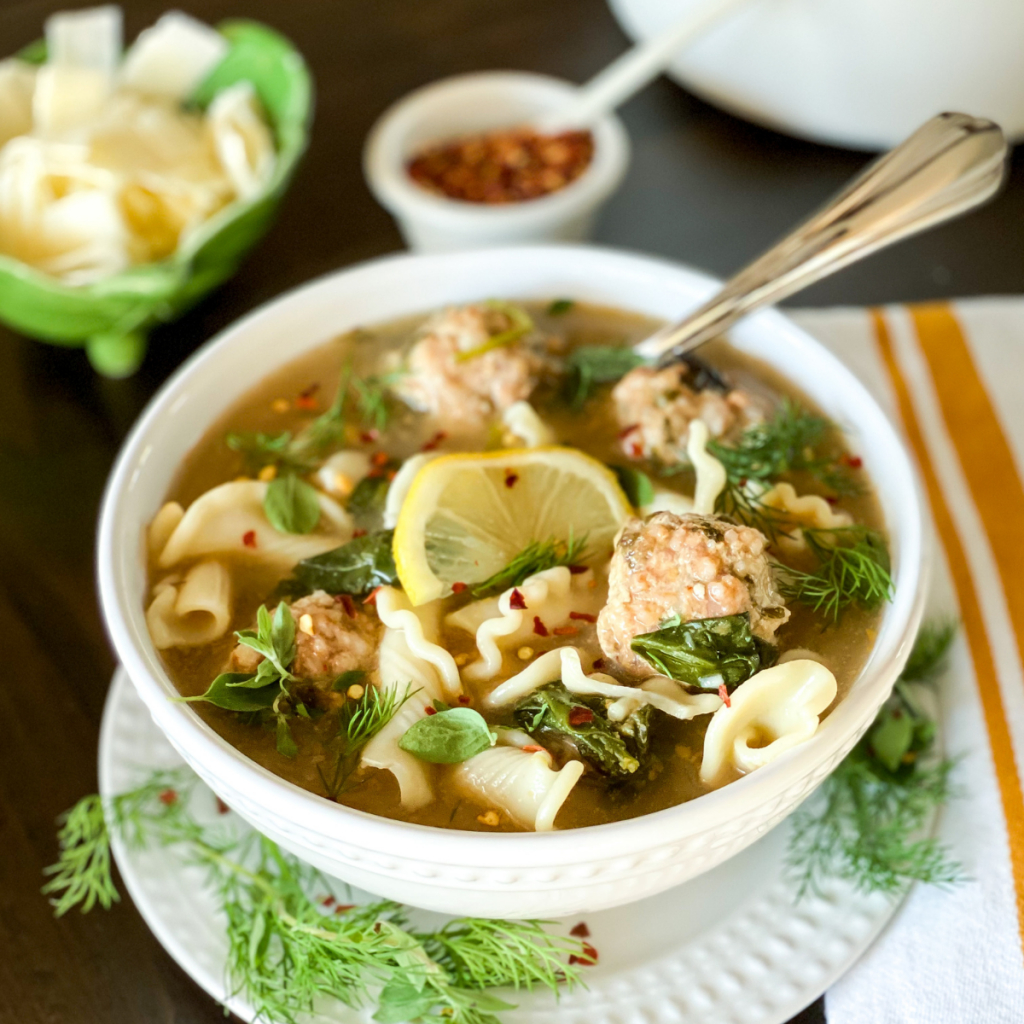 Why is it called Italian Wedding Soup?
The term "wedding soup" also known as "married soup", was created by Italians to describe the combination and the "marriage" of meat and vegetables in a soup. This version is lighter than the original recipe that was created in Italy. The original recipe consisted of many more meats than the modern version.
What goes well with Italian Wedding Soup?
This soup is delicious by itself or served with a fresh pizza, hearty salad, or a rustic piece of focaccia bread. Italian Wedding soup is pretty filling and can a main course, but it is always nice to at least have a nice piece of bread on the side to soak up the flavors of this delicious soup.
Can you freeze leftover? 
This recipe will make a good amount of soup and if you find that you dont eat it all in one sitting, you can absolutely put the leftovers in the freezer. The best part of making larger portions is that you can freeze them and have another meal at a later date. The pasta and the spinach freeze very nicely. Place soup in an air tight container to keep the freshness.
What you will need for this recipe
large stock pot
oven/broiler
cookie sheet
non stick spray
large mixing bowl
oven mitts
soup bowls
Italian Wedding Meatball Soup
A delicious version of the traditional classic. Using spicy Italian sausage to create mini meatballs that make up this beautiful soup. Along with fresh, organic spinach and handmade pasta.
Ingredients
1

pound

Italian sausage

removed from the casing

1/4

cup

chopped parsley

1/4

cup

panko bread crumbs

1/4

cup

parmesan cheese

1

egg

8

cups

chicken stock

2

cups

fresh spinach

2

tbsp

salt

1

tbsp

pepper

2

cups

bowtie pasta

2

tbsp

lemon zest

1

tbsp

crushed red pepper

fresh oregano and fresh dill for garnish

this is optional
Instructions
Start by making your meatballs. In a large bowl add your ground sausage that has been removed from the casing, bread crumbs, parsley, egg, and parmesan cheese. Mix well until all ingredients are fully combined.

Turn on the broiler in your oven. Get a large cookie sheet and spray it with a non stick spray. Using about a tbsp at a time, roll the sausage mixture into mini meatballs. Place on your cookie sheet about an inch or two apart. Do this until all of the sausage mixture has been used.

Place the mini meatballs into the oven and under the broiler. Cook for about three minutes each side until all of the meatballs are brown. Once meatballs are cooked remove from the oven and set aside until ready to use.

Next, prepare your soup. In a large stock pot over medium/high heat add your chicken broth. Bring to a boil and then add your pasta and cook until al dente. When pasta is cooked reduce heat to low and add spinach. Add lemon zest and crushed red pepper. Taste and add salt/pepper if needed. Add meatballs to the soup. Simmer for about five more minutes.

Finally, ladle into soup bowls and garnish with fresh herbs and a thin slice of lemon. Serve while the soup is hot.