Fresh buffalo mozzarella, homemade pesto, heirloom tomatoes, and balsamic mayo inside of a crunchy french roll. This Caprese Sandwich with Pesto is the perfect lunch! Made in less than 15 minutes, this sandwich is quick and easy to make. The pesto can be made ahead of time to cut down on the prep work, as well as the balsamic mayo. Sandwiches are such a comfort food and there are so many different types to choose from. This type is a fun take on a classic Italian sandwich.
What is Buffalo Mozzarella and where can I find It?
Buffalo Mozzarella is a an Italian mozzarella that is usually found in Campania. Your local grocery store should carry it, or carry a mozzarella that is close to it. Usually when you buy fresh mozzarella its found in a round ball submerged in packaging that is full of water. This helps to keep the mozzarella fresh. To slice the mozzarella, drain the water from the container and place ball on a cutting board. Using a sharp knife, make thin slices down the side of the mozzarella ball.
Do I need to make the pesto fresh or can I use store bought?
Either is fine. Personally, I like making fresh pesto because the taste is amazing! This recipe for homemade pesto is pretty quick and easy. Make it ahead of time and store it in the fridge for faster prep. If you buy store bought make sure to buy a quality brand and look at the ingredients to make sure there isn't a lot of extra added ingredients. 
What is a Mortar and Pestle and what is it used for?
A Mortar is a small or large bowl made from wood, stone, or cement and its purpose is to grind up ingredients to turn them into a fine paste or powder. Pestle is a large stick that is used to grind the ingredients. The mortar and pestle can be used to make your pesto. Place all ingredients except the olive oil in the bowl and use pestle to crush everything together. Once all fo the ingredients are smashed start adding your olive oil a little at a time, continuing to mix your pesto. This is just another fun way to make pesto. 
What do I need to make this dish?
cutting board 
bread knife
kitchen knife 
plates 
blender, mortar, or food processor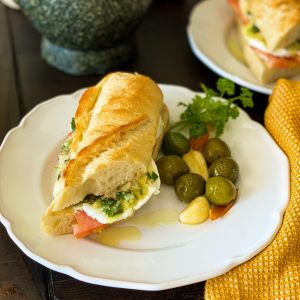 Caprese Sandwich with Homemade Pesto
French bread thats topped with a tangy balsamic mayo, then layered with fresh buffalo mozzarella, heirloom tomatoes, and homemade pesto.
Ingredients
1

baguette

french bread

1

heirloom tomato cut in half and then sliced

1

tsp

balsamic vinegar

1/4

cup

mayonnaise

1

cup

basil

1

garlic clove

1/4

cup

parmesan cheese

1

pinch

salt

best to use sea salt

1

ball

buffalo mozzarella cut into thin slices
Instructions
Place basil, garlic, parmesan cheese, olive oil, and salt in a blender. Puree until smooth.

Cut you baguette in half lengthwise and then again widthwise so you have two sandwiches. In a small bowl mix you mayo and balsamic vinegar together. Spread the mixture on each half of the bread.

Layer the bottom half of the baguette with tomato slices and then add mozzarella on top. Using a spoon, spread pesto mixture on top of the tomato and cheese. Place the top piece of baguette on the sandwich to complete it. Repeat this process for both sandwiches.

Place both sandwiches on a plate and serve. Mangia!