Dal Makhani is a traditional Indian lentil soup or stew. It is typically made up of black lentils and kidney beans that have been simmered in a blend of spices. Dal is one of those dishes that is oozing with flavor and richness. I love its creamy consistency which is actually very comforting and soothing for not only your soul, but also your belly.
Dal Makhani Recipe is on the most popular lentil recipes in North India. My husband who is of Eastern Indian decent introduced Dal to me. Before meeting him, I didn't know a lot about Indian food, nor did I know how to make it. Over the years, I have studied many recipes from cookbooks, cooking shows, and from my mother-in-law. I have created my own version of this delectable recipe, taking on some tradition and adding a little modern twist.
Is Dal Makhani healthy? 
Yes, I consider Dal to be healthy. It is made with all whole ingredients and a blend of spices. If you're vegan, you can leave out the heavy cream and butter, or add a vegan substitute. Dal is completely gluten free and would be considered anti-inflammatory.
What do I eat Dal with?
I eat Dal with many Indian dishes. It is great side dish for any Indian meal. I actually it eat alone with just some Naan bread and a nice salad.
Steps in Making DAl MAKHANI Stew 
Step 1: I start by simmering the lentils, kidney beans and 1 tbsp of salt in a pot of water. It's important to fill the pot with enough water that it comes up to about 1 inch over the lentil mixture. If the water starts to evaporate add more in. You want to simmer the lentils on medium low heat for 60-90 minutes. The purpose of simmering the lentil mixture with the chili and ginger is to infuse the lentils and kidney beans with added flavor.  I like to cover my pot while the mixture simmers, but this is optional.
Step 2: When the lentils are done simmering and are tender, turn off the heat. Place a second medium pot over medium heat. Add avocado oil to the bottom. When the oil is hot, add cumin seeds and let them saute until golden. Make sure to watch the seeds so they don't burn. Adjust the heat if they get too dark in color. Next, add onion, chili powder and coriander powder. Saute the mixture for a few minutes. Add in chopped tomatoes and stir to combine the flavors.
Step 3: Using a ladle, I start adding the lentil mixture into the tomato mixture. Bring some of the water in as well. Once the lentil mixture has been fully added, bring everything to a boil and then reduce the heat to low and let the soup simmer for 30 minutes.
Step 4: Finally, add in cream, butter, fenugreek powder and Garam Masala. Taste the soup and add salt for taste.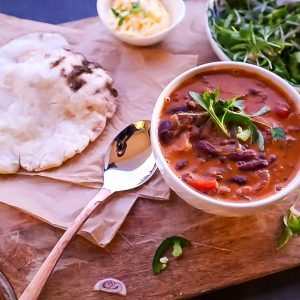 Dal Makhani
Mixture of lentils simmered in a chili, ginger and blend of spices to create a delicious Indian lentil soup.
Ingredients
8

oz

mixed lentils

found at any major grocery store

1

can

kidney beans- drained and rinsed

1

jalapeno- cut in half

2

inch piece

ginger- skin removed and sliced

1

yellow onion- finely chopped

2

tomatoes- finely chopped

2

tbsp

cumin seeds

3

tbsp

coriander powder

3

tbsp

chili powder

1

tbsp

fenugreek powder

1

tbsp

garam masala

4

tbsp

butter or ghee

3/4

cup

cream

can use a vegan alternative such as, coconut milk.

salt for taste
Instructions
Place lentils in a large pot over medium/high heat. Cover with water about 1 inch above the beans and lentils. Add jalapeno and ginger to the pot. Season with 1 tbsp of salt. Bring to a boil and cover. Reduce heat to medium/low and let the lentils simmer for 1 hour. Check the lentils and make sure the water hasn't evaporated. If they look dry add a little more water to the pot.

When lentils are done simmering, remove the lid and turn off the heat. Place a medium pan over medium heat. Drizzle the bottom with avocado oil. Add cumin seeds to the pan and let them brown for a few minutes. Add in onion and saute until soft. When onion is soft, add in the chili powder, coriander and tomatoes. Let the mixture simmer for a few minutes.

Next, start ladling the lentil mixture into the tomato mixture. Bring the liquid with it. You want some of the water to be transferred with the lentils. Let all of the ingredients simmer on low heat for 30-40 minutes.

To finish the daal, stir in butter, cream, fenugreek powder and garam masala. Taste and add salt as needed. Serve this dish with your favorite buttered naan and other Indian recipes.

Enjoy!