I wanted to create a dish that appeals to a broader group. So I created this Vegetarian Chile Relleno, it's my attempt to amplify diversity from my typical non-vegetarian dishes.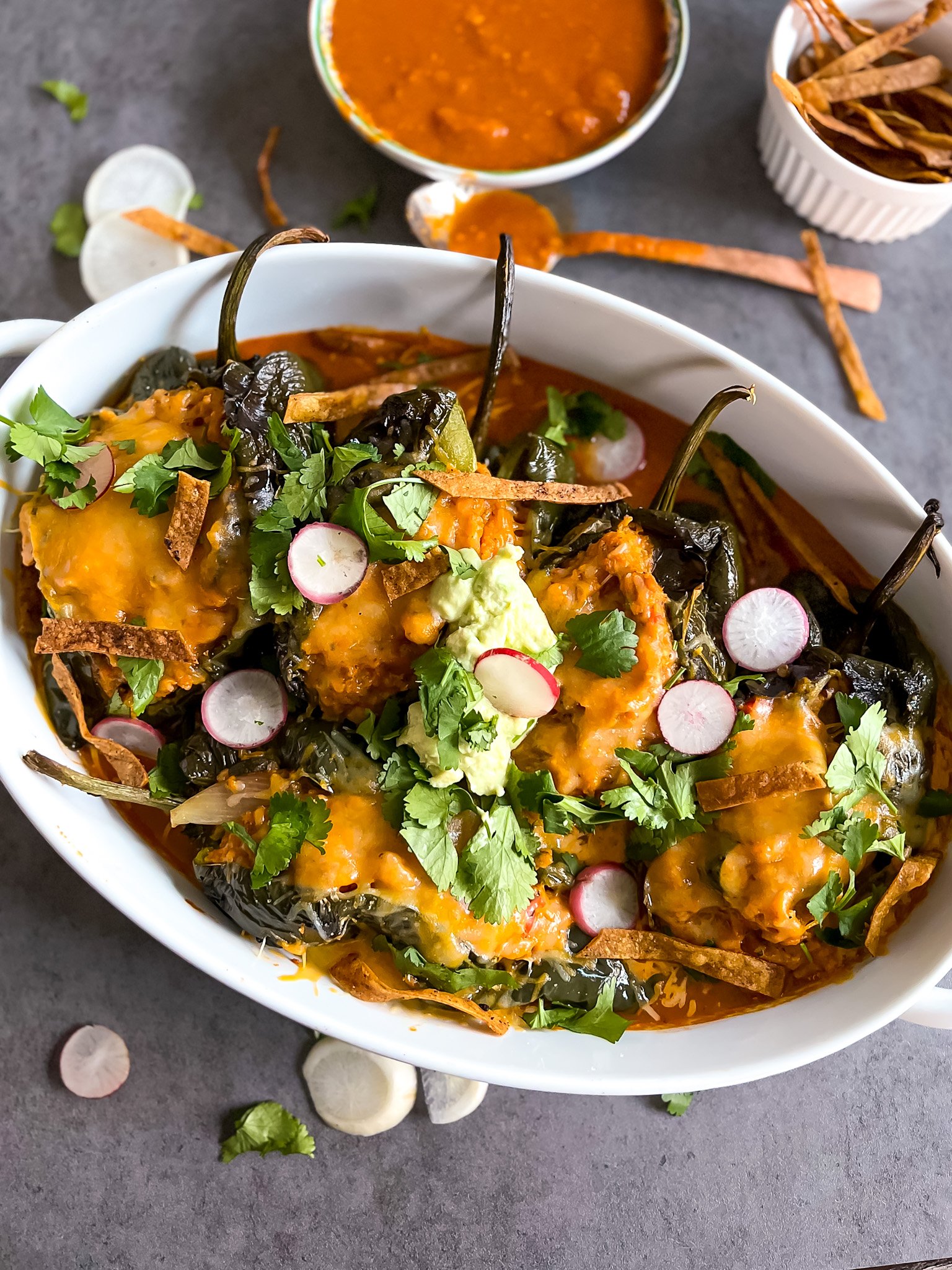 Before we start!
For this recipe I used a hand blender, although if you do not have one, anything you have readily available will work. I used three baking sheets for this recipe as well. Don't limit yourself if you wanted to include your favorite meat into this dish, feel free to do so. Fine tune the recipe to your exact preferences.
Each baking sheet
Lets get started. Pre-heat your oven to 400 degrees. On your first baking sheet as 1/2 of a peeled and quartered onion. Then peel and cube 2 medium/large sweet potatoes. 1 container of portabella mushrooms, I sliced mine as well. 1 cup of butternut squash, cubed and finally 1 red bell pepper that is deseeded and quartered.
On the second baking sheet add 4 vine ripened tomatoes, 2 jalapeno peppers, 3 gloves of garlic, the remaining 1/2 of the onion that was quartered, and 1 orange bell pepper, deseeded and quartered. Drizzle this baking sheet along with the first one with avocado oil and sprinkle 2 tbsp. of taco seasoning onto each pan. Mix with your hands for an even coat.
Finally, on the last pan add 6 Pasilla peppers, drizzle the peppers with avocado oil. Place all three baking sheets in the 400 degree oven for 15 minutes.
When the 15 minutes are up, remove the third pan from the oven, set peppers aside for later. Using a fork, test the tenderness of the potatoes by sticking it into the center of it. If it is hard replace it into the oven and let it cook for 10 more minutes and remove the second pan.
Enchilada sauce
When the vegetable are soft, remove them from the oven and let them cool. In a large pot over medium heat pour in your 2 cups of chicken stock, along with everything from the second baking sheet. Bring this to a boil, then using your hand blender blend the ingredients until smooth. If you're using the blender option, blend the contents of the second baking sheet with a little of the chicken stock until it is smooth.  Reduce the mixture to a medium heat and allow it to thicken. Adding salt and pepper if needed.
Final step
While that is thickening, take each Pasilla pepper cut it vertically on one side, being sure not to cut the entire pepper in half, but rather creating a purse or boat with the peppers. Scoop out as many seeds as you can, and fill each pepper with your sweet potato mixture from the first baking sheet. In a baking dish and ladle your pureed sauce on the bottom of the dish, then place each pepper on top of the sauce, cover with a shredded Mexican cheese blend and bake at 375 until the cheese is melted.
I served mine along side fresh guacamole and it was absolutely delicious! I hope you enjoyed creating Vegetarian Chile Relleno, and if you have any suggestions feel free to let me know in the comments.
Vegetarian Chile Relleno
Organic pasilla peppers, stuffed with a roasted mix of vegetables and then topped with fresh cheese and a homemade enchilada sauce.
Ingredients
6

pasilla peppers

4

vine ripened tomatoes

3

cloves

garlic

1

onion- peeled and quartered

2

jalapeno peppers

1

serrano pepper

1

orange bell pepper- seeds removed and quartered

1

red bell pepper- seeds removed and quartered

1

container

portobello mushrooms- sliced

2

sweet potatoes- peeled and cut into cubes

1

cup

butternut squash- cubed

most grocery stores will have this done for you

1

cup

avocado oil

2

cups

chicken broth

4

tbsp

taco seasoning blend

primal palate is a great organic option

8 oz

mexican cheese blend- shredded

salt/pepper as needed for taste
Instructions
Preheat oven to 400 degrees

Take out three baking sheets. On one baking sheet add, 1/2 onion, sweet potato, mushrooms, butternut squash and red bell pepper. On the second sheet add tomatoes, jalapeno, garlic, remaining onion and bell pepper. Drizzle both pans with avocado oil and sprinkle with 2 tbsp of taco seasoning blend on each pan. Using your hands mix the ingredients together.

On the third pan add pasilla peppers and drizzle with avocado oil. Place all three pans in the oven for 15 minutes.

When 15 minutes is up, remove the peppers and set aside. Using a fork pierce the center of the sweet potatoes to see if they are tender. If soft, remove both pans from the oven. If sweet potatoes are still hard in the center, leave the pan in for another 10 minutes.

When vegetables are soft and tender, remove them from the oven and let cool. In a large pot over medium heat, pour in the 2 cups of chicken stock. Add tomato mixture and bring to a boil. Using a hand blender puree the mixture until smooth. Reduce heat to medium low and let the mixture thicken. Taste and add salt/pepper as needed for taste.

In a large bowl add the sweet potato mixture. Using the hand blender, puree this mixture until smooth. Add in 1/2 cup of cheese and mix well.

Take each pasilla pepper and make a small slit down the center, being careful not to pierce the other side. You want to make a little purse. Scoop out as much of the seeds as you can. Fill each purse with sweet potato mixture until all of the mixture is used.

In a baking dish ladle the enchilada sauce on the bottom. Place each pepper on top and cover with the remaining cheese. Bake at 375 degrees until cheese is fully melted.

To serve, add extra enchilada sauce and your favorite guacamole recipe. Enjoy!