My favorite easy weeknight meal is anything one-pot. Not only does it require very little effort to make, but the cleanup is next to nothing. This week I have made an easy one-pot chicken piccata. Being of Italian descent I am drawn to any type of Italian dish that reminds me of my childhood. Sticking to the traditional flavors, I wanted to modernize this recipe and give it a little bit of a healthy alternative without changing the flavor.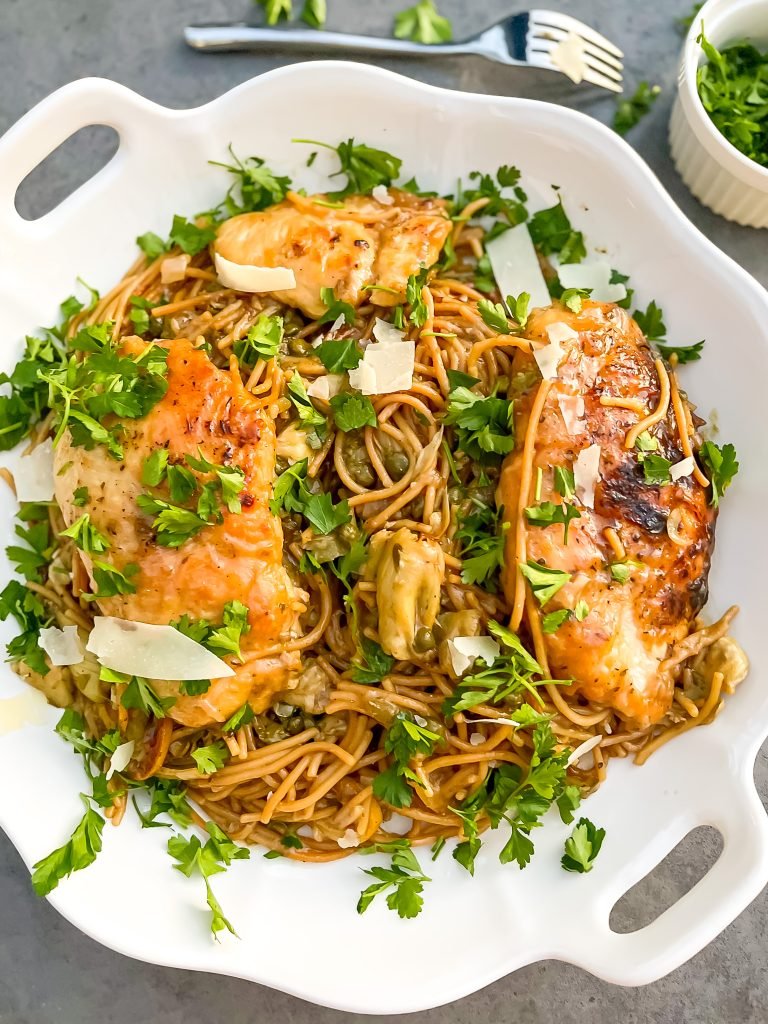 Instead of using regular flour I used arrowroot starch which is made from plant roots that have been dried out and then ground down to a flour. The starch is gluten free and is used to help thicken sauces in gluten free baking. I especially like it because you can't tell a difference between regular flour and arrowroot starch. It will give a nice golden crust to the chicken and also help to thicken the sauce. Typically Italian pasta is used in this recipe, but I decided to substitute traditional spaghetti for sweet potato spaghetti by Veggie Craft. I have eaten plenty of gluten free noodles and these are by far my favorite. The taste and texture is exactly like traditional Italian spaghetti, but these are made with sweet potatoes and lentils. It's a great source of fiber to add into your meal.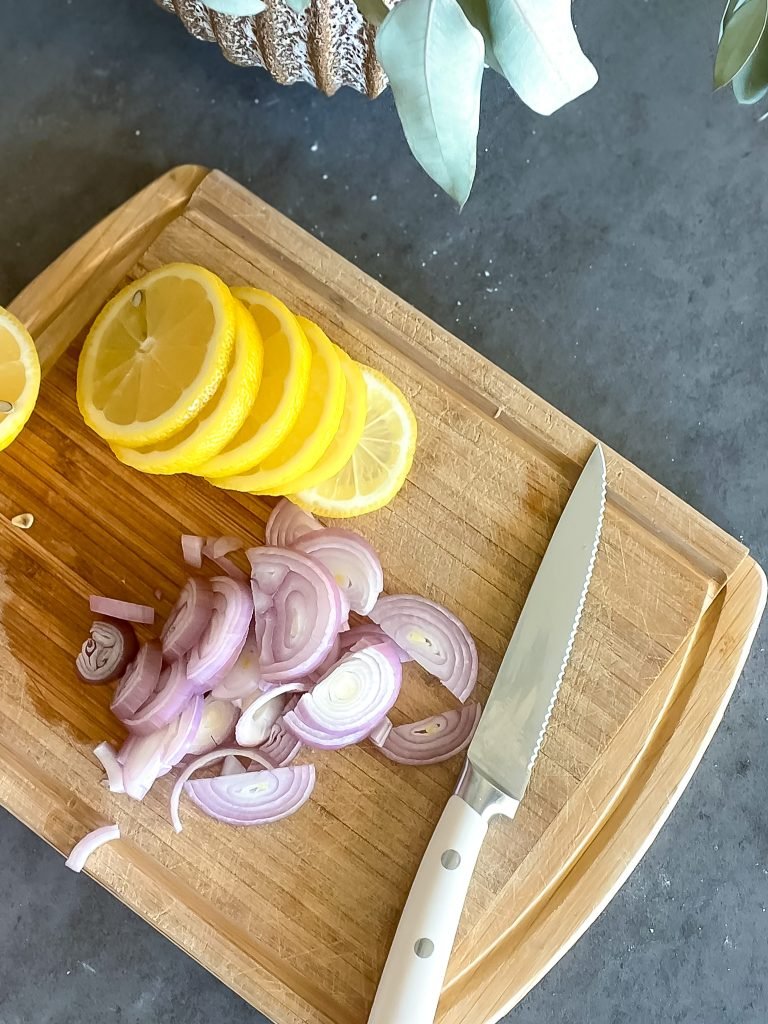 My Inspiration 
I decided to make this dish because my husband was coming home from a business trip and I knew that he had been eating out and probably not eating the most healthiest food. I myself had been eating out all weekend was craving a home cooked meal. So, I decided a one-pot chicken piccata would be the perfect option. We could have a healthy home cooked meal without spending hours slaving over a hot stove.
recipe Step by step
Alright, Lets get cooking! For this recipe I used 4 Chicken Breasts, placing them into a large Ziploc bag, I added 1 cup of Arrowroot Starch. Along with 1 tbsp. of Salt as well as Italian Seasoning. Seal the bag with as little air as possible and massage the seasonings into the Chicken. When it is fully coated, lay the Chicken flat, while still in the bag, and then using your mallet pound the chicken on both sides so it becomes thin.
Drizzle Avocado Oil in a large pan over medium heat, let the oil heat up and then place the chicken in the pan. Brown each side for about 4-5 minutes then remove the chicken and set them aside.
To the same pan add 2 Shallots that have been cut in half and sliced. Sauté the Shallots for a couple minutes, then add in 1 sliced Lemon. Let the Lemon brown, then deglaze the pan with 1/2 cup of White Wine. Let the wine reduce on medium heat by half. When the Wine is reduced add in  1 1/2 cups of Chicken Stock, 1/4 cup Capers and 1/4 cup of Artichoke Hearts. Let this mixture come to a boil and then add the chicken back into the pan. Place 2 cups of Spaghetti Noodles in the pan, and cover with a fitted lid. Let the mixture simmer on medium/low for about 20 minutes or until the noodles are Al Dente.
When the noodles are cooked add in 2 tbsp. of Butter, as well as salt and pepper for taste. Finally, sprinkle the top with about 1/4 cup loosely chopped Parsley and serve. Enjoy!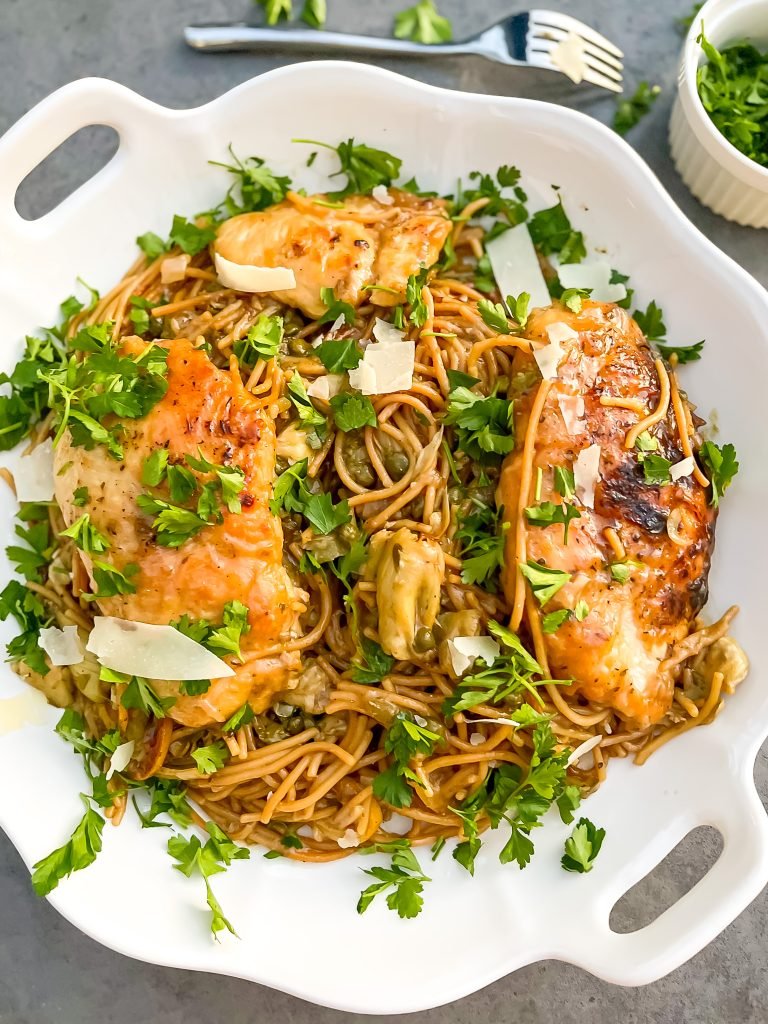 Easy Chicken Piccata
Organic chicken breasts dredged in a seasoned flour blend, browned until golden, then simmered in a white wine, lemon, caper and artichoke heart sauce. Served with sweet potato spaghetti
Ingredients
2-4

chicken breasts

1

cup

arrowroot starch

1

tbsp

salt

1

tbsp

Italian seasoning blend

1

lemon- sliced

2

shallots- cut in half and sliced

1/2

cup

white wine

1 1/2

cup

chicken stock

2

cups

spaghetti noodles

I used gf sweet potato noodles from veggie craft

2

tbsp

butter

1/4

cup

capers

1/4

cup

artichoke hearts

1/4

cup

parsley- loosely chopped

avocado oil for drizzling

salt/pepper for taste
Instructions
Place chicken in a large ziploc bag. Add in arrowroot starch, salt and Italian seasoning blend. Shake the bag to coat the chicken. Make sure all of the air is out of the ziploc bag, using the mallet pound the chicken on both sides to thin it out.

Place a large pan over medium heat. Drizzle the bottom with avocado oil. When oil is hot place the chicken in the pan. Brown on each side for 4-5 minutes. Remove the chicken and place on a seperate plate.

In the same pan add shallots and saute for a few minutes. Then add in the lemon slices to brown for a few minutes. Deglaze the pan with white wine. Let the wine reduce by half. Add in chicken stock, capers and artichoke hearts. Let the mixture come to a boil and then add chicken back into the pan. Pour in spaghetti noodles and cover the pan with a fitted lid. Let the mixture simmer on medium/low for 20 minutes, or until noodles are al dente.

When noodles are cooked, add in butter. Taste the sauce and add in salt/pepper as needed for taste.

Sprinkle the top with parsley and grated parmesan cheese. Serve the chicken with noodles and extra sauce. Enjoy!