Fresh green beans and whole grain Farro tossed together in a dijon dressing. This Green Beans and Farro Salad is one of my favorites because it is hearty, but still light and healthy!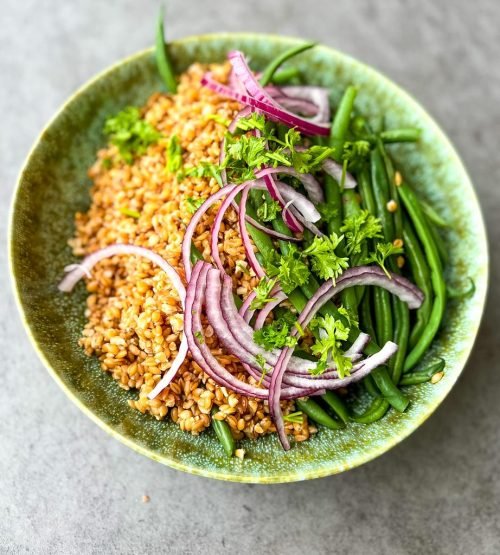 You can make this salad with almost any recipe and it adds a nice addition to any dish. Feel free to use different grains if farrow isn't your preference. If you are gluten free, you can use quinoa or another grain-free option.
You can also substitute different ingredients in the dressing and add more spice if you want added flavor. Feel free to add your favorite ingredients to the salad to take it to the next level. Some other options to think of would include; cherry, tomatoes, red onion, fresh herbs like parsley and basil, and feta cheese.
Enjoy this salad by itself or with a nice piece of fish.
I hope you enjoy this recipe. If you have any questions, you can reach out to me on Instagram. I love to respond to any feedback or questions that you may have.
If you like this recipe, please leave a comment or share it with someone you know.
For more recipes like these try some of our other recipes:
To follow Nikki regularly and stay up to date on what she's doing, follow her on the gram!
Ingredient Lists:
French green beans, trimmed
farro or other grain
olive oil
white wine vinegar
Dijon mustard
liquid aminos
seasoning salt
salt
pepper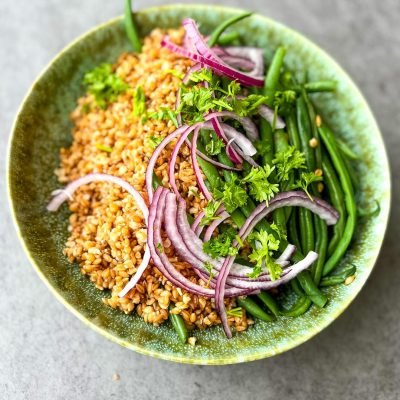 Green Beans and Farro Salad
Ingredients
1

package

of French green beans, trimmed

1

cup

of farro or other grain
Dressing:
3/4

cup

of olive oil

1/4

cup

of white wine vinegar

1

tbsp

of Dijon mustard

2

tsp

of liquid aminos

1

tsp

of seasoning salt

a pinch of salt and pepper for taste
Instructions
Place the chicken or vegetable stock in a medium pot over high heat and bring to a boil. Reduce the heat to medium-low, add the farro, and stir the mixture. Simmer for 12 minutes.

While the mixture is cooking, add the water to a medium pot and bring to a boil, then add the green beans and cook for five minutes until tender. Remove and drain the water, and set aside the green beans until ready to use. 

When the farro is done cooking, place it in a large bowl and add the green beans to the top. Mix your dressing ingredients together and pour it over. Garnish with fresh red onion, cherry tomatoes, and herbs as desired. Mix well, and enjoy!