Whitefish with Brown Butter and Garlic Sauce is a fresh wild-caught, whitefish filet simmered in a brown butter, garlic, and white wine sauce.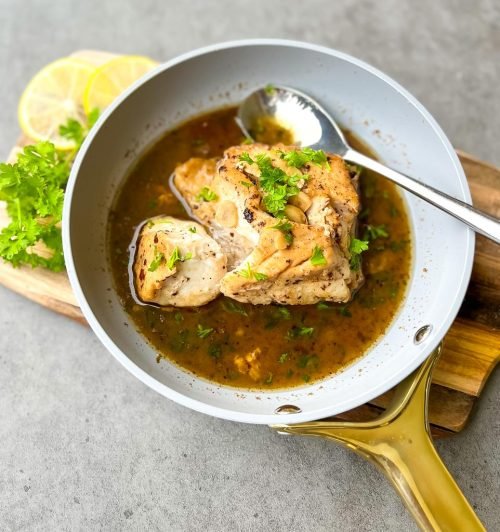 This recipe is great for the week when you want to eat healthy, but still enjoy your food. This easy and gourmet recipe takes about 20 minutes and can be made by any skill level in the kitchen.
White Fish with brown butter is great in the wintertime when it's cold outside and you want a comfort meal that is still healthy and anti-inflammatory. I use grass-fed butter because it's natural and doesn't include added hormones.
Feel free to swap out butter for olive oil if you have certain dietary restrictions. When choosing the type of fish, make sure to choose fish that is wild-caught or sustainably farmed. I recommend going to your local fish market or local Whole Foods, where they supply products that have higher standards than other stores.
You can serve this fish with a side of gluten-free pasta, potatoes, or our farrow and green bean salad.
I'll make gluten-free bread or use regular sourdough bread to serve on the side for dipping in the sauce.
This is the ultimate whitefish recipe that will please even your pickiest eaters. I hope you enjoy!
Please feel free to reach out to me on Instagram for any questions regarding this recipe.
If you like this recipe, please leave a comment or share it with someone you know.
For more recipes like these try some of our other recipes:
To follow Nikki regularly and stay up to date on what she's doing, follow her on the gram!
Ingredient Lists:
white fish (halibut, grouper, seabass)
garlic
anchovy fillets
grass-fed butter
flour (regular or gluten free)
seasoning salt
white wine
salt
pepper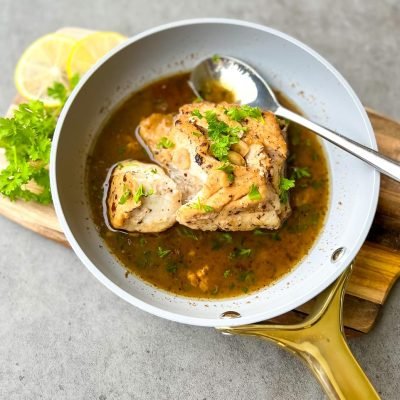 White Fish with Brown Butter and Garlic Sauce
Ingredients
1 1/2

pounds

of white fish (halibut, grouper, seabass)

2

cloves

of garlic, chopped

2

anchovy

fillets (optional)

1

stick

of grass-fed butter

1

cup

of flour (regular or gluten free)

1

tbsp

of seasoning salt

1

cup

of white wine

salt and pepper to taste
Instructions
Place the butter in a medium pan over medium-high heat. Let the butter melt and slowly turn brown. Make sure not to let the butter burn, and adjust the heat as needed.

Season the fish filets with salt and pepper. In a medium mixing bowl, combine the flour and seasoning salt.

Dredge the filets in the flour mixture, coating them evenly on each side. Set the fish aside until ready to use. When the butter is golden brown, add the garlic and anchovies. Sauté for a few minutes until the anchovy has dissolved and the garlic is fragrant.

Add the fish to the pan, skin side up. Fry on each side for about 3–4 minutes, or until a golden crust has formed. 

Add the white wine and bring it to a boil. Let the mixture reduce for a few minutes, then cover it with a fitted lid and reduce the heat to medium-low. Allow the fish to cook in the sauce for 15 minutes, or until it's white throughout.

Serve immediately with extra brown butter sauce and enjoy!