Vegetarian Lasagna is fresh, organic zucchini cut into thin strips and layered with a garlicky vegetable purée, then rolled up and baked with fresh tomato sauce and a blend of cheeses.
Are you looking for interesting ways to eat more vegetables? Or maybe you're trying to think of creative ways to get your kids to eat their vegetables.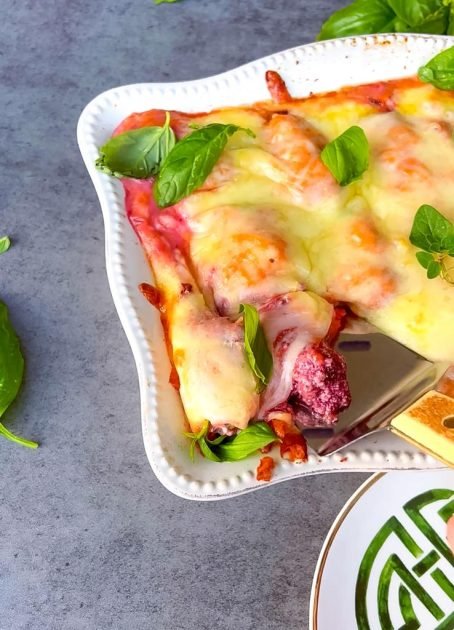 This recipe is a perfect example of how to incorporate vegetables into your diet in a tasty and satisfying way.
There are so many health benefits to this recipe. Not only is the dish low calorie, but it's full of fiber and antioxidants.
Use a medley of different vegetables depending on your taste and preference. If you're vegan, you can opt for a vegan cheese
Serve this dish with a fresh green salad to complete the meal.
Enjoy!
If you like this recipe, please leave a comment or share it with someone you know.
For more recipes like these try some of our other recipes:
To follow Nikki regularly and stay up to date on what she's doing, follow her on the gram!
Ingredient Lists:
zucchini
garlic
mushrooms
small beets
Italian seasoning blend
Ricori Ricotta Cheese
eggs
mozzarella
parmesan cheese
avocado oil
salt
pepper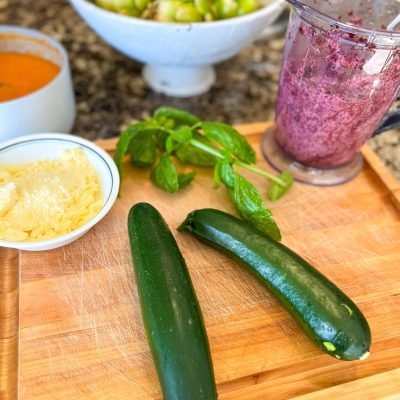 Vegetarian Lasagna
Ingredients
2

zucchini washed and sliced 1/4 of an inch thick

2

cloves

garlic, minced

1

cup

mushrooms

3

small beets, cooked and quartered

1

tbsp

Italian seasoning blend

2

cups

cooked lentils

1

cup

Ricotta Cheese

2

eggs

1

cup

shredded mozzarella

1/4

cup

parmesan cheese

2

cups

tomato sauce (use jarred tomato sauce if desired)

avocado oil for drizzling

salt and pepper for taste
Instructions
Place zucchini strips on a baking sheet and sprinkle with salt. Let the strips sit for 15 minutes to remove any water. Preheat your oven to 350 degrees. When the 15 minutes are up, drain any water on the baking sheet and place the zucchini strips in the oven for 10 to 15 minutes. Mix together shredded mozzarella and parmesan cheese in a small bowl.

Place a medium pan over medium heat and drizzle the bottom with avocado oil. Sauté the garlic until it is soft and fragrant. Next, add mushrooms, beets, Italian seasoning, one teaspoon of salt, and 1/8 teaspoon pepper; sauté for a few minutes or until the vegetables are tender. Remove from the heat and let cool. Add cooked lentils to the mixture and set aside.

Blend the mushroom mixture in a food processor or blender until smooth. Add in the ricotta cheese, two eggs, and puree again to blend all the ingredients together. Taste and add additional salt and pepper as needed. Using a medium-sized baking dish, spread 1/4 cup of tomato sauce at the bottom.

Take zucchini strips one by one, place them on a cutting board, and spread the mushroom and beet mixture over the top. Roll up each zucchini slice and place it in the baking pan. Continue this until all of the zucchini strips have been used.

Repeat until the bottom of the pan is covered with a layer of zucchini rolls. Add sauce over top and sprinkle with Parmesan and mozzarella mixture.

Continue adding the zucchini rolls on top of that to form a lasagna. And once all of the zucchini rolls have been used, spread the top with more tomato sauce and the remaining Parmesan and mozzarella mixture. Place in the oven and bake for 15 minutes. Enjoy.