This Autumn Chopped Salad is a little different from the classic version that I have come to adore. Here in Scottsdale there is a restaurant that makes a chopped salad that is heavenly. I wanted to take their classic recipe and put a festive spin on it, so I decided to substitute several ingredients for fall flavors. This salad is very unique from the every day salad that we all eat.  The mixture of the butternut squash with cranberries, pumpkin seeds, sun-dried tomatoes, and couscous is delicious. Then topped with a homemade garlic and basil buttermilk dressing, makes this salad pop. It's the perfect side dish to any great meal!
What would a chopped salad go well with?
A chopped salad goes well with just about any meal. This salad is perfect as a side dish or as the main entree for lunch. The best part is you can substitute some of the ingredients for other things, depending on what type of cuisine you're serving. If you're serving this salad for lunch you can add a side of fresh bread or seasonal soup. The possibilities are endless.
Does it take a long time to make?
This salad is so easy and fairly quick to make. The most time consuming part is cooking the couscous and butternut squash. Those can be made while you're putting the salad together. What is nice about this salad is that there is not a lot of chopping vegetables. All in all you could have this salad completed within 20 minutes or less.
How do I cook the Butternut Squash?
I recommend buying your squash already cut up. If you can find a cooked version, even better. Some squash is still raw and needs to be lightly boiled to soften it before placing it in the salad. To cook your squash, place a pot of water on the stove and once boiling add your squash. Reduce heat to medium high and boil for about 10 minutes, or until squash is tender.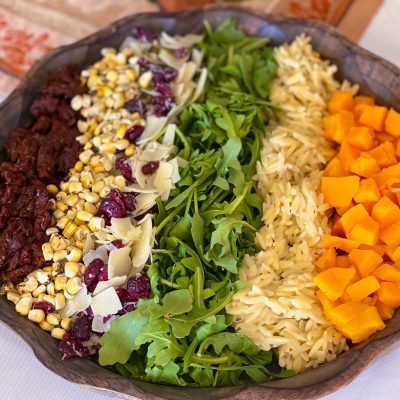 Autumn Chopped Salad
Butternut squash, dried cranberries, pumpkin seeds, fresh cheese, pearl couscous, and sun-dried tomatoes topped with a basil and garlic dressing.
Ingredients
2

cups

baby arugula

1 1/2

cups

cooked butternut squash

1

cup

dried cranberries

1

cup

sun-dried tomatoes

1/2

cup

pumpkin seeds

1/4

cup

parmesan cheese

1/4

cup

gruyere cheese

1

cup

dried corn

1

cup

pearl couscous

1/2

cup

basil leaves

2

cloves

garlic

1/4

cup

buttermilk

juice

of 1

lemon

1

cup

mayo

salt/pepper for taste
Instructions
In a small bowl mix pumpkin seeds and cheeses together. Set aside.

Arrange arugula in the middle of a serving plate/bowl in a long rectangular shape. Next, start on either sides of the arugula and add the seeds/cheese, couscous, cranberries, tomatoes, squash, and corn. The ingredients don't have to be in any specific order. Arrange each ingredient in a long rectangular shape. I stagger the colors to make it look pretty.

Next, make your dressing by placing the remaining ingredients in a blender or food processor. Blend until smooth. Place dressing in a small bowl or gravy boat until ready to serve.

To serve, drizzle dressing on top until desired amount is achieved. Toss the salad well untill all ingredients are incorporated. You are ready to serve!