Thai Chicken Salad is a fresh, healthy and light are all words that come to mind, it's the perfect combination of fresh flavors, and it takes close to no time at all. I enjoy this recipe during the warmer months, but it pairs amazing on the side of just about anything.
Chicken mixture
For this recipe I used a rotisserie chicken, but if you have a delicious recipe in mind to cook your chicken, as long as its shredded, or cubed it will work perfectly.
To get started, I shredded my chicken and added the entirety of it to a large bowl. Along with 1 bell pepper, and 1 serrano pepper, which I chopped and seeded, Then for the fresh herbs of the dish, I added 1 cup of green onions, 1/2 cup basil, 1/2 cup cilantro, 1/2 cup mint leaves (minced).  Combine the ingredients lightly and set aside.
peanuts
Pre-heat the oven to 350 degrees. Place 1/2 cup peanuts on a parchment lined sheet pan, and mix together 3 tbsp. olive oil, 1 tsp turmeric, 1 tsp chili powder, and again 1 tsp of garlic salt. I added regular salt to taste. Combine the mixture well and drizzle it overtop the peanuts. Baking for 10 minutes.
thai Salad dressing
In a small bowl mix all of the wet ingredients together, 1 can coconut milk, 3tbsp peanut butter, 3tbsp lime juice and 1tbsp fish sauce. Including a 2 inch piece of grated ginger and 1 garlic clove, also grated. Pour this dressing over the shredded chicken and pepper mixture and combine well. I sprinkled  in bean sprouts and mixed again.
Presentation is optional, but I arranged the romaine lettuce, with the ends removed on a plate. and spooned the chicken dressing on the top. Then I added the peanuts and added extra fresh herbs and fresh cut limes for extra flavor.
I think this is an easy favorite of mine, and it is so filling and refreshing. It pairs amazing with a huge variety of meals and is so worth making for any occasion.
If you like this recipe, please leave a comment or share it with someone you know.
For more recipes like these try some of our other recipes:
To follow Nikki regularly and stay up to date on what she's doing, follow her on the gram!
Ingredient Lists:
rotisserie chicken
green onions
red bell pepper
bean sprouts
thai basil leaves
cilantro
serrano pepper
mint
romaine lettuce
peanuts
turmeric
chili powder
garlic salt
salt
coconut milk
peanut butter
lime juice
fish sauce
garlic
red chili sauce
olive oil
ginger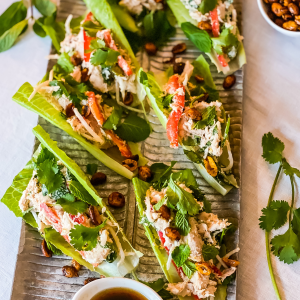 Thai Chicken Salad
Tender chicken, red bell pepper and bean sprouts mixed together in a peanut Thai sauce and then served on lettuce wedges.
Ingredients
1

rotisserie chicken- shredded

1

cup

green onions- chopped

1

red bell pepper- chopped and seeds removed

1/2

cup

bean sprouts

1/2

cup

thai basil leaves- chopped

1/2

cup

cilantro-chopped

1

serrano pepper- seeded and finely chopped

1/2

cup

mint-minced

1

package

romaine lettuce- ends removed

1/2

cup

peanuts

1

tsp

turmeric, chili powder, garlic salt

salt for taste

1

can

coconut milk

3

tbsp

peanut butter

3

tbsp

lime juice

1

tbsp

fish sauce

1

clove

garlic- grated

2

inch

piece of ginger- grated

1

tsp

red chili sauce

sambal or other brand

3

tbsp

olive oil
Instructions
Place chicken, pepper, green onion, fresh herbs, and chili in a bowl.

Pre-heat the oven to 350 degrees. Mix olive oil, turmeric, chili powder, garlic salt, and a pinch of salt. Place peanuts on a parchment lined sheet pan. Drizzle the olive oil mixture over top. Mix together and place in the oven to bake for 10 minutes.

In a small bowl mix all of the wet ingredients together including, ginger and garlic. Pour the dressing over the chicken mixture and mix well. Sprinkle in bean sprouts and mix again.

Arrange romaine lettuce wedges on a plate. Spoon the chicken salad into each wedge. Sprinkle with peanuts, extra fresh herbs and green onion.

Serve with extra lime wedges. Enjoy!