Easy Greek Salad is the perfect option when you're looking for a simple and healthy recipe.
Mixed greens, tomato, red onion, avocado, cucumber, feta cheese, olives, and smoked salmon topped with a lemon vinaigrette.
I am always looking for an easy, but tasty option for lunch and this salad is just that! Mediterranean food is so healthy and delicious. Full of fresh ingredients and flavors that satisfy any craving. I added smoked salmon on top for a little protein and because it's easy to add to the salad. There is no cooking required for this meal!

What to serve with Easy Greek Salad?
This salad has so many amazing ingredients that you really can eat it by itself and be completely satisfied. However, if you want to add something else to the meal I suggest a nice cup of soup or sandwich. You can also change the type of protein that is added to the salad. I used smoked salmon for this recipe because it's easy and healthy. You can also add a nice piece of grilled fish or chicken too.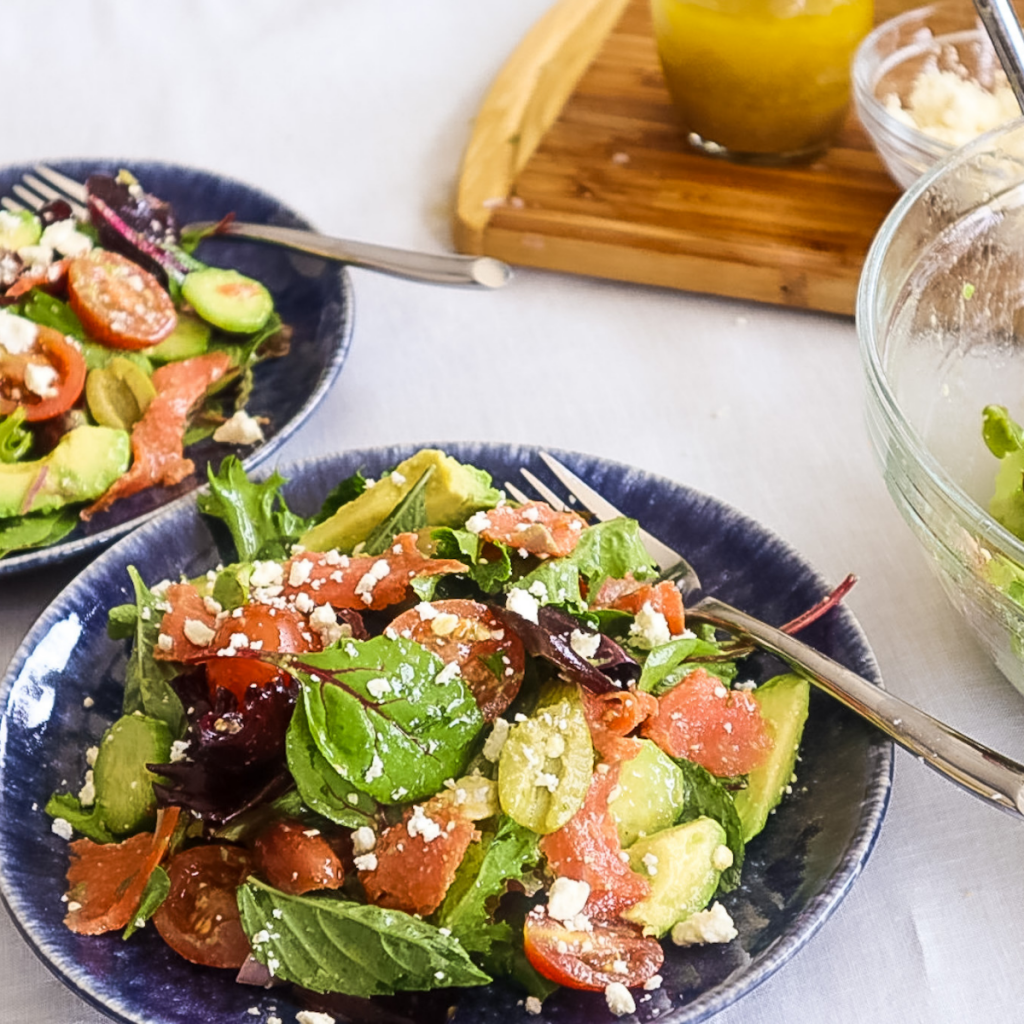 How much dressing should be used on the salad?
Start by adding the dressing slowly to your salad. You don't want to over dress the salad and have it swimming in dressing. I usually add a small amount and then serve the dressing on the side if you want additional flavor.
Can I make this salad ahead?
This salad can be made ahead of when you're planning to eat it. To make it ahead of time add all of the vegetables to the bowl and cover with saran wrap. Next, add all of the dressing ingredients to a bowl or shaker. Cover with saran wrap and place the vegetables and dressing in the fridge until ready to use.
If you like this recipe, please leave a comment or share it with someone you know.
For more recipes like these try some of our other recipes:
To follow Nikki regularly and stay up to date on what she's doing, follow her on the gram!
Ingredient Lists:
mixed greens
red onion
grape tomatoes
avocado
Persian cucumbers
smoked salmon
green olives
kalamata olives
feta cheese
basil
olive oil
lemon juice
liquid seasoning
dijon mustard
garlic powder
paprika
salt
pepper 
Easy Greek Salad
mixed greens, red onion. smoked salmon, olives, tomato, cucumber, and feta topped with a lemon vinaigrette.
Ingredients
2

cups

mixed greens

1/2

red onion- thinly sliced

1

cup

grape tomatoes- halved

1

avocado- peeled and sliced

2

Persian cucumbers- peeled and sliced

1

cup

smoked salmon- torn into pieces

1/2

cup

green olives- halved

1/2

cup

kalamata olives- halved

1/4

cup

feta cheese- crumbled

1/4

cup

basil- chopped

1

cup

olive oil

1/2

cup

lemon juice

1/4

cup

liquid seasoning

1/4

cup

dijon mustard

1

tsp

garlic powder

1

tsp

paprika

salt/pepper for taste
Instructions
Place mixed greens in a large bowl. Add tomatoes, onion, avocado, cucumber, olives, basil, and salmon.

In a shaker or bowl add olive oil, lemon juice, liquid seasoning, dijon mustard, and spices. Shake the dressing to mix. If you're using a bowl use a whisk to mix up the dressing. Taste the dressing and add salt/pepper for taste.

Slowly pour dressing on salad. Add a little at a time to ensure that you don't over dress the salad. Using a large spoon and fork mix the salad with the dressing.

Finally, top with feta cheese mix again and then top with more feta cheese