Who doesn't love fresh homemade spicy tomato soup and grilled cheese? This version of the classic recipe is anything but boring. Throw away your canned tomato soup because once you make this recipe you will never want anything else.
Fresh tomatoes are simmered with spices to give this soup flavor and character. The soup is finished with cream and then pureed to give the Spicy Tomato Soup a nice and velvety finish. On the side, your average grilled cheese is kicked up a notch by adding jalapeño to a three cheese blend. The cheese mixture is pureed to create a smooth cheesy mixture that is easily spreadable and melts to create the perfect grilled cheese sandwich.
Looking for an easy recipe that will shake things up a bit? This recipe is perfect for that. In about 30 minutes you have a gourmet version of everyone's favorite comfort food.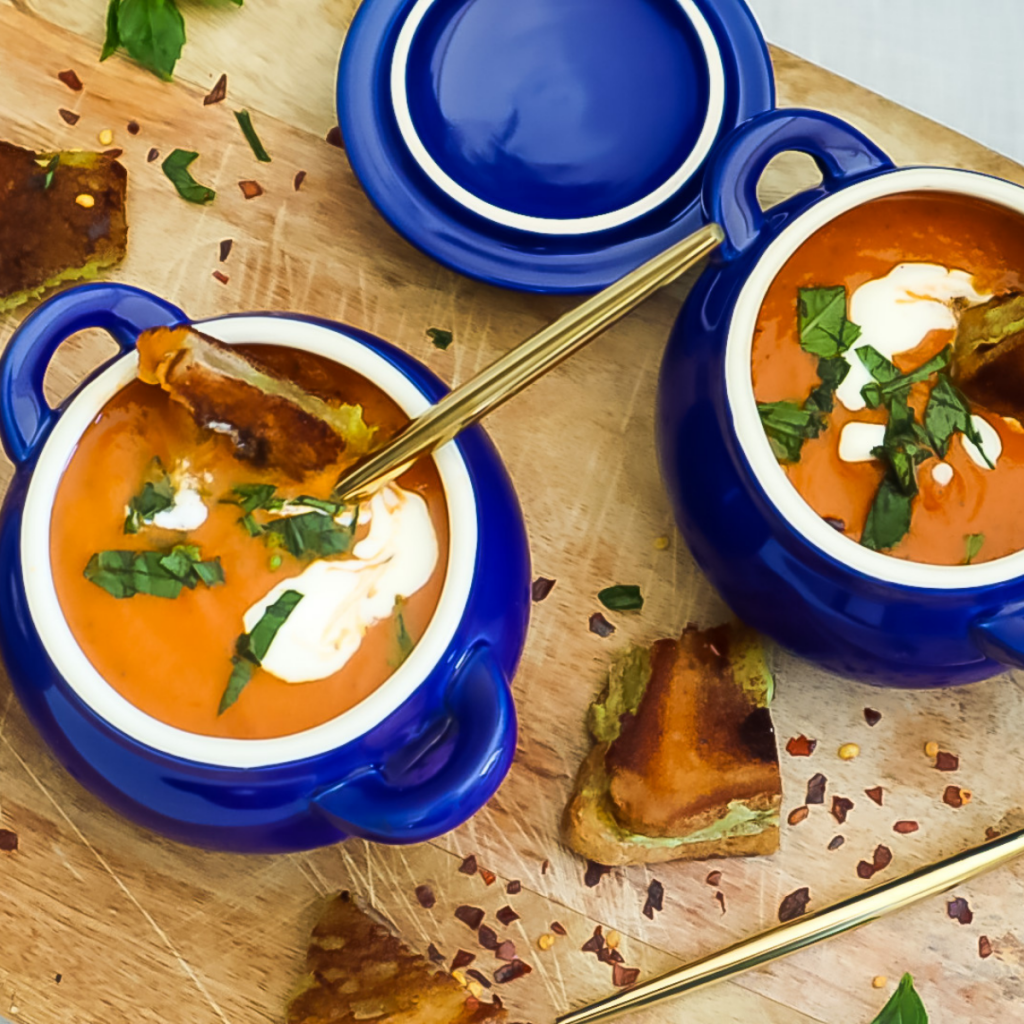 How spicy is this dish?
The Spicy Tomato Soup and jalapeño grilled cheese really isn't spicy at all. The cheese mixture helps to calm down the spice. The spice just adds a little bit of flavor to the dish to make it interesting. If spice isn't your favorite you can add less crushed red pepper and remove one of the jalapeños in the cheese mixture, or remove the spice all together. Adjust this recipe according to your taste and preference. It will still be amazing even without the spice.
What types of tomatoes can be used in the recipe?
I used small grape tomatoes in the recipe because they are sweet and flavorful. They add a nice freshness to the soup. I also used an heirloom tomato as well because it was fresh and in season at the store. You can used any tomato that you prefer. Make sure the tomatoes are ripe, in season, and ready to be eaten. It will make the soup taste even better. The better quality ingredients that you use, the better the dish will taste.
Can I use different cheese in the recipe?
Feel free to experiment with different cheese mixtures. I love the flavor of gruyere cheese mixed with cheddar cheese. It adds some saltiness and a bit of nuttiness to the mixture. I like adding cream cheese because it makes the mixture more spreadable and helps the cheese melt better creating a more even consistency to the sandwich.
If you like this recipe, please leave a comment or share it with someone you know.
For more recipes like these try some of our other recipes:
Dal Makhani Recipe
Chicken Bone Broth Recipe
Chicken Pozole Verde
To follow Nikki regularly and stay up to date on what she's doing, follow her on the gram!
Ingredient Lists:
white onion
garlic
grape tomatoes
tomato
chopped tomatoes
vegetable stock
heavy cream
oregano
red pepper
fresh basil leaves
gluten free or regular sandwich bread
cream cheese
cheddar cheese
jalapeños
gruyere cheese
mayonnaise
salt
pepper
avocado oil
Spicy tomato soup and jalapeño grilled cheese
Homemade tomato soup with a slight kick, served with a three cheese jalapeño grilled cheese.
Ingredients
1

white onion- chopped

2

cloves

garlic- chopped

1/4

cup

grape tomatoes

1

whole

tomato- cut into quarters

1

28 oz can

chopped tomatoes

3

cups

vegetable stock

1/4

cup

heavy cream

1

tbsp

oregano

1

tsp

crushed red pepper

add more if you like it spicy

1/2

cup

fresh basil leaves

6-8

slices

gluten free or regular sandwich bread

1/4

cup

cream cheese

8

oz

shredded cheddar cheese

1-2

jalapeños- seeds removed and quartered

1/4

cup

gruyere cheese- shredded

mayonnaise for spreading

salt/pepper for taste

avocado oil for drizzling
Instructions
Place a large pot over medium heat. Drizzle avocado oil on the bottom of the pot. When oil is warm add onions to the pot. Using a wooden spoon stir the onions cooking until translucent. Add garlic cloves and continue to cook until fragrant. Next, add tomatoes, vegetable stock, oregano, crushed red pepper, and basil to the pot. Bring the mixture to a boil and then cover and reduce heat to medium low. Let the mixture simmer for about 20 minutes.

In a food processor add cream cheese, cheddar cheese, gruyere cheese and jalapeños. Blend until soft and creamy. Spread the cheese mixture on all slices of bread. Taking two slices at a time, place them together to form sandwiches. Spread mayonnaise on the outside of each sandwich.

Place a large pan over medium/high heat. Lightly coat the bottom with avocado oil. When pan is hot place each sandwich face down in the pan. Cook until golden brown on one side. Flip and cook the other side. When both sides are golden brown and cheese is melted, remove the sandwiches from the pan and place on a plate. Cover with tin foil to keep warm.

When soup is done simmering, remove lid and add cream to the pot. Mix well and taste. Add salt and pepper as needed. Using a hand blender, pulse the soup mixture to create a smooth and creamy consistency.

Ladle soup into small bowls and serve with grilled cheese. Enjoy!