Coconut Milk Braised Chicken is not your average chicken recipe, and although the recipe may sound complicated, it's very easy to make.
Tired of cooking the same chicken dish over and over? Looking for a dish that will excite your palate and leave you wanting more? This dish is perfect for you!
Organic chicken breasts are sprinkled with a flavorful seasoning blend and then simmered in a coconut milk broth until the chicken is so tender that you could cut it with a fork. The chicken is served on top of creamy yellow curry lentils and vegetables. a healthy and delicious option for any night of the week.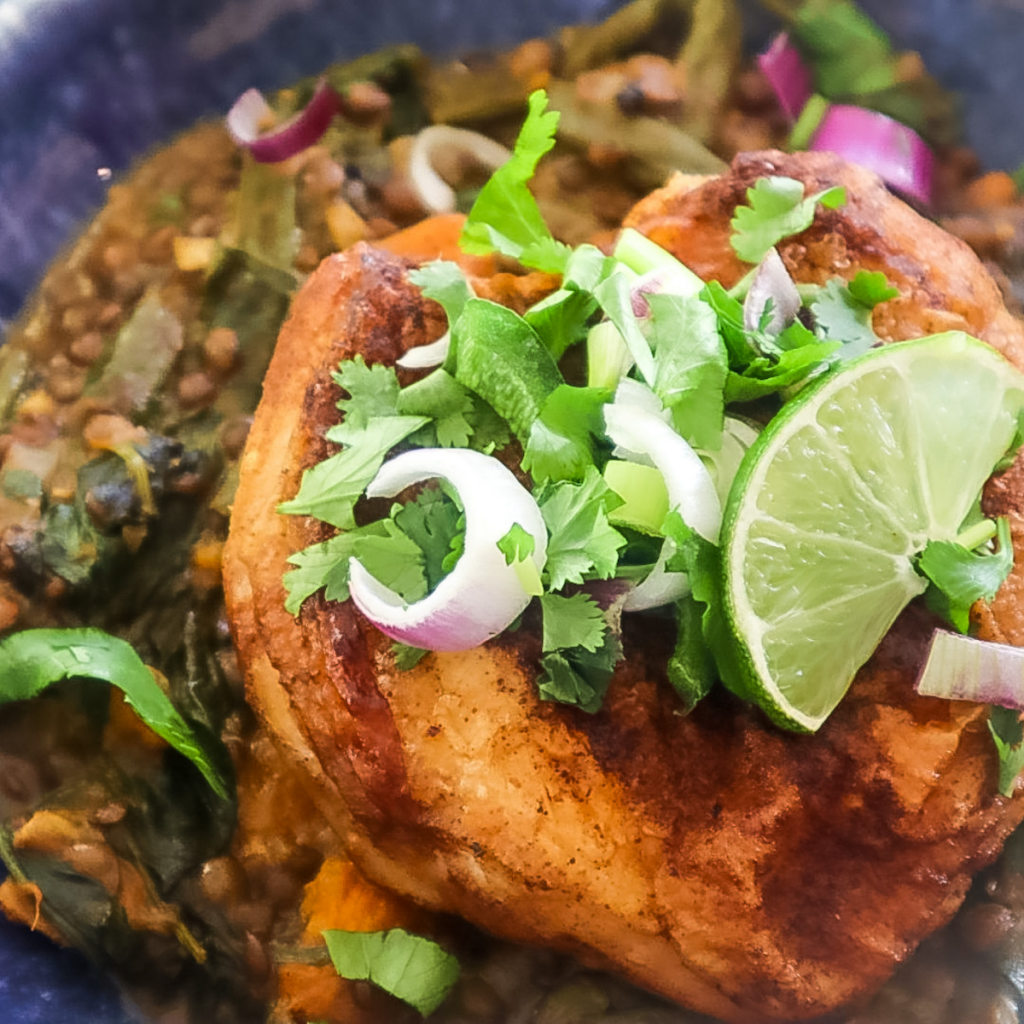 What is curry and where can I find it?
When you think of curry, you may think that you don't know what it is or where to buy it. Curry is just a combination of fresh and dry spices. It can be any combination of spices and can create any flavor that you desire. We are lucky because most grocery stores now carry a variety of curries. Most curries are in the form of a paste. This recipe uses a yellow curry that was purchased at Whole Foods. Most major grocery stores will have premade curries in stock.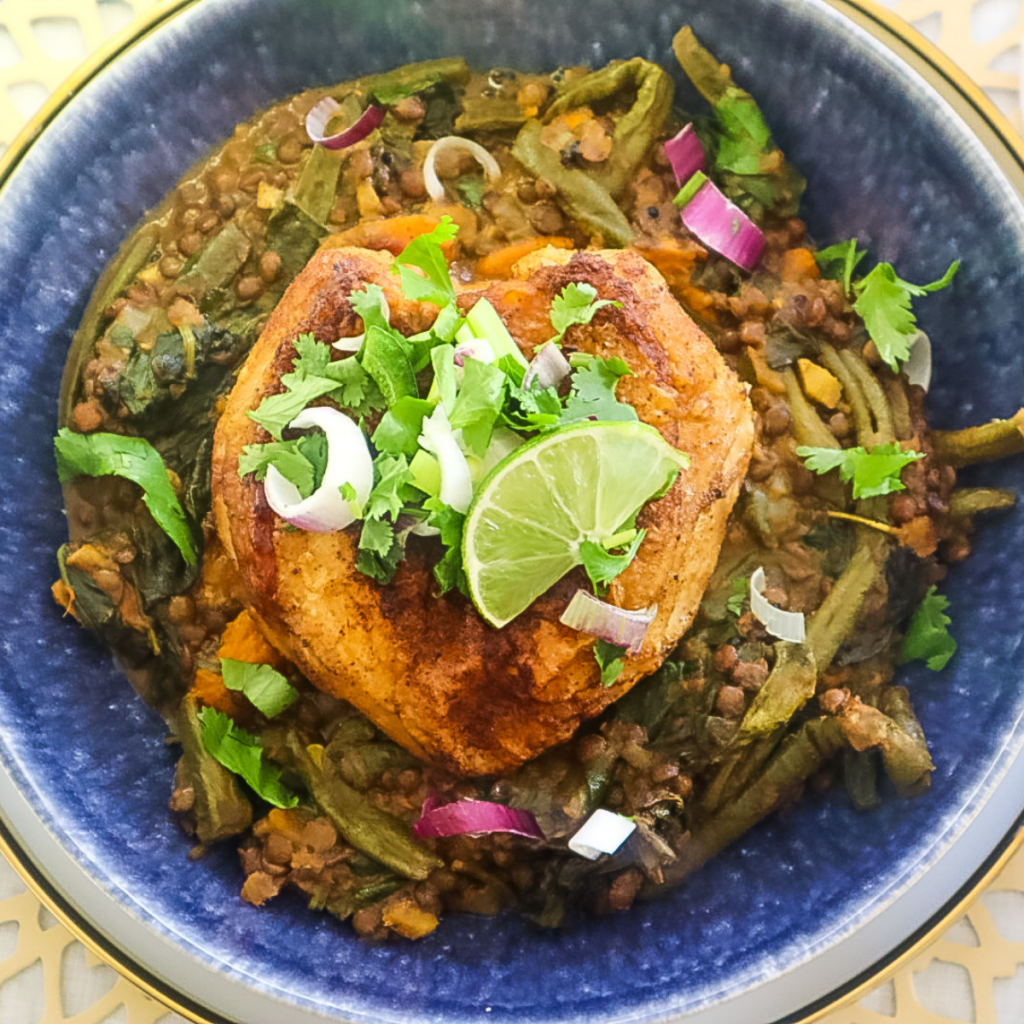 Can regular milk be used to instead of coconut milk?
In this recipe, coconut milk is used to braise the chicken. Regular milk is not recommended because it doesn't have the same flavor as coconut milk. You can find canned coconut milk at your local grocery store. It is very inexpensive and easy to use.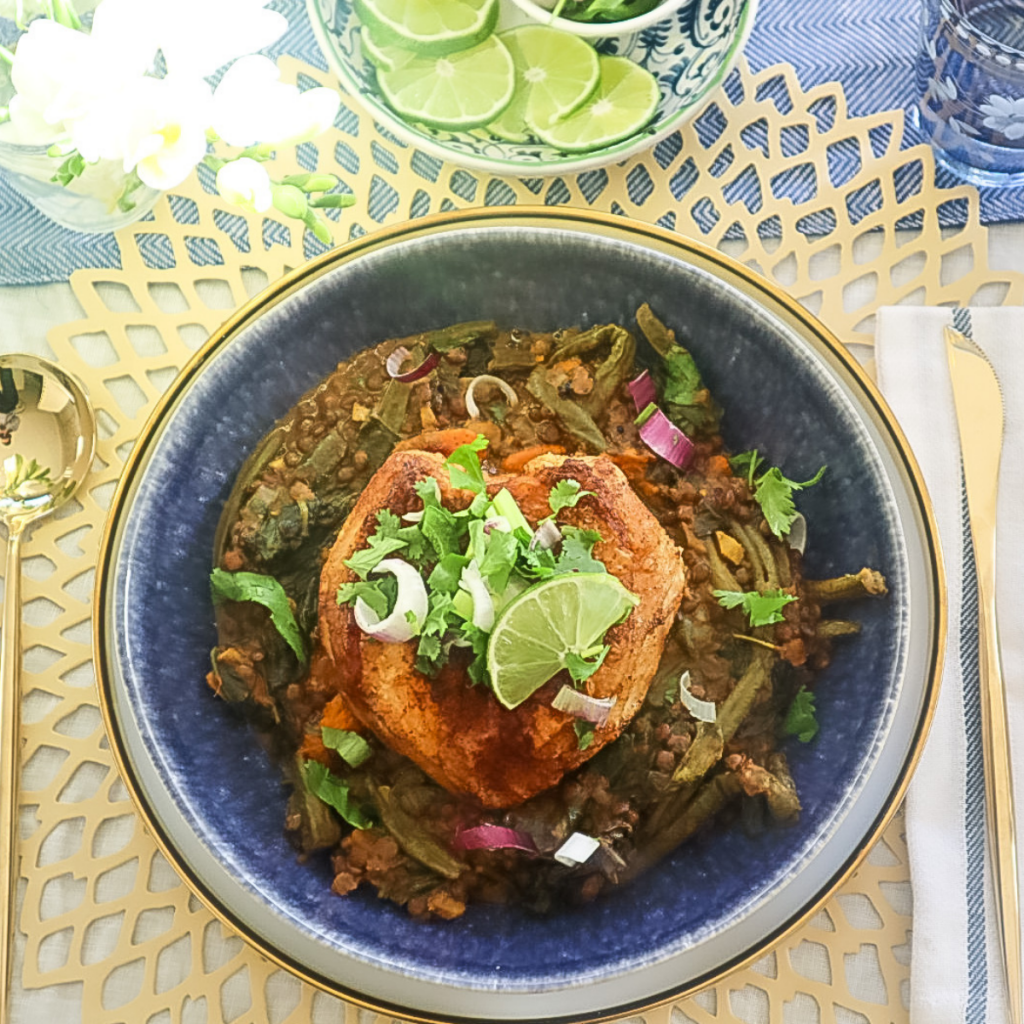 Can this recipe be made ahead?
This recipe can absolutely be made ahead of time. You can make the curry and chicken a day or two ahead and then reheat it on the stove.
If you like this recipe, please leave a comment or share it with someone you know.
For more recipes like these, try some of our other recipes:
To follow Nikki regularly and stay up to date on what she's doing, follow her on the gram!
Ingredient Lists:
skin on chicken breasts
curry powder
paprika
cumin
coriander powder
salt
pepper
coconut milk
lime-juiced
lentils
yellow curry paste
onion
garlic
green beans
sweet potato
vegetable broth
cilantro
avocado oil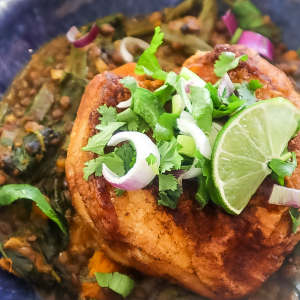 Coconut Milk Braised Chicken
Chicken breasts are simmered in coconut lime milk and then added to the top of yellow curry lentils.
Ingredients
4

skin on chicken breasts

1

tsp

curry powder

1

tbsp

paprika

1

tbsp

cumin

1

tbsp

coriander powder

1

tbsp

salt

1

tsp

pepper

2

cans

coconut milk

1

lime-juiced

1

cup

lentils

1/4

cup

yellow curry paste

1

onion- chopped

2

cloves

garlic- minced

8

oz

green beans- trimmed

1

sweet potato- peeled and quartered

3

cups

vegetable broth

1/4

cup

cilantro- chopped

avocado oil for drizzling
Instructions
Mix curry powder, paprika, cumin, coriander, salt, and pepper in a bowl. Place chicken breasts on a plate and season both sides with the seasoning blend.

Place a large pan over medium/high heat and drizzle the bottom with avocado oil. When oil is warm place the chicken skin side down. Let the chicken brown for about 3-5 minutes and then flip over and brown the other side. When chicken is golden brown add coconut milk and lime juice. Cover the pan with a lid and reduce heat to medium low. Let the chicken simmer for about 25 minutes.

Place a separate deep pan over medium heat and drizzle the bottom with avocado oil. Add onion and saute until translucent. When onion is soft add garlic and saute for another minute or two. Next, add curry paste to the mixture and stir to combine the paste into the onion and garlic mixture. Place you sweet potatoes, lentils, and green beans into the curry mixture, then pour the stock over top. Bring the mixture to a light boil, cover and reduce heat to medium/low. Let the curry simmer for about 20 minutes, or until the lentils and vegetables are tender.

When lentils are done cooking taste the mixture and add salt/ pepper accordingly. Always start with a little at a time, tasting as you go to be sure you don't over salt the food.

Last, sprinkle fresh cilantro on top of the curry and stir to combine.

Place the vegetable and lentil mixture in a bowl and add chicken to the top. Garnish with extra cilantro and lime wedges. Enjoy!