Soup is my all time favorite comfort when I'm feeling under the weather. I figured with the winter months upon us, there is no better time than now to do a warm, delicious, and light soup recipe. Chicken Bone Broth Recipe by far beats anything that you can get from a can, and it can make enough to last the duration of the coldest days when you need a "pick me up". I made this soup while I was sick last week to help me recover and ease some of my symptoms.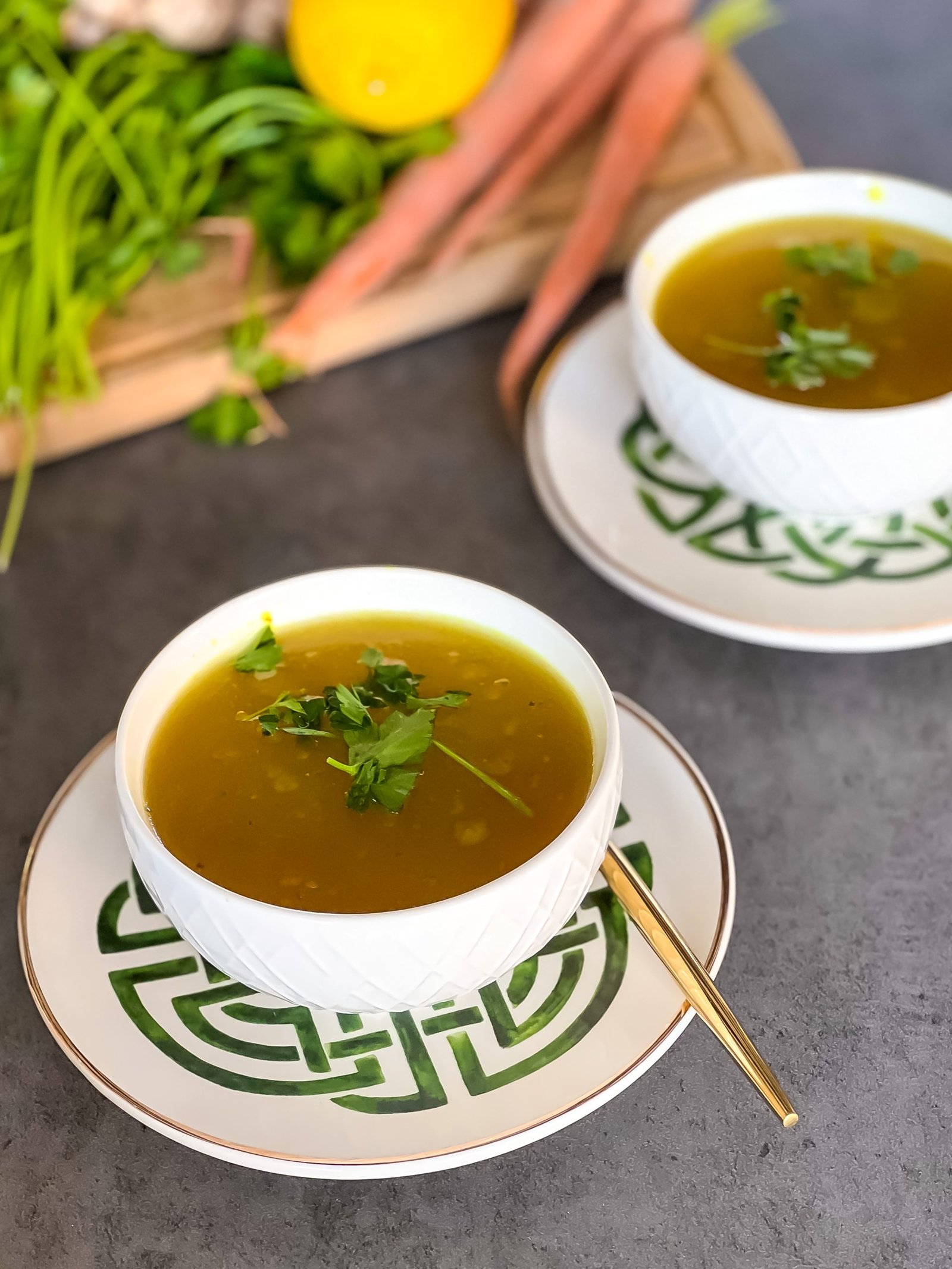 To jump right into the recipe, I used a whole, raw chicken. I wont lie to you, I did have to make this recipe twice for the sake of this post because I forgot to take out the giblets from inside the chicken. So, learning from my mistakes, double check your whole chicken and remove the giblets from inside. Place the whole chicken into a large pot on the stove over high heat. Add 8 cups of water, or enough to fill your pot. You can let this heat up in the water while you work on your other ingredients.
Vegetables
Adding 4 large carrots, chopped to your preferred size, I recommend a bite size. Along with 1 lemon sliced as well, 3 cloves of pealed garlic. I used 1 whole peeled and quartered onion, 4 celery stalks, also bite sized, and finally 1/2 cup parsley leaves.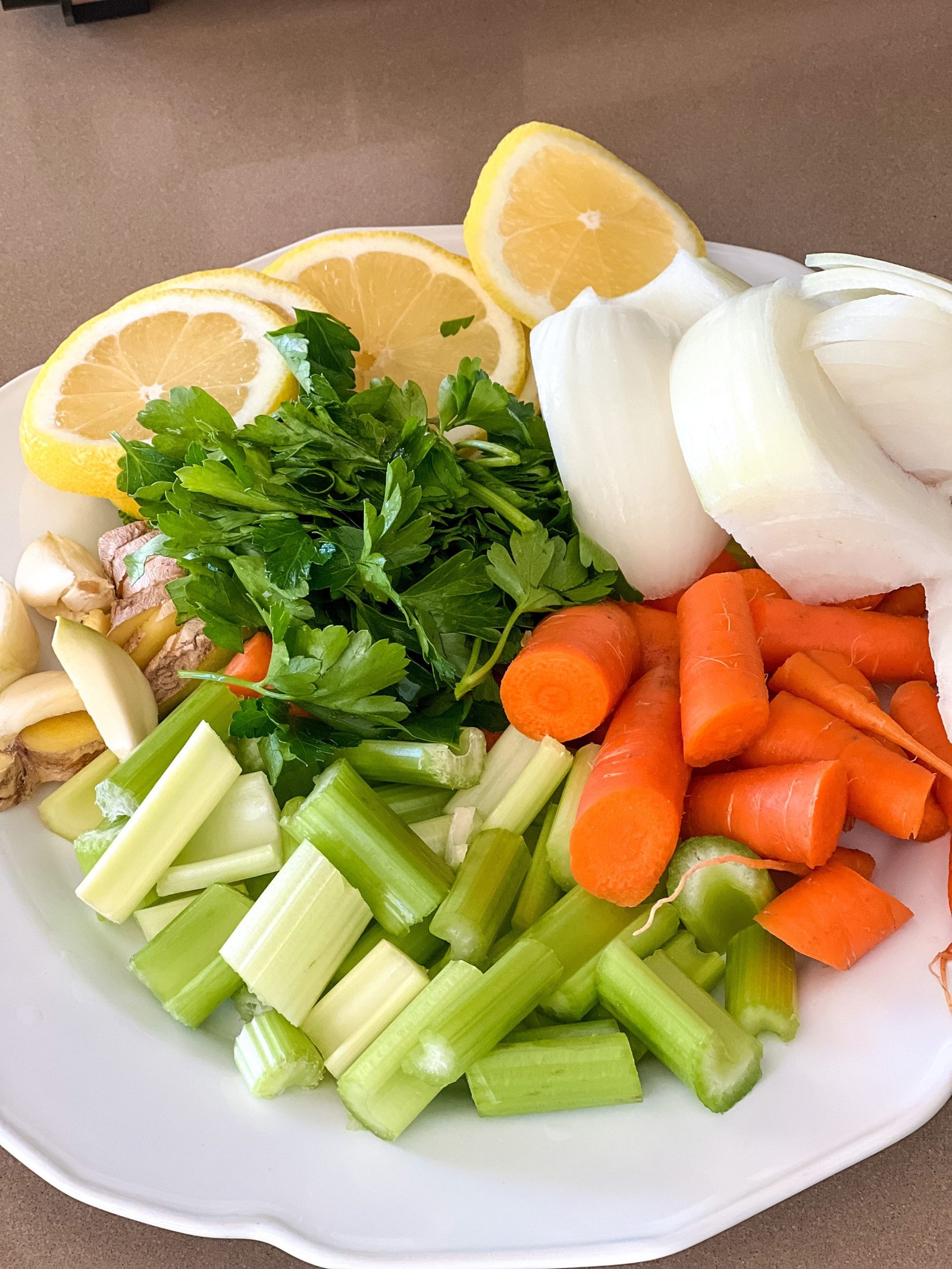 Ingredients that will support your immune system
This chicken bone broth soup is geared to boost immune support, so I added a 3 inch piece of raw ginger, pealed and sliced. 1 tbsp. of turmeric powder, 1 tbsp. sea salt, 1 tsp of black peppercorns, 1 tsp crushed rep pepper flakes (optional depending on if you prefer spicy) and finally 1 tbsp. oregano and 2 bay leaves.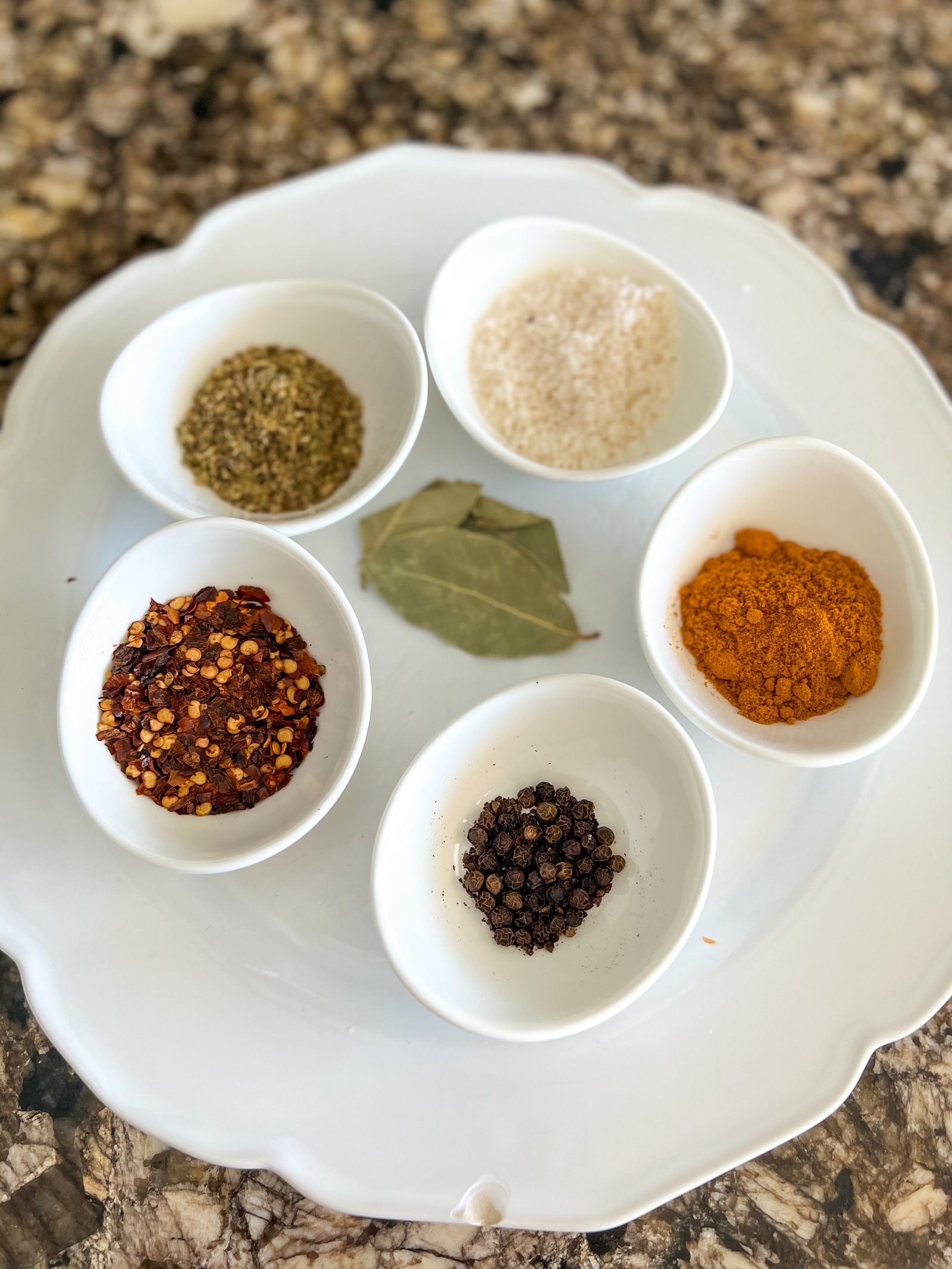 Let all the ingredients come to a boil. Once it has reached a boil, cover the pot with its' respected lid, and let it simmer for 2 hours on a low heat. When 2 hours have past, remove the chicken and set it aside, You can add it back into the broth, shredded, or you can use it for another recipe altogether. Carefully pour the broth through a sieve into a large bowl. This recipe is intended to be a broth soup, so you can eat as many of the left over vegetables as desired, or just enjoy the warmth of the broth itself.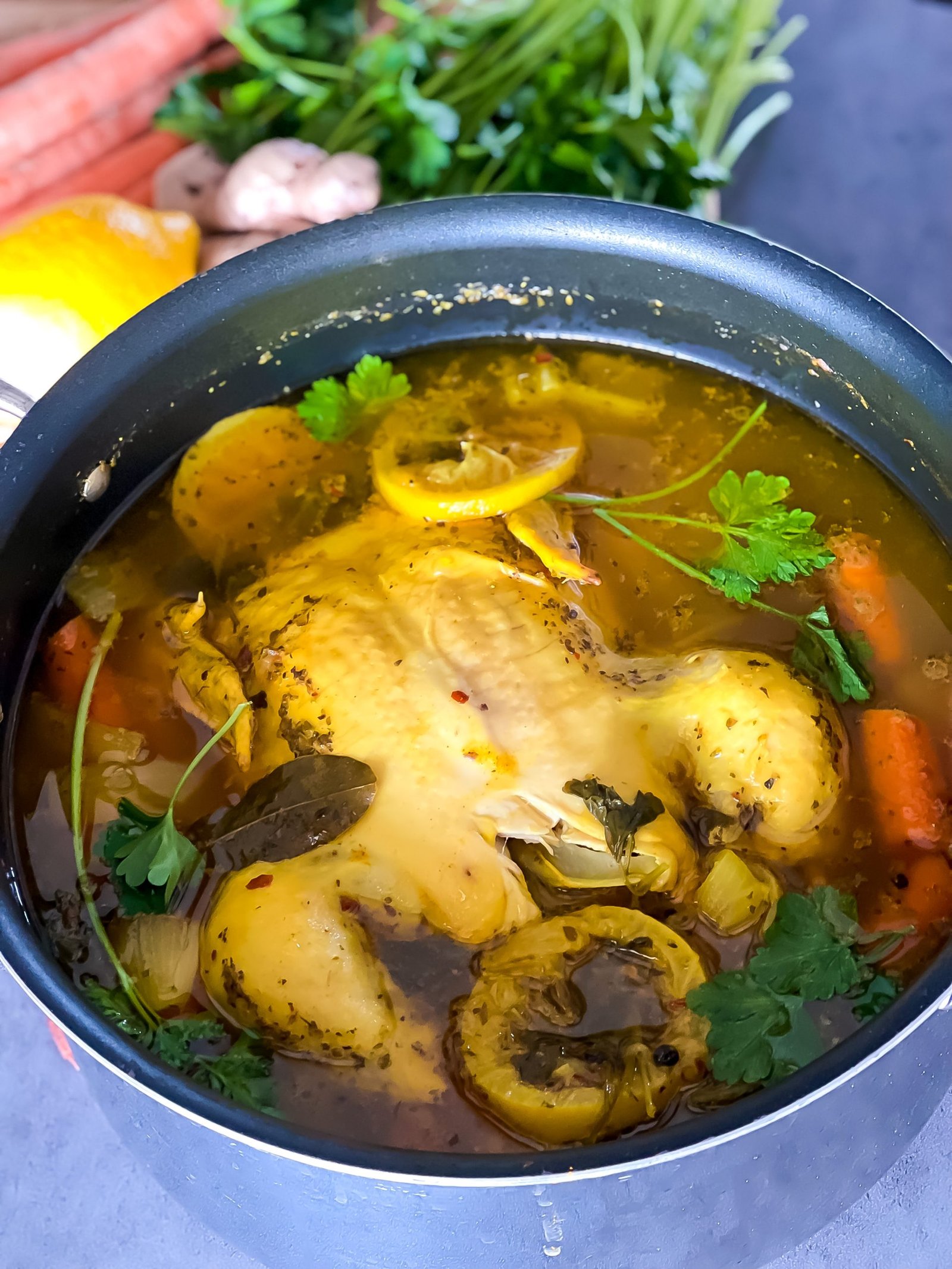 How do these ingredients help your immune system?
There are many remedial methods that come from good organic foods. For example I added Turmeric and Ginger to this broth recipe. Both are great for immune support. Turmeric is an anti-inflammatory and antioxidant, the anti-inflammatory property helps to relieve cold symptoms. Along with Raw Ginger has medicinal properties that reduce  inflammation and sore throat.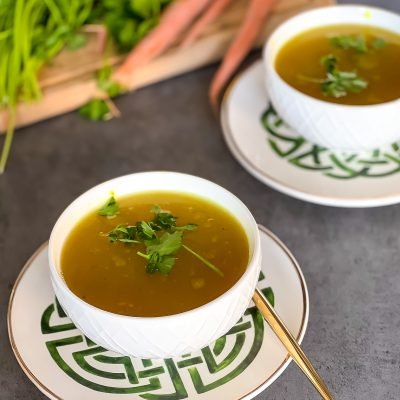 Chicken Bone Broth Recipe
Free range chicken, spices, vegetables and herbs simmered for hours until all of the flavors combine to create a healthy broth.
Ingredients
1

whole

chicken- rinsed and gizzards removed

8

cups

spring water

1

lemon- sliced

1/2

cup

parsley leaves

1

onion- peeled and quartered

3

cloves

garlic

3

inch

piece of ginger- peeled and sliced

4

carrots- loosely chopped

4

celery stalks- loosely chopped

1

tbsp

turmeric powder

1

tbsp

sea salt

1

tsp

black peppercorns

1

tsp

crushed red pepper

optional if you like a little bit of spice

1

tbsp

oregano leaves

2

bay leaves
Instructions
Remove chicken from the package and rinse well. Make sure to remove the giblets from the inside of the chicken. Place the chicken in a large pot and fill with the spring water. Place the pot on high heat and bring to a boil.

Add carrots, lemon, celery, garlic and parsley. Next, add spices, vinegar, and bay leaves. When mixture comes to a boil cover with a fitted lid and reduce heat to low. Let the mixture simmer for 2 hours.

When mixture is done simmering remove the chicken from the pot and place on a plate. Pour the broth through a sieve into a large bowl.

Shred the chicken and place in the broth or use in another recipe.

Enjoy the broth in a cup or as a bowl of soup!