This Salmon Salad recipe is my fresh rendition of a healthy and simple way to either get rid of left over salmon, or sneak salmon into your diet in a delicious way. Salmon has nutritious Omega-3 fats, vitamin D and vitamin B12 that support your body in ways your taste buds can enjoy! The salmon mixture is much like that of tuna sandwiches. Except, salmon  keeps your heart, lungs, blood vessels, and immune system working the way they should. This recipe is very light and refreshing, perfect for any occasion.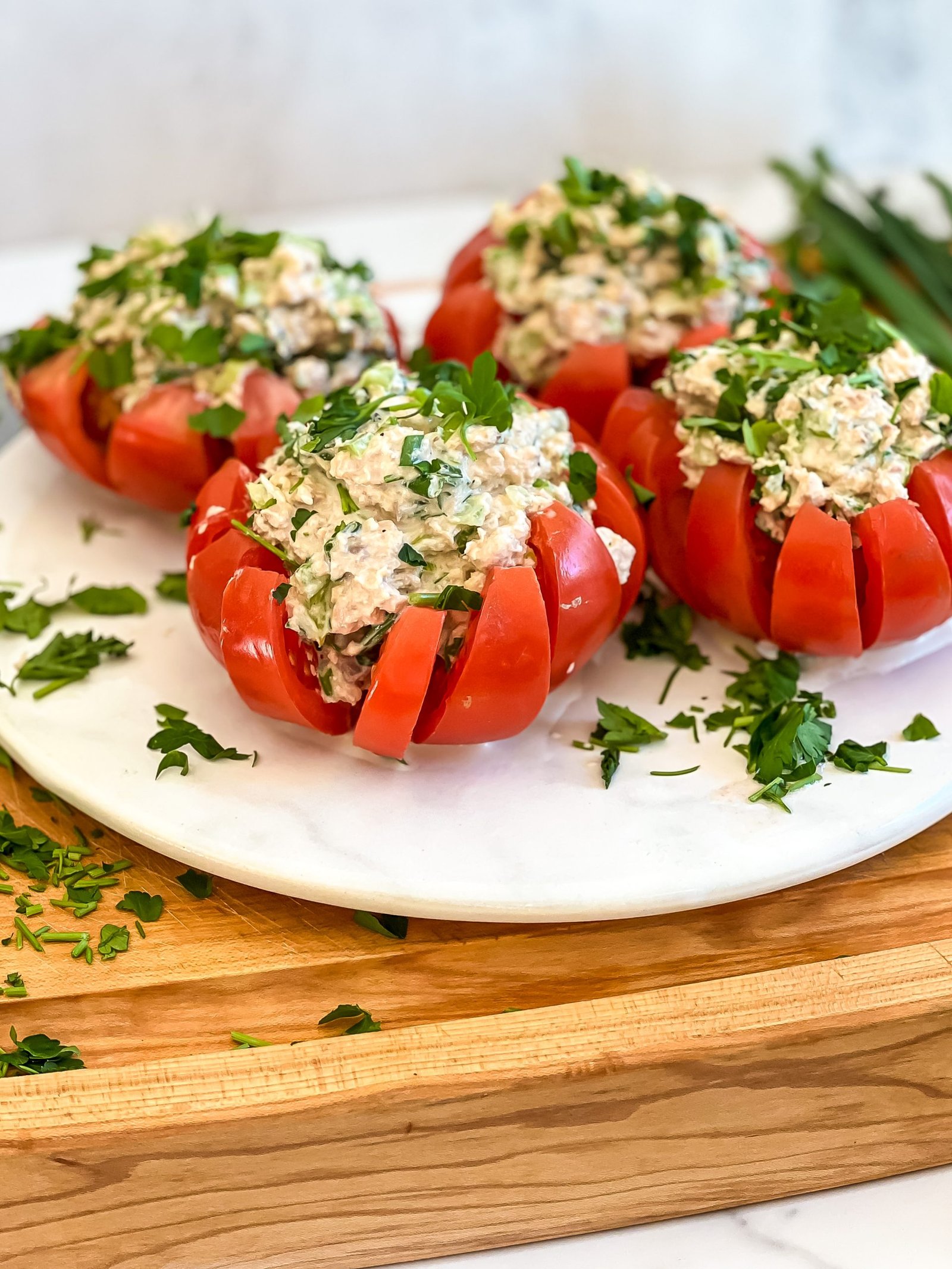 Salmon mixture
In a medium sized mixing bowl add your Wild Caught Salmon, 1/4 cup of chopped parsley, 1/4 chopped green onion, and 2 chopped celery stalks. Combine these ingredients until the salmon is a shredded consistency. When they are combined add in 1 tbsp. of lemon juice and one cup of mayonnaise, I used avocado mayonnaise. Along with 1 tbsp. of Dijon mustard 1 tsp of garlic salt, 1 tsp sea salt, and finally 1/8 tsp of fresh black ground pepper. Combine all ingredients and set them aside
cutting the tomatoes
I discovered that this combination of flavors pairs really well with tomatoes, much like the very popular Bell Pepper sandwiches, this will be a spin off of that idea. Core your tomato to create a hole within it. Make sure not to core all the way through, but just enough to make a well of sorts that my salmon mixture could sit in. Then, much like a flower, I sliced the tomato going vertically around the entirety of it. This made the tomatoes look like a flower. I did not slice all the way through the tomato, but rather stopped cutting about a centimeter from the bottom of the tomato.
This may sound confusing, but it is easier when you have a visual aid, if your tomato ends up looking like it has petals, then you accomplished this step of the process. Now all that is left is to fill the inside of the tomato flowers with our salmon mixture. I added a little extra parley for a fresh taste and you're all done! This also can pair well on your favorite toast, much like a tuna sandwich, or even as a small source of protein on salads.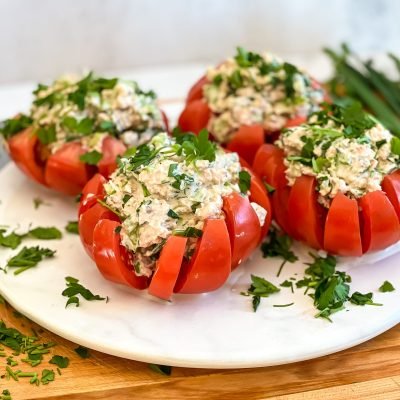 Salmon Salad Recipe
Fresh wild caught salmon, celery, green onion, avocado mayo, lemon juice and spices.
Ingredients
wild caught salmon

2

celery stalks- chopped

1/4

cup

green onion- chopped

1

tbsp

lemon juice

4

whole

tomatoes

1

cup

avocado mayo

1/4

cup

parsley- chopped

1

tbsp

dijon mustard

1

tsp

garlic salt

1

tsp

sea salt

1/8

tsp

ground black pepper
Instructions
In a large bowl add salmon, parsley, green onion and celery.

Mix in lemon juice, mayo, mustard and spices. Mix the ingredients together until well combined. Taste and add additional seasoning if needed.

Cut the tops off the tomato and make slices down the sides to create small wedges. Refer to video to see how this is done.

Scoop the salmon salad into the tomato wedges. Garnish with extra parsley and serve.