This Vegetarian Lasagna is my fresh rendition of the traditional classic. Made with eggplant, buffalo mozzarella and basil instead of a meat sauce. Now, don't let the eggplant fool you, this recipe tastes just as good as the original lasagna recipe that you remember. I promise you won't miss the meat! This version of the Italian favorite is a combination of lasagna and eggplant parmesan. I came up with this recipe when I was trying to be a little more health conscious without loosing the taste of lasagna that I have always loved.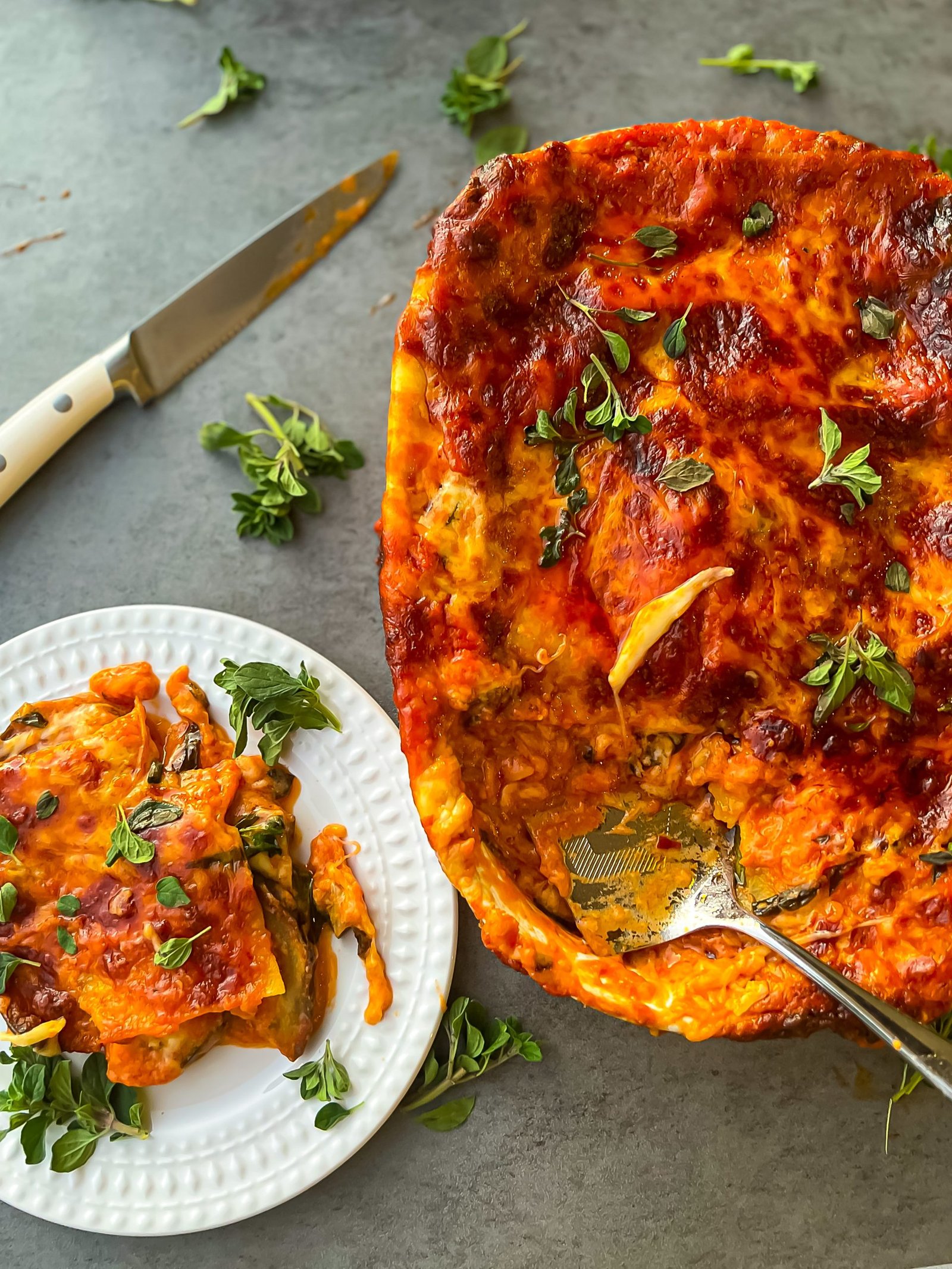 How do you make vegetarian lasagna that is not watery?
The best way to prevent your lasagna from becoming too watery is to make sure to dehydrate the eggplant using salt. By sprinkling the eggplant with salt and letting it sit for 30 minutes, it will remove the moisture and will prevent the dish from becoming soggy or watery. The second thing that you can do to prevent the dish from becoming watery is to use tomato sauce instead of canned whole tomatoes. This is the brand of tomatoes I use when making my tomato and basil sauce.
What do I use for the cheese sauce?
I used a classic bechamel sauce recipe with cheese. You can also buy a store bought version found at your local grocery store.  Start by adding 2 tbsp. of butter to a pot over medium heat. When butter has melted add 1 1/2 tbsp. of flour. Stir this for a few minutes. Next, add 1 1/2 cups of milk. Bring to a boil and add 1 8oz package of Italian Cheese Blend. Let the cheese fully melt and add more milk if the sauce is too thick. Season with salt for taste.
The lasagna assembling process is more simple than lead on, It really only consists of layering all your ingredients to achieve maximum flavor. I have learned that the best way to assemble is to start with your sauce, then add one layer of noodles, ensure that the entirety of your dish is covered. Then eggplant, along with fresh buffalo mozzarella, basil leave and white sauce.
Repeat this process until your layers are about 1/4 from the top. Your last layer will just be the red sauce, a layer of noodles, your white sauce and as much cheese as your heart desires.
This amazing layered dish will go into the oven at 400 degrees for 40 minutes. I did notice that my cheese was getting very brown. A little brown is okay, but a simple trick is to spray a piece of aluminum foil, oil side down over the cooking lasagna. This allows the dish to continue cooking at it's high temperature without burning all that ooey-gooey delicious cheese on top

I tried something a little knew to help those of you who want the exact materials of these recipes. So, any of the words that are highlighted in this post are links to the exact ingredient or recipe to make it easier for you to find. Happy Cooking!
Vegetarian Lasagna
Fresh eggplant, tomato and basil sauce, creamy buffalo mozzarella, gluten free lasagna noodles, and a creamy cheese sauce all baked together to create a decadent lasagna.
Ingredients
2

cups

fresh tomato sauce

you can use store bought or make your own. Recipe link is located at the top of the page

2

cups

bechamel sauce

store bought will work

1

cup

basil leaves

1

ball

buffalo mozzarella- sliced

1 1/2

cups

shredded mozzarella

1/2

cup

parmesan cheese

1

eggplant- sliced and cut in half

1

tbsp

salt

avocado oil spray
Instructions
Pre heat oven to 400 degrees

Place sliced eggplant on a cookie sheet and sprinkle with salt. Let the eggplant sit for 30 minutes to remove the moisture.

Spray the inside of a medium sized baking dish with avocado spray. Ladle 1/2 cup of the tomato sauce onto the bottom of the dish. Layer with lasagna noodles. You can break them in half to help them fit into the dish evenly.

Next, add a layer of eggplant followed by buffalo mozzarella, basil leaves and white sauce. Add another layer of tomato sauce and repeat the process from the beginning until you are a 1/4 from the top. Make sure you end your last layer with lasagna noodles. Sprinkle with shredded mozzarella cheese and parmesan cheese.

Place in the middle of the oven for 40 minutes. If you notice the cheese becomes too brown, spray a piece of foil with avocado spray and cover the dish. Note: the avocado spray will prevent the foil from sticking to the cheese.

When lasagna is done cooking, let it cool for 10 minutes before serving.