My Holiday Sangria is sure to be a hit with all of your guests. I should tell you, this cocktail needs to come with a warning because it will go quickly.
The countdown to the holidays begins! With less than two days left until Christmas, the town is buzzing. People are out and about doing their last minute shopping and prepping for the big day. With so much to do, there's little time to think about what type of cocktail you will serve for your fun and festive holiday soiree.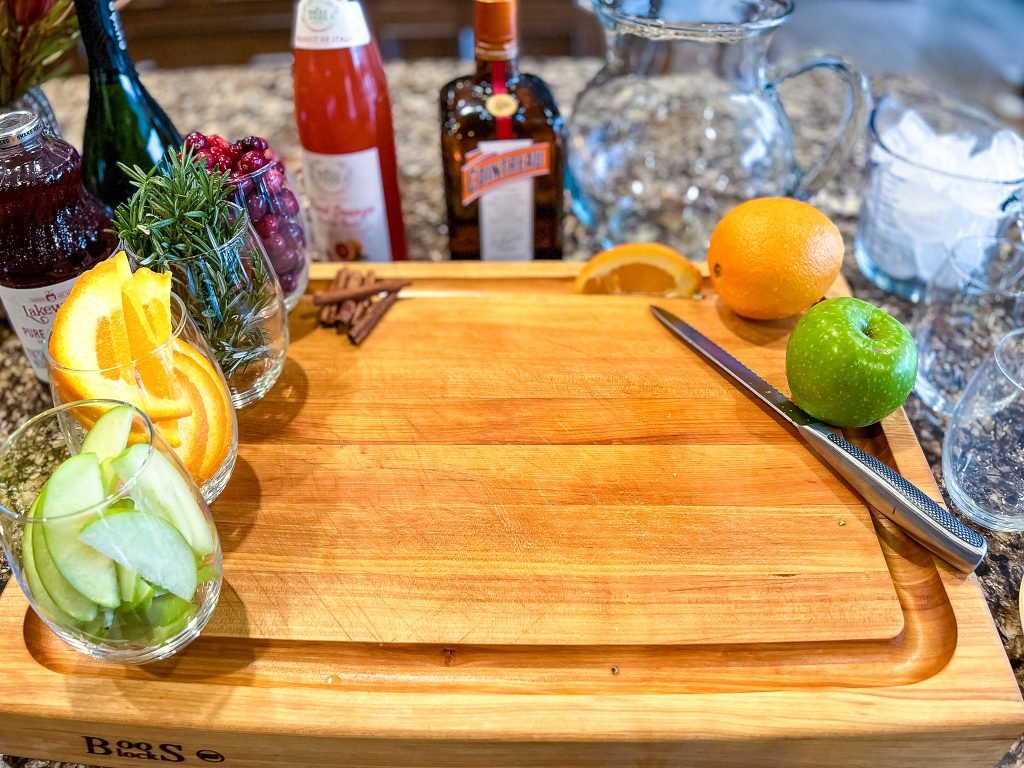 To help take one item off of your list of to-do's, I have created a cocktail that is simple, easy and full of festive flare. If I could offer any advice it would be to make a double batch of the Holiday Sangria to ensure there is plenty to go around to each of your guests.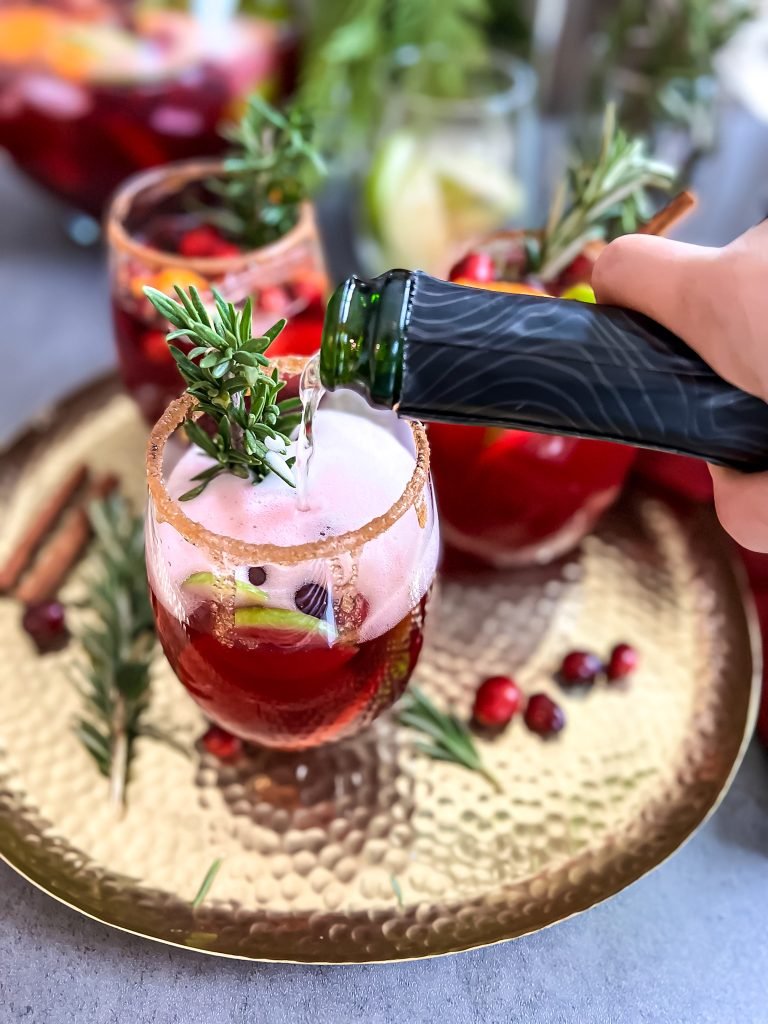 How to make this cocktail:
Begin by adding the ice to a large pitcher. Next, add in the juice and blood orange soda. If you are wondering where to purchase blood orange soda, I found mine at Whole Foods. If you don't have a Whole Foods near you, or you cant find the blood orange soda, use ginger beer.
Once the juice and the soda combined, you want to add in your Cointreau. If you aren't familiar with this liquor, Cointreau is an orange flavored liquor that will give a nice flavor to the sangria.
Next, add in the orange and apple slices, followed by the fresh cranberries. Mix every thing together. You can make this a day ahead of your party or gathering and let it sit in the fridge.
To serve, pour honey/agave syrup into a small plate. Add sugar and cinnamon and mix lightly. Swirl the rim of each cocktail glass into the sugar mixture. Add ice to each cocktail glass (if desired),  pour in the cranberry mixture about 3/4 of the way full and then top off with sparkling Champagne. Garnish each glass with additional fruit, rosemary and cinnamon sticks.
If you like this recipe, please leave a comment or share it with someone you know.
For more recipes like these try some of our other recipes:
To follow Nikki regularly and stay up to date on what she's doing, follow her on the gram!
What you will need:
 Large pitcher
Cranberries
Oranges
Apples
Champagne
Rosemary
Sugar
Cinnamon
Honey/Agave Syrup
Cinnamon Sticks
Pure Cranberry Juice
Blood Orange Soda
Cointreau
Ice
Holiday Sangria
Cranberry juice, blood orange juice, fresh apples, oranges and cranberries all topped with sparkling champagne.
Ingredients
1

bottle

pure cranberry juice

1

bottle

blood orange soda

found at whole foods

2

oz

cointreau

1

bottle

champagne or sparkling wine

2

green apples- cored and sliced

put one apple into a glass bowl or glass when done slicing

2

oranges- sliced

put one orange into a bowl or glass when done slicing.

2

cups

fresh cranberries

put 1 cup into a bowl or glass

1

package

fresh rosemary

place half of the rosemary into a bowl or glass

1/4

cup

agave syrup or honey

1/4

cup

sugar

2 tbsp

ground

cinnamon

cinnamon sticks for garnish

2

cups

ice
Instructions
Place 2 cups of ice in a large pitcher. Add cranberry and blood orange juice. Mix in cointreau and 1 cup of oranges, cranberries and apples. Mix well with a long spoon and add in half of the rosemary sprigs. You can let this sit over night or serve immediately.

Using a small plate, pour honey/agave syrup on the bottom. Add sugar and cinnamon and lightly stir to combine ingredients.

Using a cocktail glass, place the glass rim side down in the sugar mixture and twist until the rim is coated with the sugar mixture.

Pour the cranberry mixture into each glass about 3/4 of the way. Top the remaining 1/4 of the glass with champagne. Add in orange, apples and cranberries for garnish.

To serve, finish each cocktail with a rosemary sprig and cinnamon stick. Enjoy this delicious cocktail!