Bourbon Maple Apple Crisp is a tender apple mixture with hints of bourbon, maple, vanilla and pumpkin spice. Topped with a delectable crunchy streusel.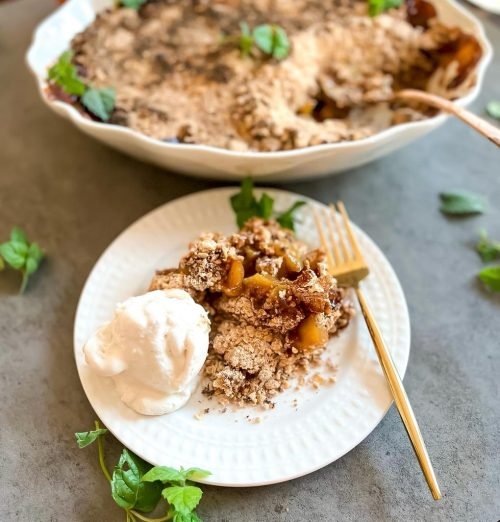 Are you looking for a dessert that's easy to make and better for you? This is the recipe for you.
An easy one-pot dessert that has restaurant quality taste and flavor. You would never know that this recipe is actually gluten free and low glycemic.
Instead of traditional cane sugar, I used maple and coconut sugar. Both have a lower glycemic index and are better for you than traditional sugar, without having one bit of difference in the taste.
This recipe is perfect for any holiday gathering or to enjoy during the weeknight with your family. It's so easy you can get the kids involved to help you make the recipe.
Serve this dessert with coconut ice cream, which is plant based, or with your favorite ice cream or gelato.
If you like this recipe, please leave a comment or share it with someone you know.
For more recipes like these try some of our other recipes:
To follow Nikki regularly and stay up to date on what she's doing, follow her on the gram!
Ingredient Lists
Apples
Coconut sugar
Maple sugar
Cassava flour or regular flour
Pumpkin spice
Water
Bourbon
Vanilla
Gluten-free oats or regular oats
Salt
Baking powder
Baking soda
Butter
Coconut ice cream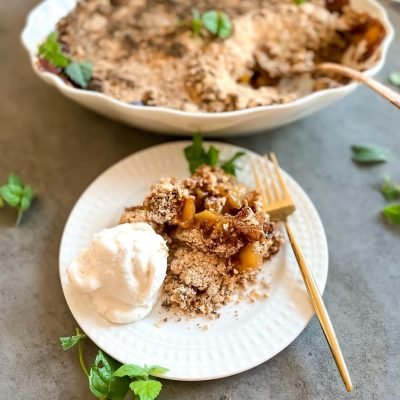 Bourbon Maple Apple Crisp
Ingredients
5

cups

of apples, cored and chopped

2/3

cup

of coconut sugar

1/2

cup

of maple sugar

2 tsps

+ 1/2 cup

of cassava flour (regular flour can be used as well)

2

tsps

of pumpkin spice

1/4

cup

of water

3

tbsps

of bourbon

3

tbsps

of vanilla

1/2

cup

of gluten-free oats (you can use regular oats as well). 

1

tsp

of salt

1/8

tsp

of baking powder 

1/8

tsp

of baking soda 

1/2

cup

of butter, melted

coconut ice cream
Instructions
Preheat the oven to 450 degrees. Add the apples, coconut sugar, two teaspoons of flour, and pumpkin spice to a bowl. Mix well to coat all of the apples. 

Spread the apple mixture in a medium-sized baking dish. Next, stir the oats, remaining flour, maple sugar, salt, baking powder, baking soda, and melted butter together in a bowl. 

Pour the crumbled oat mixture evenly over the apple mixture. Place the baking dish in the oven for 15 minutes, then reduce the heat to 350 degrees and bake for 45 minutes. 

When the apple crisp is done baking, remove it from the oven and let it cool. Serve slightly warm with a side of coconut ice cream or your favorite ice cream. Enjoy.