Cherry Chocolate Bourbon loaf is a soft, buttery bread with hints of cherry, bourbon, and chocolate.
If you're looking for a sweet treat that you don't have to feel guilty about, this is the recipe for you.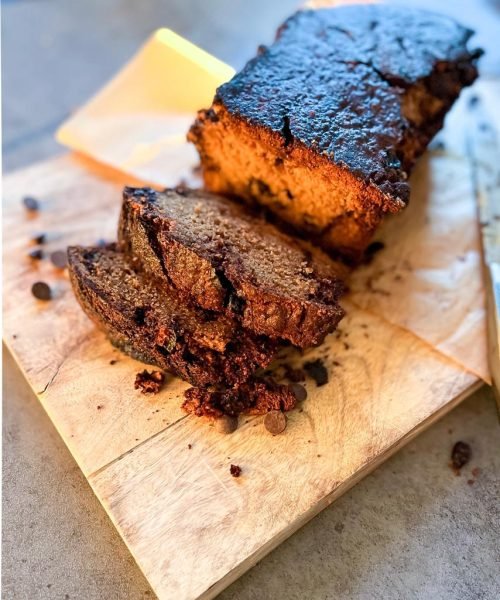 I used brown rice flour and cassava flour to make this bread gluten free. If you're not gluten free you can use regular flour. To see a list of my favorite gf and regular flour options that are clean, download my free pantry guide.
Coconut sugar was also used instead of cane sugar to make the bread less inflammatory but still have a nice and natural sweetness.
Serve this bread for breakfast or for a healthier sweet treat. Add a little extra chocolate sauce for dipping.
Enjoy!
If you like this recipe, please leave a comment or share it with someone you know.
For more recipes like these try some of our other recipes:
To follow Nikki regularly and stay up to date on what she's doing, follow her on the gram!
Ingredient Lists
Brown rice flour
Cassava flour
Sea salt
Baking powder
Coconut sugar
Eggs
Vanilla
Butter
Milk
Dried cherries
Semi sweet chocolate chips
Bourbon
Avocado oil Spray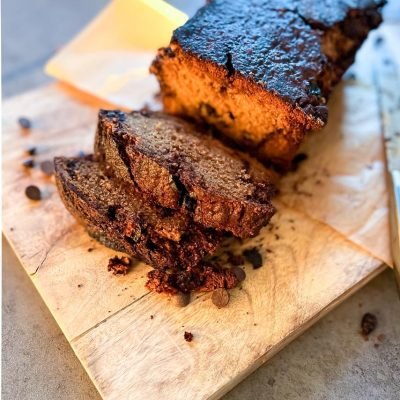 Cherry Chocolate Bourbon Loaf
Ingredients
1

cup

of brown rice flour

1

cup

of cassava flour (use 2 cups of regular flour if desired)

1

tsp

of sea salt

2

tbsp

of baking powder

1

cup

of coconut sugar

2

eggs

1

tbsp

of vanilla

1/2

stick

of butter, melted

1

cup

of milk 

1/2

cup

of dried cherries

1

cup

of semi sweet chocolate chips

3

tbsp

of bourbon

Avocado oil spray
Instructions
Pre-heat the oven to 375 degrees. Place the chocolate chips in a small pan and melt over low heat. Pour in the bourbon and bring the mixture to a boil.

Turn the heat to low and let it simmer until ready to use. In a medium bowl, place your dry ingredients: flour, baking powder, and salt, mix together using a whisk.

In a second large bowl, whisk the eggs, butter, and sugar together. Add the vanilla and whisk until well combined. Slowly, pour the dry ingredients into the wet ingredients and use a whisk or spatula to combine the ingredients. Add the dried cherries and mix again. Using a loaf pan, spray the inside with avocado oil.

Fill one half of the loaf pan with your batter. Drizzling chocolate using a toothpick, make markings in the batter to blend the ingredients together. 

Pour the rest of the batter over the top. Drizzle with a little bit of the remaining chocolate. Bake in the oven for 30 minutes or until a knife comes out clean when inserted into the middle. Serve warm. Enjoy!