Salmon Piccata is a fresh, wild-caught salmon, lemon, white wine, garlic, and parsley make this beautiful and delicious dish.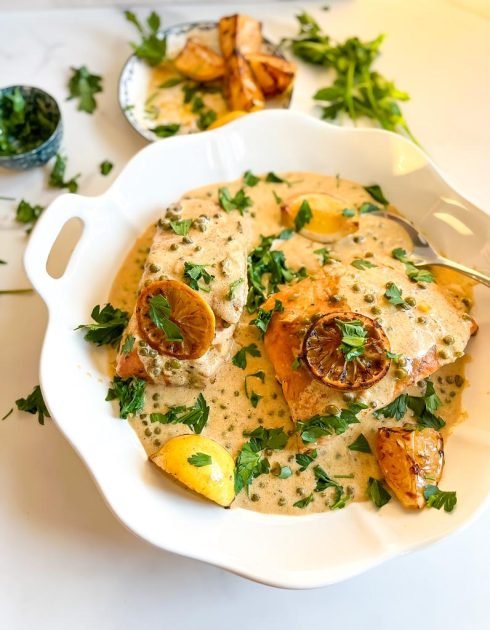 Fall is in the air and I am craving comfort food. This is the ultimate comfort recipe that still is healthy and nutritious.
This recipe can be made with other proteins such as white fish or chicken. You can even make this recipe vegetarian by making this sauce with a mix of vegetables.
Serve salmon piccata with fresh pasta (gf or regular), mashed potatoes, or a side of veggies.
Made in less than 30 minutes, this recipe is perfect for anytime of week.
If you like this recipe, please leave a comment or share it with someone you know.
For more recipes like these try some of our other recipes:
To follow Nikki regularly and stay up to date on what she's doing, follow her on the gram!
Ingredient Lists
Wild-caught salmon filets
Brown rice flour
Organic seasoning salt
Garlic
Capers
Lemon
White wine
Grass-butter
Vegetable or chicken stock
Heavy cream
Avocado oil
Salt and pepper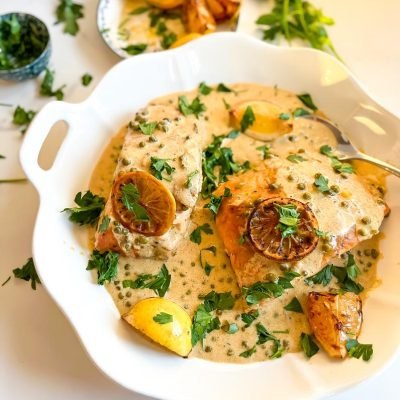 Salmon Piccata
Ingredients
2-4

wild-caught salmon filets 

1

cup

of brown rice flour

3

tbsp

of organic seasoning salt

2

cloves

of garlic, chopped

1/4

cup

of capers 

1

lemon cut into wedges

1/4

cup

of white wine

2

tbsp

of grass-butter 

1/2

cup

of vegetable or chicken stock

1/4

cup

of heavy cream

Avocado oil for drizzling 

salt and pepper for taste
Instructions
Drizzle the bottom with avocado oil in a large pan over medium-high heat. When the pan is hot, place the lemon wedges in the pan to char lightly. When lemon wedges are charred on each side, remove them and set them aside on a plate until ready to use. Place brown rice flour in a bowl and stir in seasoning salt.

Take each salmon filet and dredge it into the flour mixture. Place it on a plate until ready to use. Using the same pan that you used to brown the lemons, drizzle a little bit more. Put avocado oil in the bottom and place floured salmon filets. Skin side up, brown on both sides for about five to seven minutes.

When salmon is brown on both sides, remove it and place it on a clean plate, setting it aside until ready to use. Add butter to the pan in the same pan and sprinkle in two tablespoons of the brown rice flour mixture. Using a wooden spoon, scrape up all of the brown bits at the bottom of the pan to create a nice paste.

Add in your garlic cloves and saute on medium for one to two minutes until slightly brown and fragrant. Pour in your white wine and bring it to a boil. Allow the wine to reduce by half.

Put your vegetable or chicken broth, capers, and salmon back into the pan. Bring to a boil, then reduce to medium-low heat and cook for 15 to 20 minutes, or until the salmon is cooked.

When the salmon is done cooking, remove it from the pan. Taste the sauce and add salt and pepper as needed. Finish the sauce with heavy cream and garnish with a quarter of a cup of chopped parsley.

To serve, place the salmon on a plate and pour the sauce over top. Serve with a side of gluten-free or regular pasta or mashed potatoes. Add lemon wedges for garnish. Enjoy!