Vodka sauces are fresh organic tomatoes simmered with garlic, oregano, and vodka to create this delicious sauce.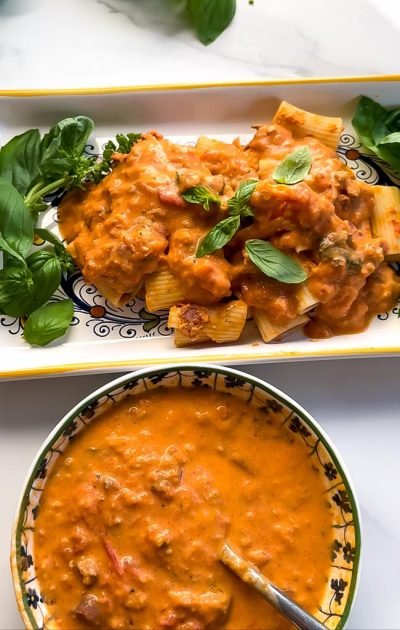 Now you can have this Italian classic right at home in very little time. Pair this sauce with Penne Pasta and Rigatoni. You can use gluten free or regular pasta depending on your preference.
This sauce can be made during the week when you're in a hurry and don't have a lot of time, or on a weekend when you want to make a special dinner. You can add meat to the sauce or leave it vegetarian.
I promise you will never buy jarred tomato sauce again!
If you like this recipe, please leave a comment or share it with someone you know.
For more recipes like these try some of our other recipes:
Vegetarian Chile Relleno
Vegetarian Bolognese
Best Vegetarian Lasagna
To follow Nikki regularly and stay up to date on what she's doing, follow her on the gram!
Ingredient Lists
Vine-ripened tomatoes
Organic crushed tomato jar (28 oz.)
Garlic-chopped
Dried oregano
Fresh oregano sprigs
Vodka
Heavy cream
Salt and pepper
Olive oil
Vodka Sauce
Ingredients
5

vine-ripened tomatoes

1

(28 oz.)

jar of organic crushed tomatoes

5

cloves

garlic-chopped

3

fresh oregano sprigs

1/2

cup

vodka

1/2

cup

heavy cream

1

tsp

crushed red pepper

Olive oil for drizzling

Salt and pepper to taste
Instructions
Bring a medium pot of water to a boil over high heat and add two tablespoons of sea salt.

Clean and wash your vine, ripen tomatoes, and pull any stems out using a knife. Cut an X at the top of the tomato where the vine would go. When the water comes to a boil, place your tomatoes in the water and boil for about five to 10 minutes until the skins are slowly separating from the tomato. Drain the tomatoes and rinse them with cold water.

Pull the skins off the tomatoes and discard them. Place your tomatoes in a bowl and crush them with your fingers.

Next, place a large pot over medium heat and drizzle the bottom with olive oil. Add in your fresh garlic and saute for a few minutes until soft and fragrant. Add in your jar of crushed tomatoes. Season well with salt, pepper, and crushed red pepper. Bring it to a light simmer.

Bring it to a boil over medium heat with the vodka. When the sauce comes to a boil, reduce the heat to medium-low and cover. When the sauce comes to a boil, add in your sprig of oregano. Reduce the heat to a medium-low simmer for about 15 minutes.

When the sauce is done cooking, remove the lid, taste, and add extra salt and pepper if needed. Finish the sauce with the heavy cream and stir to combine everything. Serve this with your favorite pasta. Enjoy!