Autumn Zucchini Muffins with Cinnamon and Pumpkin Spice Butter is a light and fluffy muffins with hints of zucchini, carrot, and dried cherries, served with a side of decadent whipped cinnamon and pumpkin spice butter.
Fall is in the air with these delicious autumn zucchini muffins.
These muffins are gluten free and are made using brown rice flour and cassava flour to create the lightest and fluffiest muffins that are healthy and delicious.
Eat these for breakfast or as a healthy dessert. They are the perfect addition to any cup of coffee or spiced tea.
Made in 30 minutes, they are easy to whip up during the week or on a weekend when you want a delicious and comforting treat. Enjoy!
If you like this recipe, please leave a comment or share it with someone you know.
For more recipes like these try some of our other recipes:
To follow Nikki regularly and stay up to date on what she's doing, follow her on the gram!
Ingredient Lists
Cassava flour
Brown rice flour
Baking powder
Salt
Eggs
Butter
Vanilla
Milk
Coconut sugar
Apple sauce
Carrot
Zucchini
Dried cherries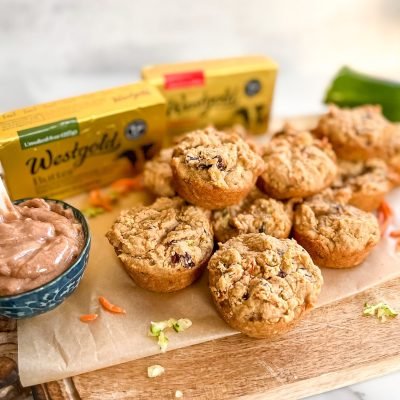 Autumn Zucchini Muffins with Cinnamon and Pumpkin Spice Butter
Ingredients
1

cup of

cassava flour

1

cup

of brown rice flour

1

tbsp

of baking powder

1

tsp

of salt

2

eggs

1/2

cup

of butter-melted

1/4

cup

butter- softened

1

tbsp

vanilla

1/2

cup

of milk

3/4

cup

of coconut sugar

1/2

  cup

of apple sauce

1/4

cup

of carrot, shredded 

1/4

cup

of zucchini, shredded 

1/4

cup

of dried cherries

1

tsp

cinnamon

1

tsp

pumpkin spice

1

tbsp

honey

avocado oil spray
Instructions
Preheat your oven to 350 degrees in a medium bowl. Mix together both flours, baking powder, and salt using a whisk until well combined. 

In a large bowl, mix together the eggs, melted butter, and sugar until light and fluffy. Add in vanilla and milk, and mix together until well combined. Slowly pour in the dry ingredients into the wet ingredients, mixing everything together. 

Next, add the apple sauce, carrots, zucchini, and dried cherries. Mix everything together until nice and smooth. Using a muffin pan, spray with avocado oil spray, and use a quarter measuring cup to pour the batter into each muffin cup 

Place the muffins in the oven for 20 minutes, or until golden brown. While muffins are baking, mix together softened butter with cinnamon and pumpkin spice. Add in honey for a little bit of sweetness.

When the muffins are done baking, remove them from the oven and let them cool. Enjoy with a side of cinnamon and pumpkin spice butter.