Easy Focaccia Bread Recipe is a fresh buttery Focaccia bread with hints of sea salt and rosemary.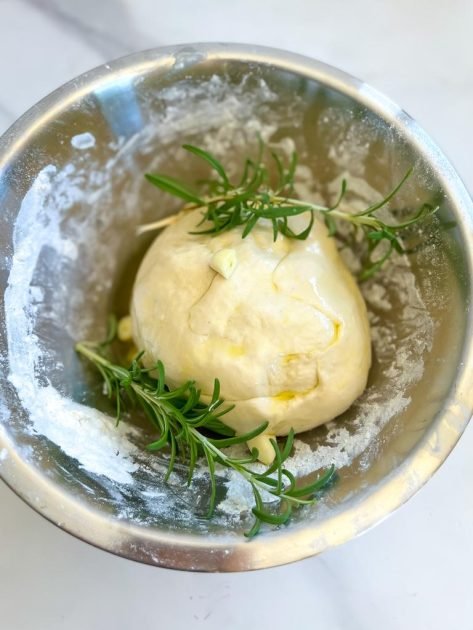 Making bread at home has never been this easy. It takes about ten minutes to put the ingredients together and about 12 minutes to bake.
The dough does need to rest for a bit so make the recipe in the morning and then bake it right before you have dinner. Easy as that!
I like to make my own bread because unlike store-bought bread it only has four ingredients.
I choose to use an organic flour that comes from Italy. Its soft, silky and creates the best breads and pizza dough.
Serve this gorgeous bread with your favorite recipe or cut it in half and use it to make a delicious sandwich.
Enjoy!
If you like this recipe, please leave a comment or share it with someone you know.
For more recipes like these try some of our other recipes:
To follow Nikki regularly and stay up to date on what she's doing, follow her on the gram!
Ingredient Lists
Double O flour
Luke warm water
Active dry yeast
Sea salt
Olive oil
Rosemary
Garlic
Easy Focaccia Bread Recipe
Ingredients
5

cups

of double O flour

2 1/2

cups

lukewarm water

2

tsp

of active dry yeast

1

tbsp

of sea salt 

olive oil for drizzling

Rosemary

garlic (optional)
Instructions
Place flour into a large bowl, add salt and mix together using a fork. 

In a mixing bowl, combine dry yeast and lukewarm water. Let the water mixture rest for a minute or two. 

Using your fork, form a well in the middle of the flour. Slowly pour in the yeasted water, mixing with the fork at the same time. Continue this process until a ball of dough is formed. 

Flour a clean surface and place the ball of dough on top of the floured surface. Sprinkle extra flour on top and start working your dough. 

You will need to let the dough rest for about five to seven minutes until a soft and silky ball of dough is formed. Place the ball of dough in a large bowl and drizzle with olive oil. Add in fresh garlic and rosemary as desired. 

Place the bowl in a dark, warm place for four hours to allow the dough to rise. When the dough is done rising, preheat your oven to 550 degrees. 

Place the dough on a cookie sheet and spread it out to cover the entire sheet. Using two fingers, poke little wells into the dough side by side (note: watch the video for a demonstration of this). 

Drizzle the dough with extra olive oil and sprinkle with extra sea salt. Add a few sprinkled flakes of rosemary over the top if desired. Place the cookie sheet in the oven and bake for about 12 minutes. Remove the bread and serve immediately. Enjoy.