Grilled salmon is fresh, wild-caught salmon, grilled to perfection and topped with a delicious garlic and herb sauce.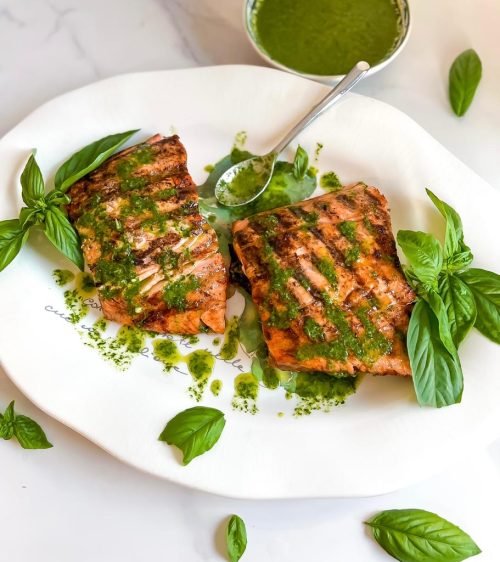 Eating healthy doesn't have to be boring. This delicious salmon recipe is full of nutrient-dense ingredients but is also full of tremendous flavor.
This herb sauce is so easy to make and can be added to a number of different dishes, such as chicken, white fish, tofu, and grilled veggies.
You can also add jalapeño for some extra flavor as a spice.
Serve this dish with a side of rice or grilled vegetables. Enjoy!
If you like this recipe, please leave a comment or share it with someone you know.
For more recipes like these try some of our other recipes:
To follow Nikki regularly and stay up to date on what she's doing, follow her on the gram!
Ingredient Lists
Fresh wild-caught salmon
Basil
Parsley
Garlic
Lemon juice
Olive oil
Paprika
Cayenne pepper
Avocado oil
Salt and pepper
Grilled salmon with garlic and herb sauce
Ingredients
1

pound

of fresh wild-caught salmon

1/4

cup

of basil, chopped 

1/4

cup

of parsley, chopped

1

clove

of garlic

2

tbsp

of lemon juice

1/2

cup

of olive oil

1

tsp

of paprika

1/8

tsp

of cayenne pepper

avocado oil for drizzling

salt and pepper for taste
Instructions
Place the salmon on a large plate and sprinkle it with salt and pepper. Drizzle the salmon with avocado oil.

Place it on a hot grill skin side up. Grill the salmon for 5-7 minutes each side for medium rare, and 8-10 minutes for medium.

While the salmon is cooking, make your herb sauce. Place the herbs, lemon juice, remaining seasonings, and avocado oil in a blender or food processor. 

Blend until smooth, and add salt and pepper as needed. When the salmon is done cooking, drizzle the salmon with your herb sauce and serve with a side of rice or your favorite veggies. Enjoy!