Avocado toast is a fresh avocado mixture spread over toasted sourdough bread and then topped with wild-caught smoked salmon and pickled onions.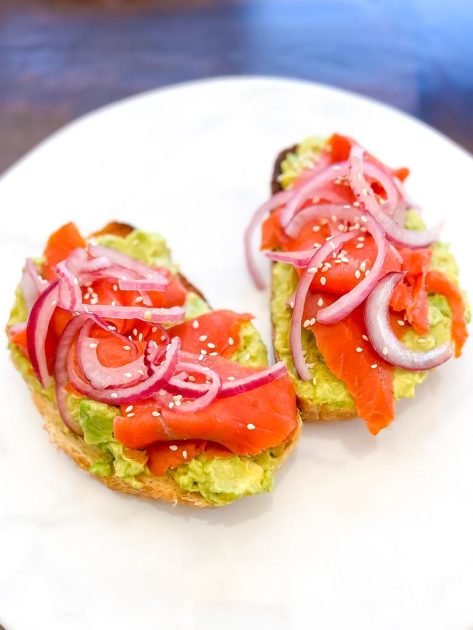 This is a great breakfast option during the week or on weekends with your family. It's a healthy and delicious option.
Make extra pickled onions and save them in the fridge for other recipes.
If you're gluten-free choose a gf bread instead of sourdough. If you don't have a gluten allergy/sensitivity, sourdough bread is a gut friendly bread that can help optimize the gut microbiome.
Serve this dish with a side of eggs or by itself. Enjoy!
If you like this recipe, please leave a comment or share it with someone you know.
For more recipes like these try some of our other recipes:
To follow Nikki regularly and stay up to date on what she's doing, follow her on the gram!
Ingredient Lists
Sourdough or gluten-free bread
Wild-caught smoked salmon
Red onion, sliced
Apple Cider Vinegar
Sea Salt
Paprika
Cayenne pepper
Avocados
Lemon juice
Avocado oil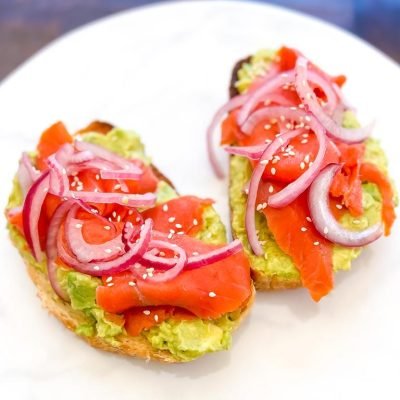 Avocado toast with smoked salmon and pickled onions
Ingredients
2-4

slices

of sourdough or gluten-free bread

1

package

of wild-caught smoked salmon

1/2

of red onion, sliced 

2

tbsp

of Apple Cider Vinegar

2

tbsp

of Sea Salt

1

tsp

of paprika

1/8

tsp

of cayenne pepper 

2

avocados, mashed

1

tbsp

of lemon juice 

Avocado oil for drizzling
Instructions
Place red onions in a small bowl. Sprinkle with two teaspoons of sea salt and apple cider vinegar mixed together and set aside until ready to use. 

Place bread slices on a baking sheet and drizzle with avocado oil. Place under the broiler for about five minutes until the slices are golden brown. 

Next, place the avocado in a medium bowl and add the remaining spices and lemon juice. Mix together.

Spread the avocado mixture onto the toasted bread slice, topped with salmon and pickled onions. Enjoy!