Lamb Bolognese is a grass-fed ground lamb simmered in a creamy tomato sauce and then topped over al dente penne pasta.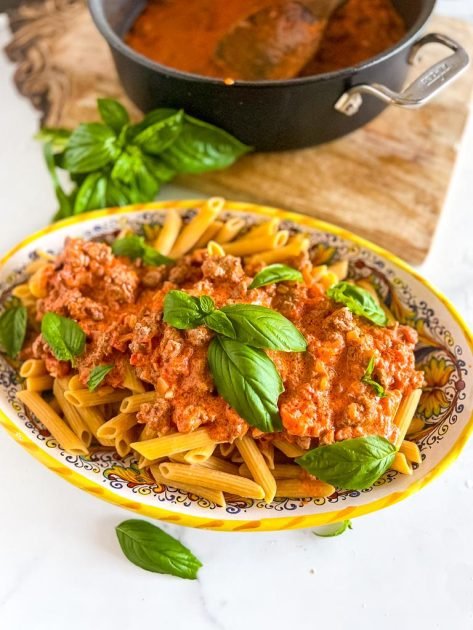 This is my favorite way to make bologonese. The lamb gives the sauce so much incredible flavor. Make this recipe during the week or for Sunday dinner and have leftovers throughout the week. It's the perfect one-pot meal that is easy and will feed an army, literally 😉
Use gluten free or regular pasta depending on your dietary restrictions.
If you like this recipe, please leave a comment or share it with someone you know.
For more recipes like these try some of our other recipes:
How To Make Turkey Burgers 
Easy Chicken Piccata
Mexican Stew
To follow Nikki regularly and stay up to date on what she's doing, follow her on the gram!
Ingredient Lists
Ground lamb
Yellow onion
Garlic
Prosciutto
Crushed tomatoes
Vodka
Heavy cream
Oregano
Bay leaf
Penne pasta
Basil leaves
Salt and pepper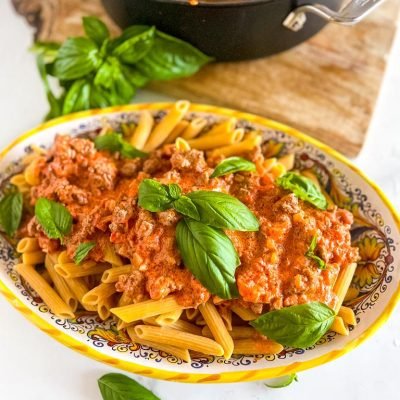 Lamb Bolognese
Ingredients
8

oz

of ground lamb

1

yellow onion, minced

2

cloves of garlic, minced 

1/4

cup

of prosciutto, chopped 

1

28oz

jar of crushed tomatoes

1/4

cup

of vodka. 

1/2

cup

of heavy cream. 

1

tbsp

of oregano.

1

bay leaf

1

package

of penne pasta

basil leaves for garnish

salt and pepper to taste
Instructions
Place a large pan over medium-high heat. Drizzle the bottom with olive oil. 

Place the ground lamb into the pan to brown it, breaking it up as it cooks. Season the meat with salt and pepper. 

While the meat is cooking, place a medium pot of hot water over high heat. 

Drizzle a little bit of olive oil into the water and season the water with a couple of pinches of salt. When the water comes to a boil, add the penne pasta and cook until al dente. When the pasta is done, drain it and set it aside until ready to use. 

Add your onions and garlic once your browned lamb is fully browned and broken up into small pieces. Saute for a few minutes until the onions are soft and opaque. Add in your prosciutto and saute for another couple of minutes. Add a jar of tomatoes and vodka when the prosciutto is brown and crispy. Bring it to a boil and add in the oregano and bay leaf. 

Cover and reduce the heat to medium-low, allowing the mixture to simmer for 20 minutes.

When the sauce is done simmering, add the heavy cream and season with salt and pepper. Taste and adjust the seasoning as needed. To serve, place penne pasta on a large serving platter and spoon bolognese sauce over top. Garnish with fresh basil and Parmesan cheese, if desired. Enjoy it.