Mexican Stew in chorizo sautéed with onion and garlic and then simmered with white beans, diced tomatoes and a flavorful Mexican spice blend. Served with a side of steaming coconut lime rice.
Sometimes weeknights can be a challenge when it comes to cooking. Most of use have very little time in the evening to spend in the kitchen whipping up a gourmet dinner. Mexican Stew is a great solution to that problem. This dish is packed with flavor and delicious ingredients. In less than 30 minutes you can have a healthy and gourmet meal that the entire family will love. The best part about this recipe is that it makes so much food, giving your family leftovers for a few days after. Are you looking for a recipe that's easy, tastes great, and the clean up is a breeze? Mexican Stew is all of those things and more!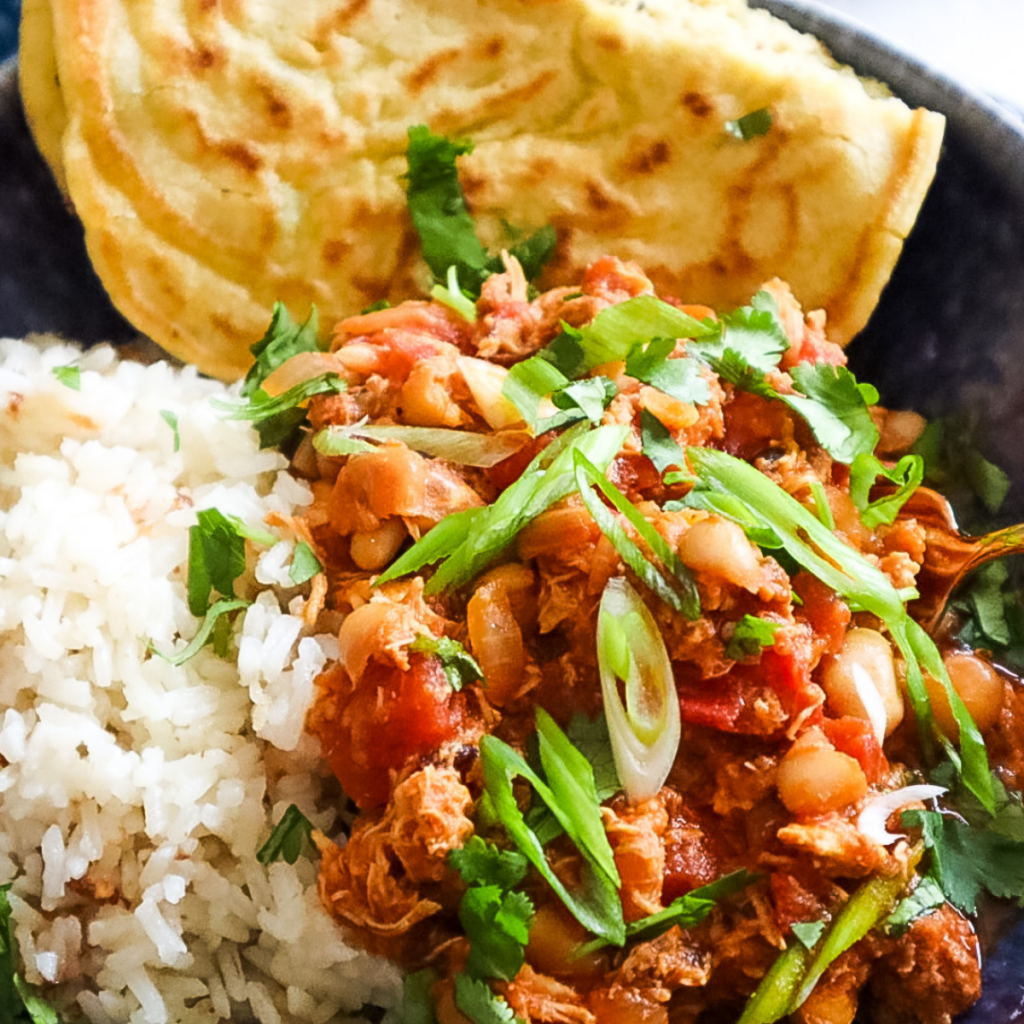 What kind of chicken can I use? 
In this recipe chicken breasts are used that were boiled in chicken broth, cilantro, green chilis, onion, and spices until they were tender and easily shredding. Another option is using a store bought rotisserie chicken. I buy a rotisserie chicken almost once a week because they are flavorful and easy to incorporate into any recipe. Saves so much time in the kitchen too!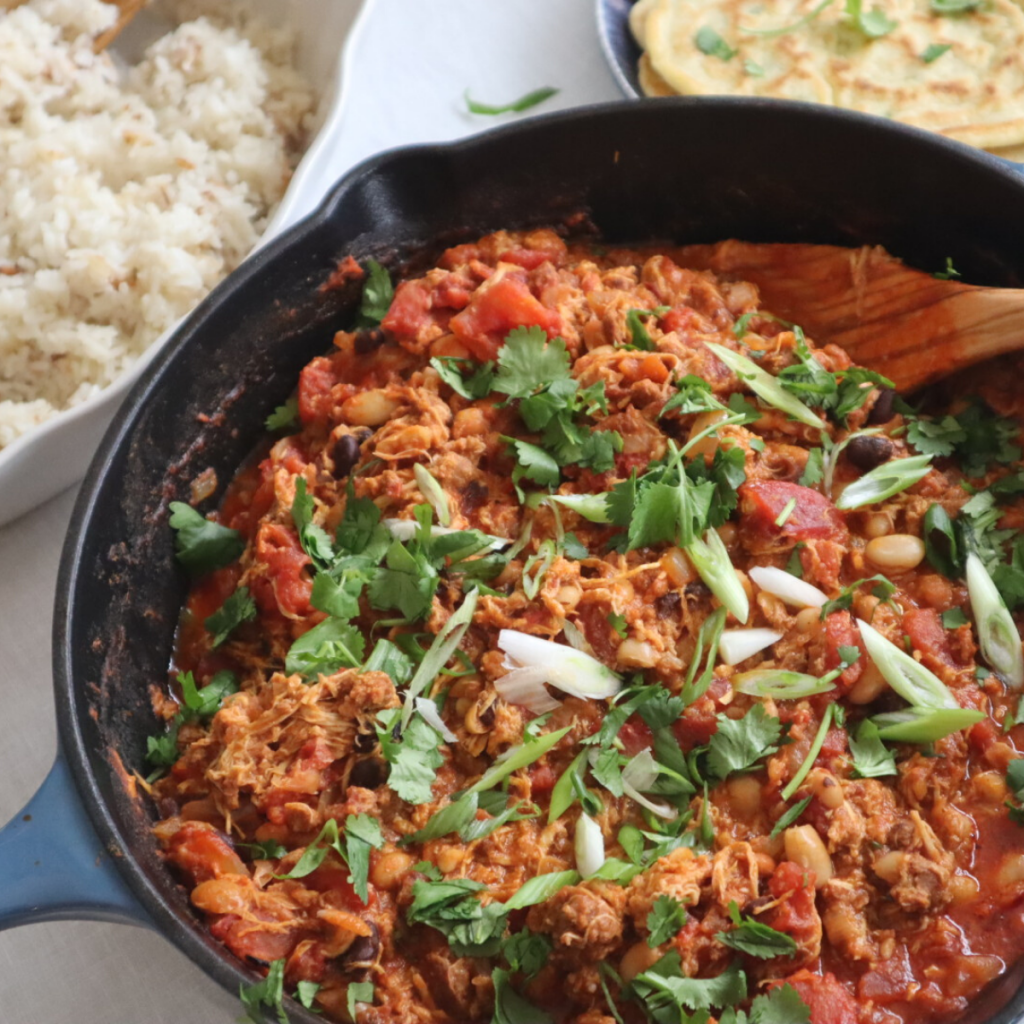 How do I make this recipe vegetarian?
This recipe can easily be made vegetarian and still have the same great flavor. Instead of chorizo you can use a ground plant based meat and leave out the chicken. The flavor of the beans mixed with the plant based meat will be delicious and you won't notice a difference.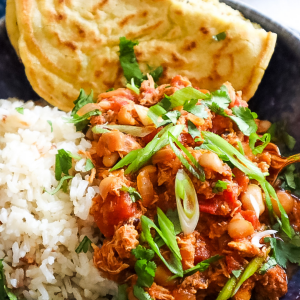 Mexican Stew with White Beans and Chorizo
Shredded chicken and chorizo simmered with white beans and Mexican spices
Ingredients
8

oz

chorizo

2

cups

shredded chicken

1

onion- chopped

2

cloves

garlic- chopped

2

cans

white beans

1

28 oz

can of diced tomatoes

1

cup

chicken stock

1

tbsp

dried oregano

1

tsp

garlic powder or salt

1

tbsp

paprika

1

tbsp

cumin

1

tbsp

coriander

1/2

cup

chopped cilantro

1

cup

white rice

1

can

coconut milk

1 1/4

cup

water

cotija cheese for garnish

salt/ pepper for taste

olive oil for drizzling
Instructions
Start by making the rice. Place a medium pot over high heat and add water, coconut milk, and rice. Bring to a boil, cover the pot with a lid and reduce heat to medium/low for 20 minutes.

While rice is cooking start making the stew. Place a medium deep pan over medium heat. Drizzle the bottom with olive oil. When pan is hot add the chorizo. Cook until nicely brown. Use a wooden spoon to break up the chorizo into small pieces. When chorizo is cooked add onion and garlic. Saute until onion and garlic is soft fragrant. Use your wooden spoon to mix the mixture as it cooks.

Next, add white beans, tomatoes, chicken, spices, and chicken stock. Bring the mixture to a boil and then reduce heat to medium/low and let the stew simmer for 15 minutes. You want the liquid to reduce by about half.

When rice is done cooking remove lid and fluff the rice with a fork. Remove from heat and set aside until ready to use.

Once the liquid has reduced and the stew has thickened up a bit add chopped cilantro and mix. Taste the stew and season with salt/pepper as needed. Garnish with cotija cheese and extra cilantro.

To serve place rice in a deep bowl or plate and top with Mexican stew.
If you like this recipe, please leave a comment or share it with someone you know.
For more recipes like these try some of our other recipes:
To follow Nikki regularly and stay up to date on what she's doing, follow her on the gram!
Ingredient Lists:
chorizo
shredded chicken
onion
garlic
white beans
can of diced tomatoes
chicken stock
dried oregano
garlic powder or salt
paprika
cumin
coriander
cilantro
white rice
coconut milk
water
cotija cheese
salt
pepper
olive oil