This dish is a perfect description of an easy comfort food, that requires little effort, but has big flavor! The abundance of flavors in this Jamaican Jerk Chicken Recipe creates rhythm within every bite. I love incorporating different cultures into my meals, and if you do too this is the recipe for you.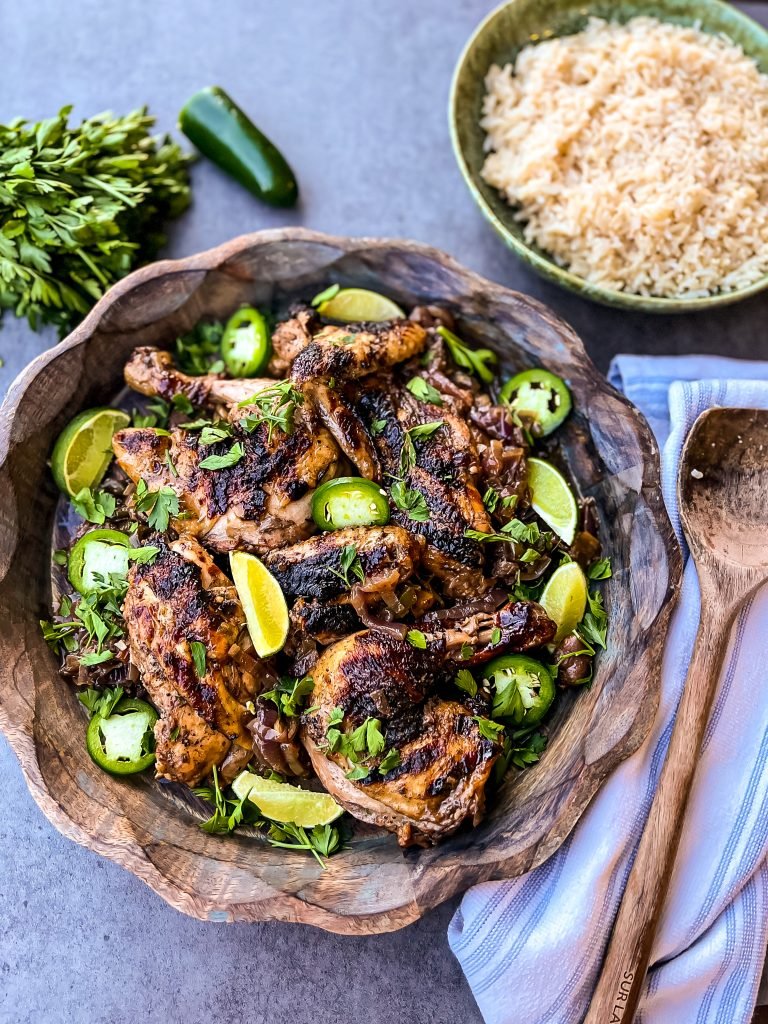 My inspiration
With Spring approaching I wanted to create a dish that was light and full of flavor. I've always been very fond of Jerk Spice and all of the flavors that come together to make this unique blend. Because I love it so much, I wanted to create a recipe centered around it. Not to mention the health benefits of this dish and the fact that it has minimal ingredients, but creates a healthy meal for everyone to enjoy.
The weather is heating up here in Phoenix so I decided to use my grill to make the chicken before adding it to the pan to simmer. While cooking this Jamaican Jerk Chicken Recipe I couldn't get over how good the spices smell. They give off an aroma that will fill your house with comfort and warmth.
Lets get cooking!!
To a small bowl add 1/2 cup of Avocado Oil, along with 3 tbsp. of Lime Juice, 1 tbsp. of Agave Syrup and 1 tbsp. of the Jerk Seasoning. Combine these ingredients well. Set this mixture aside it will be the marinade for the Chicken.
For this dish I used a whole free range chicken, and I cut it into portions. I put all my sections of chicken in a large bowl, and poured the marinade over top. Depending on your time frame, let the Chicken marinade from 20 minutes to 2 hours. When you're ready, turn on your grill and allow it to heat up before your chicken is done marinating.
When the grill is hot, place the chicken over a medium flame, allow the chicken to cook for about 3-4 minutes per side. Once the Chicken is brown and crispy, you'll know its done and you can put it on a plate, setting it aside until its ready to be used.
In a medium pan over medium heat, drizzle it with Avocado Oil. When the oil is hot add in 1 Red Onion that has been cut in half and sliced, along with a 2 inch piece of peeled and sliced ginger. Then add 2 cloves of chopped Garlic and the remaining 1 tbsp. of Jerk Seasoning. Sauté this mixture until the ingredients are soft. Once they are soft, add  in your Chicken. I then seasoned mine with extra Salt and Pepper. Pouring 2 cups of Water on top of all the ingredients. Cover with a fitted lid and let everything simmer for 30 minutes over medium/high heat.
how to serve
When the Chicken is done simmering, serve with a side of Brown Rice. Garnish with the sautéed Onions, extra Broth and fresh Cilantro. Enjoy!
Health benefits
Jerk Spice contains cinnamon helps relieve arthritis pain because its anti-inflammatory. As well as habanero pepper, that is much spicier than jalapeno chili and may kill cancer cells and speed up metabolism.
Ginger aides in digestion and has an anti-inflammatory measure.
Garlic is known to be antibacterial.
Brown rice is a great substitute for White Rice because it is heart healthy and may reduce chances of stroke.
Avocado oil is a healthy fat, it may reduce cholesterol and may reduce arthritis due to it's anti-inflammatory benefits.
THANK YOU
I want to thank you for visiting my website and checking out my recipes. Cooking good quality food that is healing and full of nutrients is my passion. I truly believe that food is medicine and if you feed your body with whole,
nutritious food, you can make a world of difference in not only your health, but how you feel.
If you like this recipe, please comment below. Also, follow us on Instagram and Pinterest to stay up-to-date on the latest recipes and healthy lifestyle tips.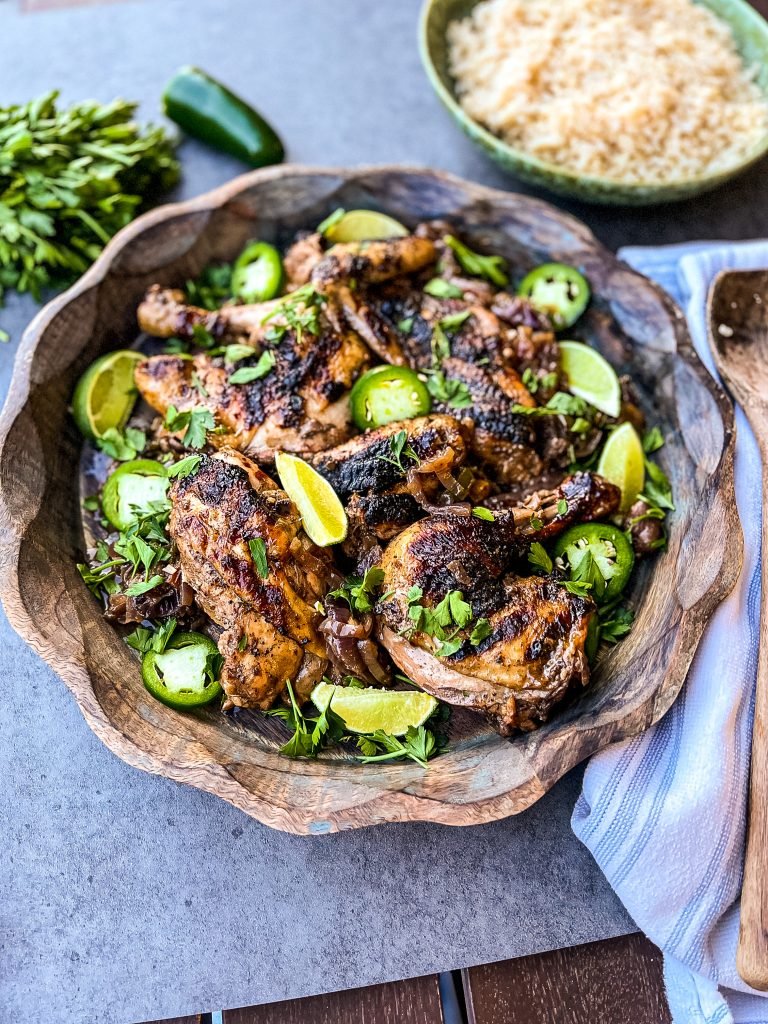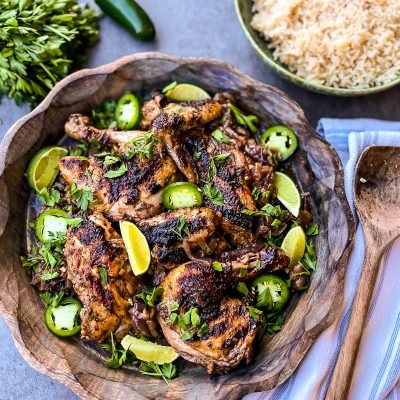 Jamaican Jerk Chicken Recipe
Free range chicken marinated in lime juice, jerk seasoning and agave syrup. Grilled to perfection and then added to a pan of sauteed onions, chili, ginger and garlic. The chicken is simmered over medium heat until tender. Serve with a side of red beans and rice.
Ingredients
1

whole

free range chicken- cut into pieces

1

tbsp

agave syrup

1/2

cup

avocado oil

3

tbsp

lime juice

2

tbsp

jerk seasoning blend

1

red onion-cut in half and sliced

1

jalepeno- sliced

2

inch

piece of ginger-peeled and sliced

2

cloves

garlic- chopped

1/2

cup

cilantro-chopped

2

cups

water

salt/pepper for taste

avocado oil for drizzling
Instructions
Add avocado oil, lime juice, agave syrup and 1 tbsp of jerk seasoning to a small bowl mix well. Place chicken pieces in a large bowl and pour the marinade over the chicken. Let the chicken marinate for 20 minutes, or up to 2 hours.

Place the chciken on the grill and brown both sides over medium flame. About 3-4 minutes on each side. When chicken is brown and crsipy, place on a plate and set aside until ready to use.

In a medium pan over medium heat, drizzle the bottom with avocado oil. When oil is hot add onions, ginger, garlic, and the remaining jerk seasoning. Saute until soft. Add in chicken pieces, season with salt and pepper, then pour water over top. Cover the pan with a lid and let the mixture simmer over medium/low heat for 30 minutes.

When chicken is done simmering, serve with a side of brown rice. Garnish with sauteed onions, sauce and chopped cilantro. Enjoy!