Creamy Italian potatoes, individualized for every taste bud. I personally love cheesy potatoes so I had to add and assortment of different cheeses to enhance this side dish. For this dish I used two types of my favorite cheeses, Mozzarella and Romano. These two cheeses with the addition to the cherry tomatoes was perfect combination to dress the traditional potato up!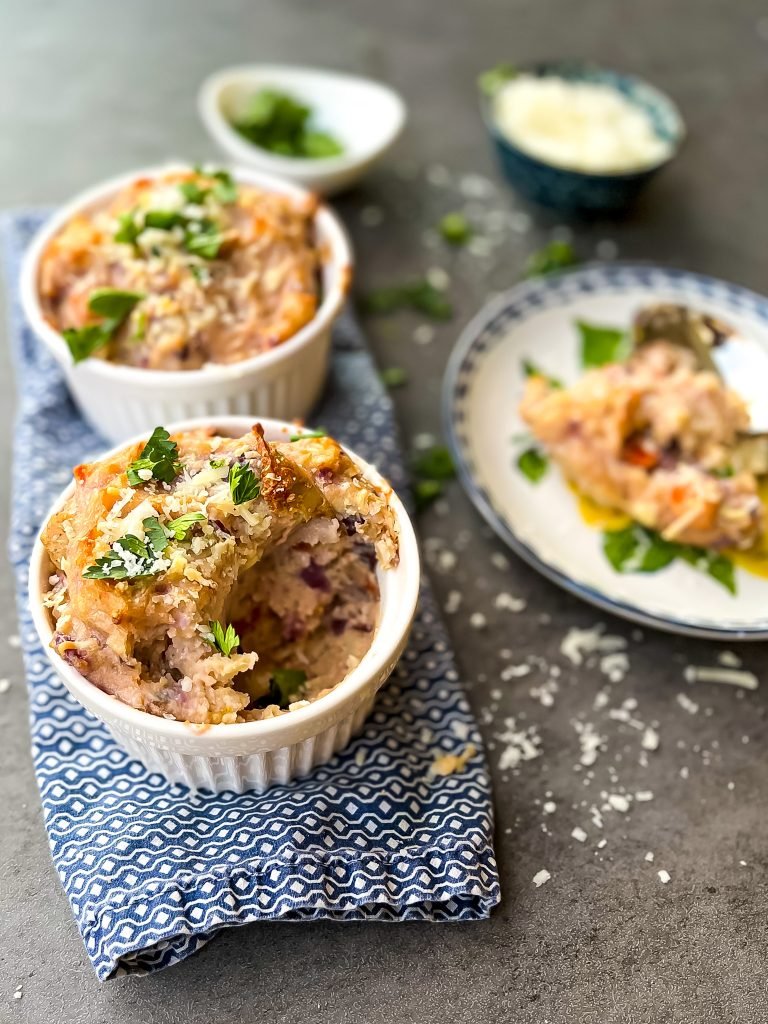 My Inspiration
It's essential to have a quick and easy side dish or any dinner. It goes well with an assortment of main dishes, but you can pair it with a nice salad if you want to have a vegetarian friendly dinner. It is so filling and comforting in every bite.
Last weekend my husband and I were enjoying a lovely Saturday night at home. We were tired of eating out, but I didn't feel like cooking a full meal. I decided to make these little dishes of comfort with a nice salad and glass of red wine. Easy Italian Potatoes definitely hit the spot.
Lets get cooking
Place a medium pot of water on high heat. Bring the water to a boil and add 1 whole bag of Fingerling Potatoes. Continue to boil the potatoes until they are fork tender. When your potatoes are almost ready preheat your oven to 350 degree so it has time to heat up while you prepare the potatoes. This may also be a good time to chop your 1/2 cup of tomatoes for later.
When the potatoes are soft, drain the water from the potatoes. You can transfer the potatoes to a large mixing bowl, but I found it easiest to just replace them in the pot. Using a potato masher lightly mash the potatoes. When they are lightly mashed add in 1/4 cup of Heavy Cream, as well as 1/2 cup of cherry tomatoes, 1/4 cup of both Mozzarella and Romano Cheese. Finally, add in two whole Eggs. Combine this well, mash if you desire your potatoes a little more fluffy and then season with Salt and Pepper to taste.
Grease all your Ramekins with Avocado Oil Spray, and evenly distribute your potato mixture into them. Adding extra Cheese on top, because you can never have too much Cheese. As well as some extra slices of your tomatoes right on top.
Bake at 350 for 15-20 minutes until your Cheese and Tomatoes are golden brown and melted.
Enjoy!
how to serve
Allow the Ramekins to cool for about 5 minutes before serving. Serve along side any choice of meat or even with a nice salad for diversity.
health benefits
Instead of butter I used Olive Oil. Olive oil is a healthy fat and has high amounts of antioxidants, very anti-inflammatory
Romano Cheese is gut friendly because it has been aged. It may also be easily digested by people who are lactose intolerant.
Heavy cream has more fat than skim or regular milk, the fat makes the dairy easier to digest.
Mozzarella is rich in zinc, riboflavin, potassium and great for bone health.
Potatoes have high amounts of B6 and great to help detoxify the liver. Thank You!
I want to thank you for visiting my website and checking out my recipes. Cooking good quality food that is healing and full of nutrients is my passion. I truly believe that food is medicine and if you feed your body with whole,
nutritious food, you can make a world of difference in not only your health, but how you feel.
If you like this recipe, please comment below. Also, follow us on Instagram and Pinterest to stay up-to-date on the latest recipes and healthy lifestyle tips.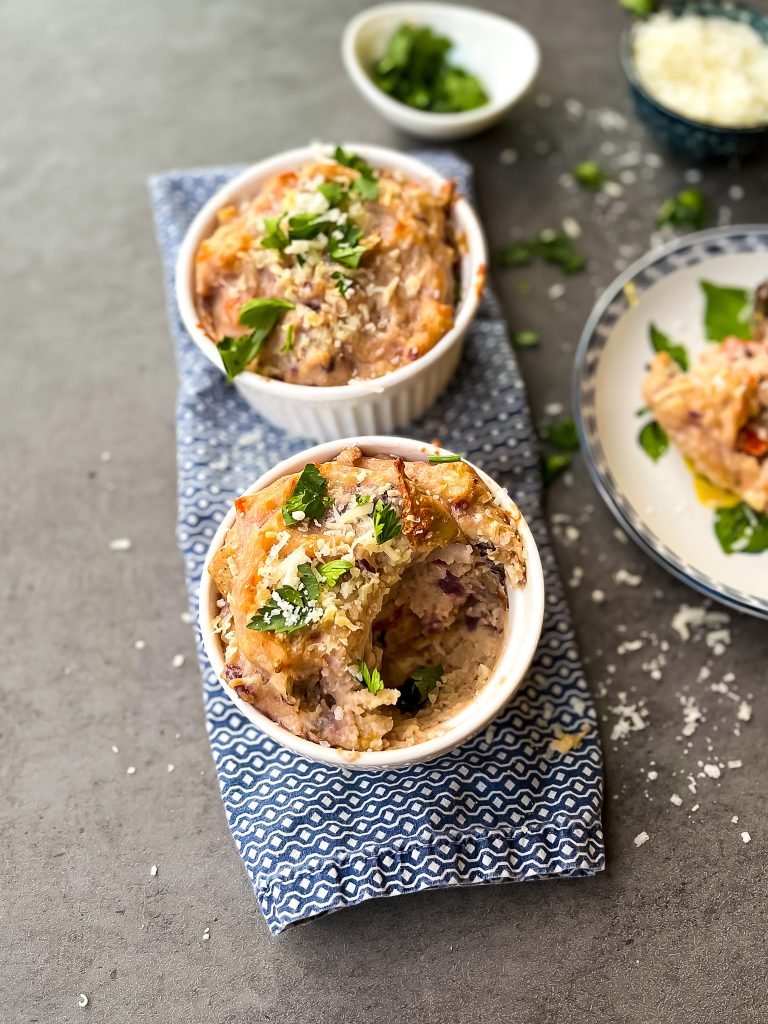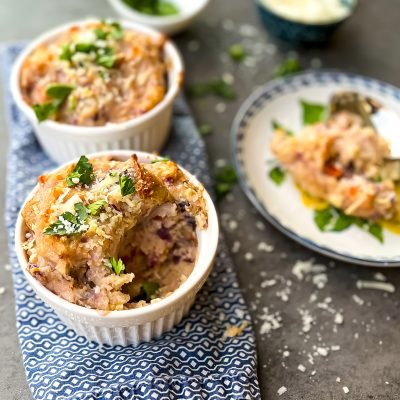 Italian Potatoes
Mashed Fingerling potatoes with mozzarella cheese, Romano cheese and cherry tomatoes. Placed in individual ramekins and then topped with extra Romano cheese and baked until golden brown.
Ingredients
1

bag

fingerling potatoes

1/2

cup

cherry tomateos- chopped

1/4

cup

heavy cream

2

tbsp

olive oil

2

eggs

1/4

cup

mozzarella cheese

1/4

cup

Romano cheese

salt/pepper for taste

avocado spray
Instructions
Pre heat oven to 350 degrees

Place a medium pot of water over high heat. Bring to a boil. Add potaotes and boil until fork tender.

Drain the water from the pot and add the potatoes back into the pot. Using a masher, lightly mash the potatoes.

Add in cream, tomatoes, both cheeses, and eggs. Mix well. Season with salt and pepper. Taste and add more if needed.

Pour the potato mixture into ramekins that have been greased with avocado spray. Sprinkle with extra romano cheese.

Bake in the oven for 15-20 minutes until bubbly and hot.