Who doesn't love fresh made focaccia bread that comes right from the oven to your table? Most of the time that is only possible when you go to a gourmet restaurant, but now with this Easy Focaccia recipe you can have fresh made bread whenever you want!
Imagine soft fluffy bread infused with flavors of rosemary and garlic and then drizzled with fresh olive oil, or your favorite truffle oil. It doesn't get much better than that! Normally when you hear that someone makes their own bread it probably seems as if you could never do that at home and fresh bread is only something you can get at your local bakery or grocery store. With this Easy Focaccia recipe you will be pleasantly surprised by how easy the recipe is to make in your own kitchen. The best part is the recipe doubles as a focaccia dough and a pizza dough. Whip it up on a Sunday and put the dough in the freezer so you can have fresh pizza or focaccia bread whenever the mood strikes you.
Do I need to have a bread maker to make focaccia?
Absolutely not! The only tools you will need are your hands and an oven. This recipe is so incredibly easy and fast you can make the bread at any time. There is a little bit of kneading required in the recipe, but it's only for about 5-10 minutes.
Do I need a special oven to make the bread?
No, you can use a standard oven and just have it pre heat to 400 degrees before you're ready to make the dough. No special equipment required!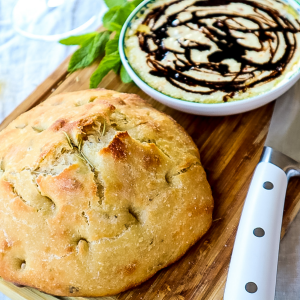 Easy Focaccia Recipe
Fresh homemade dough infused with rosemary and garlic to make a fluffy and buttery focaccia bread.
Ingredients
2

tsp

yeast

5

cups

flour

00 flour is recommended

2 1/2

cups

room temperature water

1

tsp

salt

1

tbsp

dried rosemary

1

tsp

garlic

olive oil for drizzling
Instructions
Place water and sugar in a measuring cup and mix

In a large bowl add flour and salt. Mix well with a fork. Build a well in the center of the flour mound.

Slowly pour the water into the well. Using your fork start mixing the dough until all of the water is mixed into the flour. You will have a nice mound of dough.

Place the dough on a floured surface and start kneading the dough with your hands. Push the dough away from you and then pull it towards you. Do this for 5-10 minutes. Place dough in a bowl and drizzle with olive oil. Cover the bowl with plastic wrap and let the dough rise for 30 minutes to an hour.

When dough has increased in size take it out and cut the dough into equal size balls. You should get about 6 dough balls from the mound of dough. Place the balls on a cookie sheet and cover with plastic wrap. Let them rise for another 30 minutes.

When you're ready to use the dough pre heat your oven to 400 degrees. Place one of the dough balls into a baking dish. Using two fingers poke holes into the dough being careful not to break through to the pan. Poke these holes all along the top of the dough. Drizzle with more olive oil, garlic and rosemary. Place in the oven for 20 minutes. When done baking let cool and then slice. Serve with your favorite balsamic vinegar and olive oil.
If you like this recipe, please leave a comment or share it with someone you know.
For more recipes like these try some of our other recipes:
Oma's Arugula Salad
Pumpkin Risotto
Spiced-up Pumpkin Seed
To follow Nikki regularly and stay up to date on what she's doing, follow her on the gram!
Ingredient Lists:
yeast
flour
room temperature water
salt
dried rosemary
garlic
olive oil