Pretzel Chocolate Chip Cookies is a soft baked chocolate chip cookies made with dark brown sugar and crushed pretzels.
In our house we love chocolate chip cookies! Especially soft baked cookies where the center of the cookie is still a little undercooked. I decided to play around with flavors and add crushed pretzels to the recipe instead of nuts. The pretzels add a nice crunch and salt to these sweet and savory cookies. Plus, the dark brown sugar gives these cookies some added flavor that works well with the chocolate and pretzels. If you're tired of the same old chocolate chip cookie recipe then you have try this version. It gives a nice flare to the tasty classic without changing it too much. Be sure to make extra Pretzel Cookies because these sweet treats will go fast!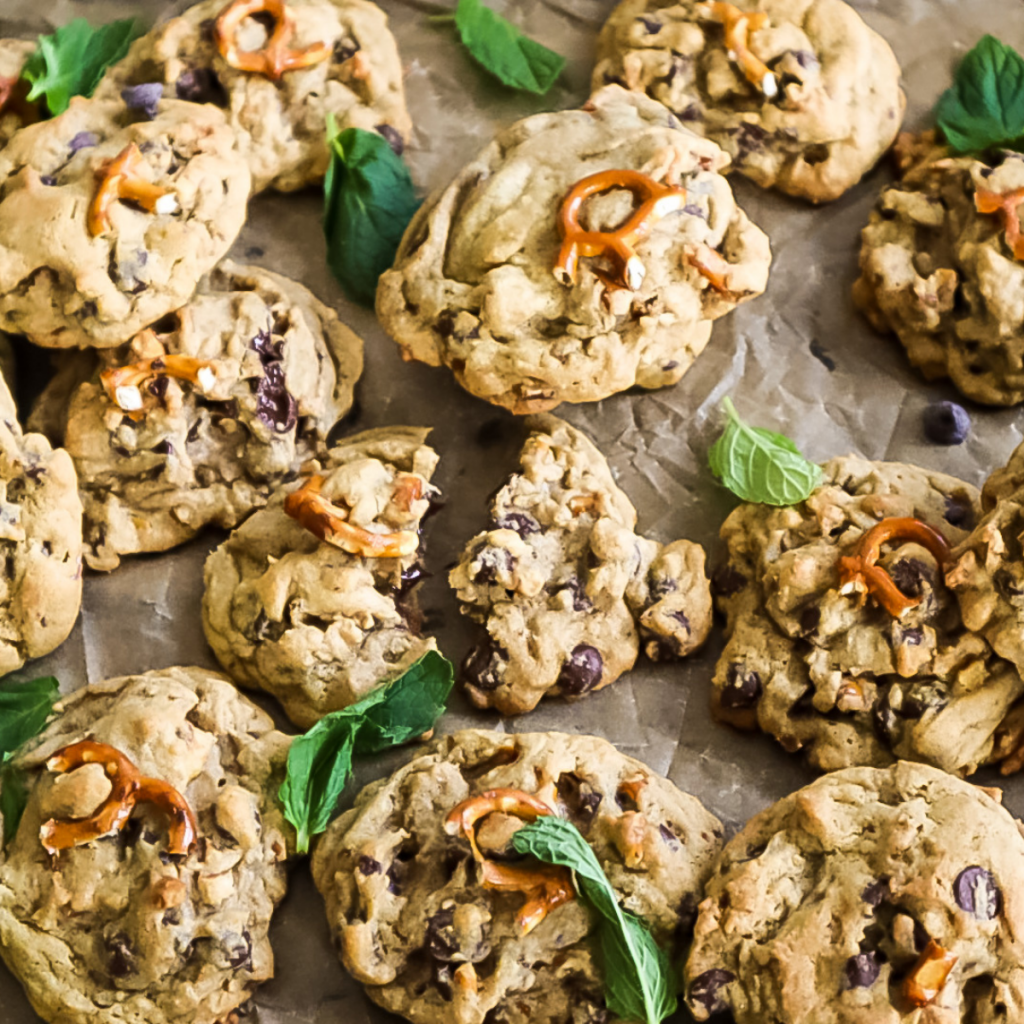 What does soft baked mean?
Soft baked means that the center of the cookie is a little undercooked giving the Pretzel Cookies a soft center. Cooking them this way isn't for everyone, but if you haven't tried it I highly recommend slightly undercooking the cookies to achieve the soft baked result. They are out of this world!  That being said if you prefer a crispy cookie then leave the cookie in the oven for a few minutes longer. I wouldn't bake them for longer than 10 minutes.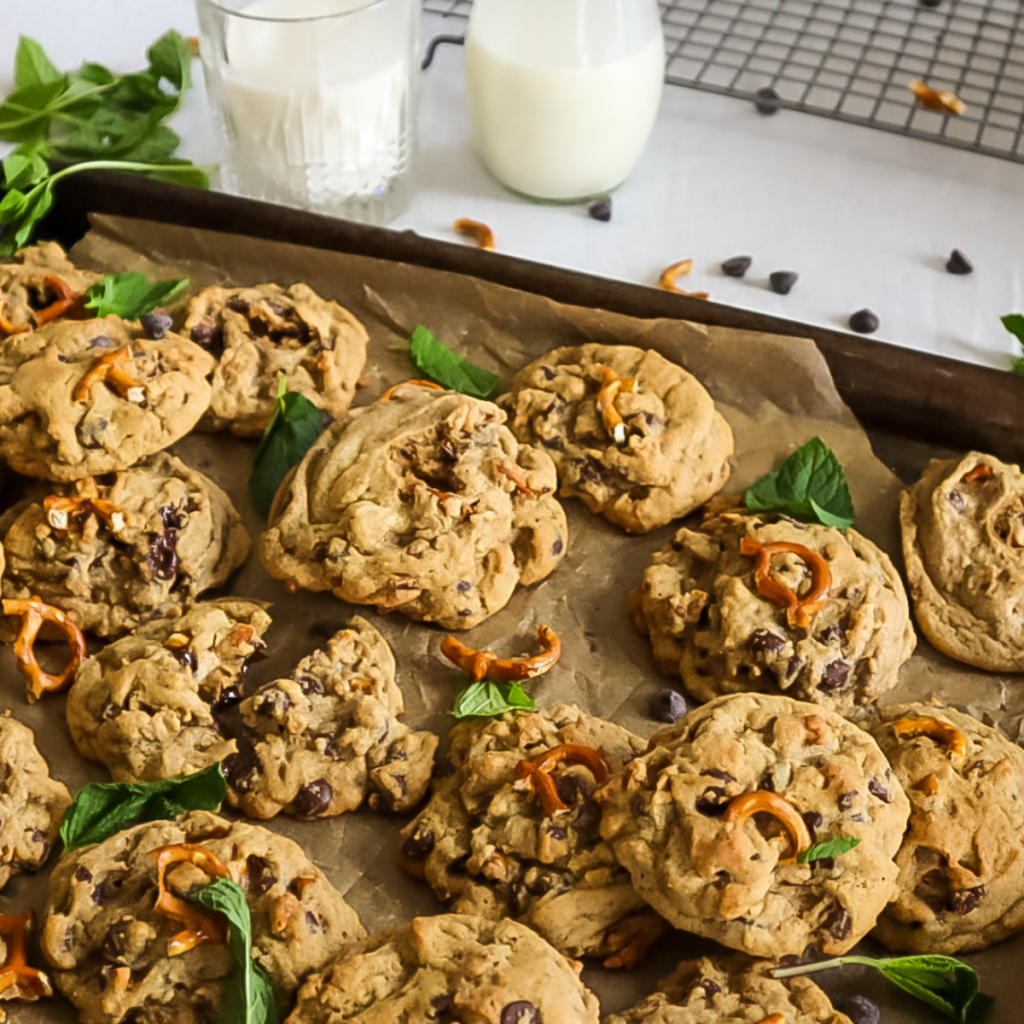 Why is dark brown sugar used in the recipe? 
Dark brown sugar is used to add depth and flavor to the classic recipe. The molasses' sweetness and rich flavor complement the salt and crunch of the pretzel. Even if the pretzels aren't used in this recipe, I recommend using dark brown sugar because the flavor elevates the cookies.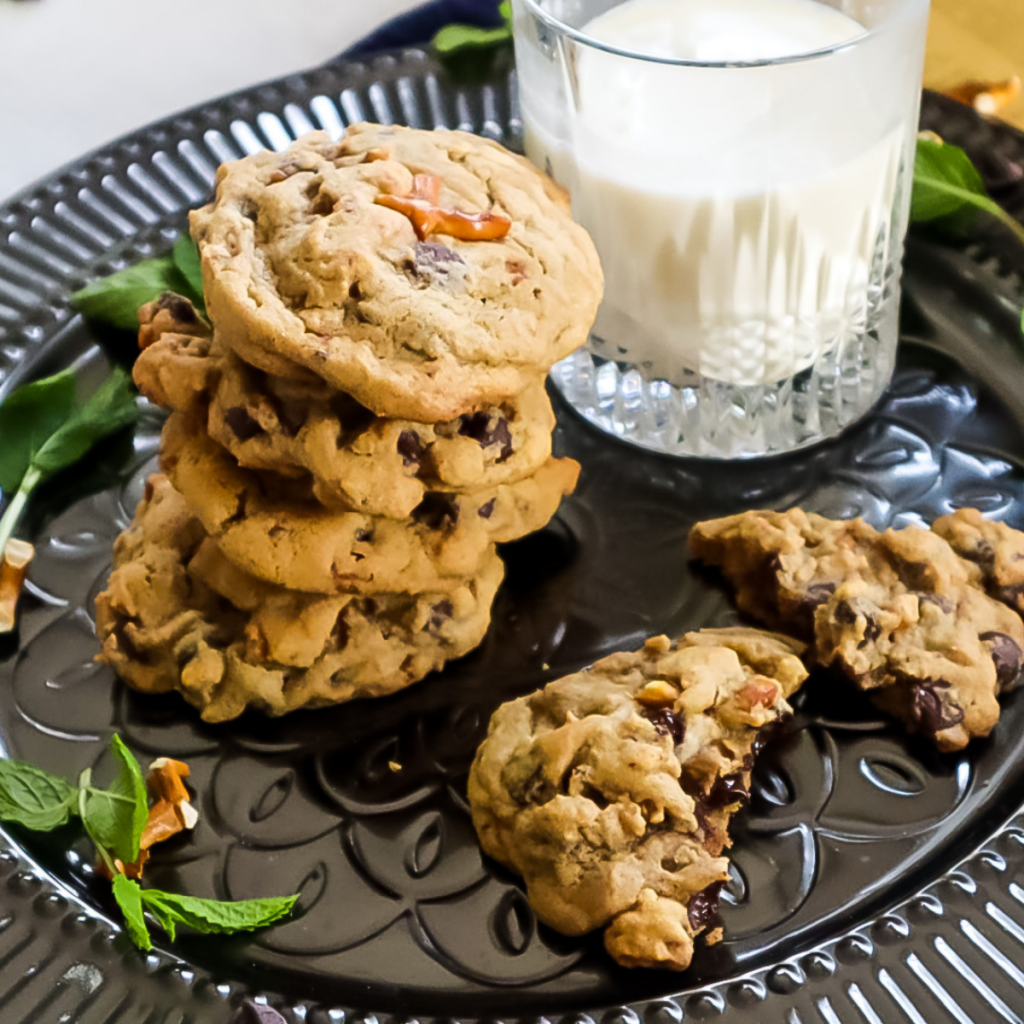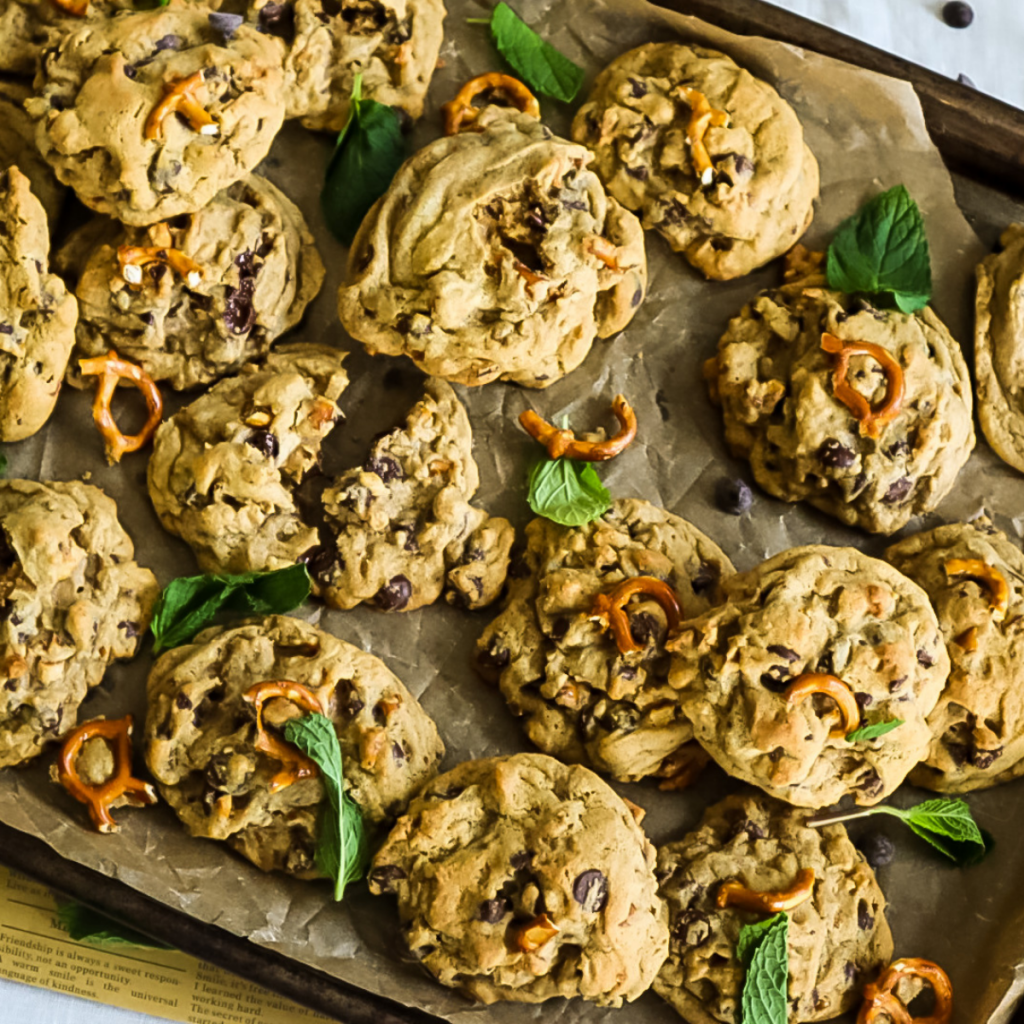 Pretzel Chocolate Chip Cookies
Soft baked chocolate chip cookies made with dark brown sugar and crushed pretzels.
Ingredients
2 1/4

cups

flour

1

tsp

salt

1

tsp

baking soda

1

cup

butter- softened

3/4

cup

dark brown sugar

3/4

cup

granulated sugar

1

tsp

vanilla extract

2

cups

semi sweet chocolate chips

2

large

eggs

1

cup

crushed pretzels
Instructions
Pre heat the oven to 375 degrees

In a small bowl whisk together flour, salt, and baking powder.

In a large mixing bowl add butter, dark brown sugar, granulated sugar and vanilla extract. Beat on medium speed until creamy. Next, add the eggs one at a time. Continue to beat until mixture is smooth. Turn the mixer to a low speed and slowly add the flour mixture. Beat until well combined. Last, add chocolate chips and pretzels. Mix well.

Line a cookie sheet with parchment paper. Using an ice cream scooper place dollops of cookie dough on the cookie sheet. Be sure to space them properly so they don't bake into each other.

Place in the oven and bake for 8 minutes for soft cookies and up to 10 minutes for crunchy cookies.
If you like this recipe, please leave a comment or share it with someone you know.
For more recipes like these try some of our other recipes:
To follow Nikki regularly and stay up to date on what she's doing, follow her on the gram!
Ingredient Lists:
flour
salt
baking soda
butter
dark brown sugar
granulated sugar
vanilla extract
semi sweet chocolate chips
eggs
pretzels