Pumpkin Risotto includes arborio rice, Italian sausage, sage, and pumpkin simmered with a blend of spices and then placed in a small pumpkin and baked in the oven until rice is tender.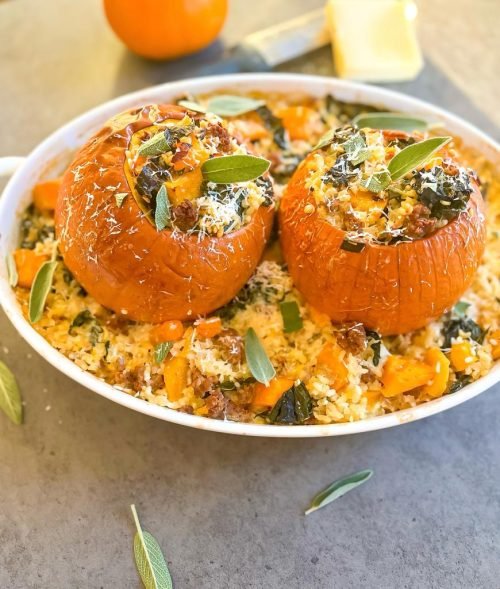 This is the perfect fall dish. You can make this as a main course, or as a side dish for Thanksgiving. The best part about this meal is that it takes very little time to prep and then while it's baking in the oven you can do other things.
Use whatever rice works for you and your preference. In this recipe I used an Arborio rice. Arborio rice is an Italian rice that has a starchy consistency. When cooked it soft and creamy.
To finish the dish I added some fresh Parmesan cheese.
I hope you enjoy this recipe. Please let me know if you have any questions.
To finish the dish I added some fresh Parmesan cheese.
I hope you enjoy this recipe. Please let me know if you have any questions.
If you like this recipe, please leave a comment or share it with someone you know.
For more recipes like these try some of our other recipes:
Avocado toast with smoked salmon and pickled onions
Lamb Bolognese
Smoked Salmon Salad
To follow Nikki regularly and stay up to date on what she's doing, follow her on the gram!
Ingredient Lists
Garlic
Shallot
Italian sausage
Arborio rice
Chicken broth
Heavy cream
Pumpkin or squash
Small pumpkins
Kale
Parmesan cheese
Sage leaves
Avocado oil
Salt and pepper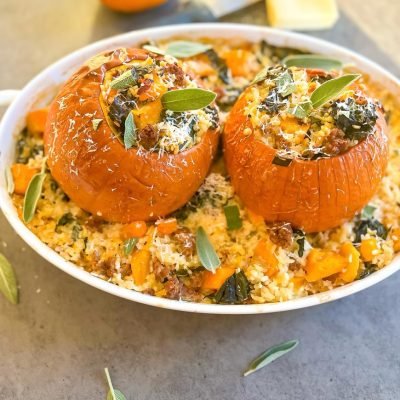 Pumpkin Risotto
Ingredients
1

clove

garlic, chopped

1

shallot, chopped

1/2

pound

of Italian sausage, removed from the casing

1

cup

of Arborio rice

4

cups

of chicken broth

1/2

cup

of heavy cream

1-2

cups

of pumpkin or squash, chopped

2

small pumpkins

1

bunch

of kale, chopped

1/4

cup

of parmesan cheese

1

tbsp

of sage leaves, chopped

avocado oil for drizzling

salt and pepper to taste
Instructions
Preheat the oven to 375 degrees. Using a knife, carefully remove the top of your pumpkins and scoop out the seeds. Save the seeds for another recipe (Spiced up pumpkin seed recipe).

Place a medium pan over medium-high heat. Drizzle the bottom with avocado oil. When the oil is hot, add the sausage and break it up into small pieces using a wooden spoon, then cook until brown.

Next, add the shallots and garlic and saute for one to two minutes until soft and fragrant. Add the squash or pumpkin pieces and saute for about five minutes until nice and soft. Add the kale and Arborio rice, season with salt and pepper, and sauté for a few minutes.

Add your chicken stock and bring the mixture to a boil. Remove the pan from the heat. Using a spoon, scoop your rice mixture into each pumpkin.

Place the pumpkins in a baking dish and cover the bottom with any remaining rice mixture. Place the baking dish in the oven for 30 to 40 minutes, or until the rice is tender. Remove it from the oven and add the heavy cream and cheese. mixed together and placed back in the oven for five minutes.

To serve, remove the dish from the oven. Sprinkle with extra cheese , if desired. Sprinkle with sage and serve. Enjoy it!