Halloween is the time of year for fun and festive food and festivities. Spiced-up pumpkin seed is one of my favorite snacks during the fall season. It brings me back to my childhood and reminds me of when I used to carve pumpkins with my family and then cook the seeds. My mom always made the best pumpkin seeds.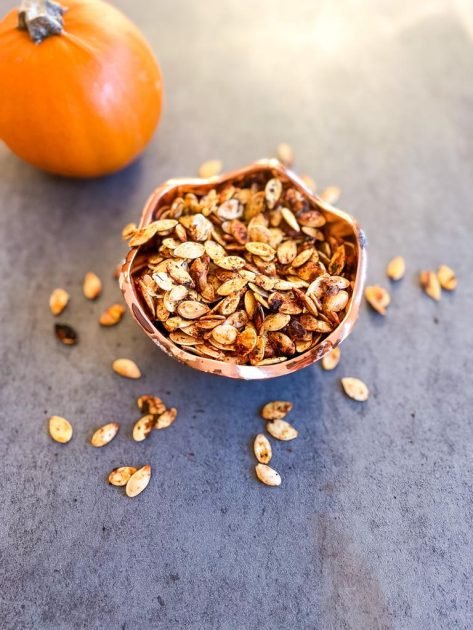 Trying to follow suit, I make this tasty and flavorful version.
Did you know how many health benefits pumpkin seeds contain a number of health benefits. Including being full of antioxidants, may help reduce certain cancers, is high in magnesium and may help stabilize your sugar levels.
These seeds are the perfect snack option when you're hungry and on the go. Keep them in your purse and snack on them when needed. You can also give them to your kids for a fast and healthy snack option.
I hope you enjoy this recipe as much as I do!
If you like this recipe, please leave a comment or share it with someone you know.
For more recipes like these try some of our other recipes:
To follow Nikki regularly and stay up to date on what she's doing, follow her on the gram!
Ingredient Lists
Pumpkin seeds from a fresh pumpkin
Paprika
Salt
Cayenne powder
Turmeric
Garlic salt
Onion powder
Parsley
Avocado oil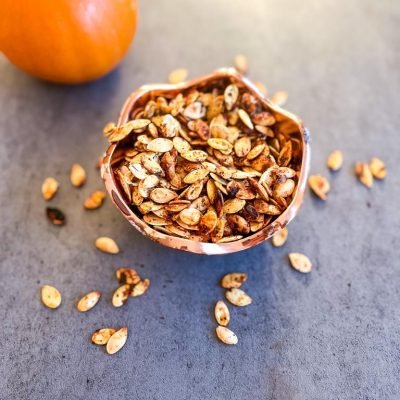 Spiced up pumpkin seed
Ingredients
1

cup

of pumpkin seeds from a fresh pumpkin 

1

tbsp

of paprika

1

tsp

of salt 

1/8

tsp

of cayenne powder 

1

tsp

of turmeric

1

tbsp

of garlic salt

1

tsp

of onion powder

1

tsp

of parsley 

avocado oil for drizzling
Instructions
Preheat the oven to 375 degrees. Place all of your seasonings in a bowl and mix well.

Wash and rinse your pumpkin seeds to remove any pulp. Place the pumpkin seeds on a baking sheet and cover with parchment paper. Drizzle with avocado oil and sprinkle with seasoning salt.

Using your hands or a spoon, mix the seasoning all over the pumpkin seeds. 

Place the pumpkin seeds in the oven for about 20 minutes, or until brown and crispy. Remove the pan from the oven and serve immediately.