Chicken and vinegar is a fresh free-range chicken browned to perfection and then simmered with tender vegetables and a delicious sauce.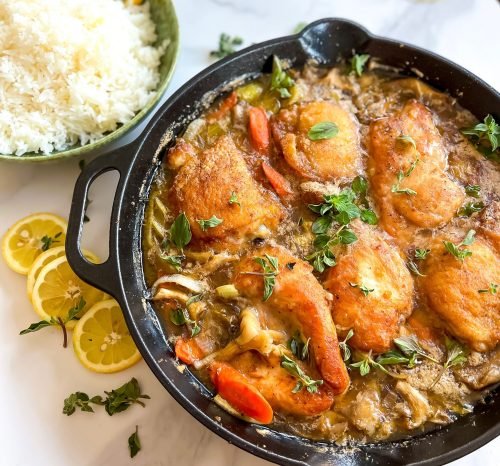 This recipe was a staple in our house when I was younger. This recipe was passed down from my Italian grandfather's family. My Oma made this for us regularly and so did my mom. It's one of my favorite recipes to make because it's incredibly easy and requires minimal, whole ingredients.
This one pot recipe is easy to make during the week when time is limited. Make this recipe when your stomach is bothering you, or when you're looking for food that is clean and healthy. This recipe is the definition of anti-inflammatory.
Serve with a side of brown or white rice. Make extra to have leftovers during the week.
If you like this recipe, please leave a comment or share it with someone you know.
For more recipes like these try some of our other recipes:
To follow Nikki regularly and stay up to date on what she's doing, follow her on the gram!
Ingredient Lists:
boneless skinless chicken breast
skin on chicken thighs
carrots
celery stalks
onion
chicken stock or chicken broth.
red wine vinegar.
cassava flour
organic seasoning salt.organic white rice
filtered water
Avocado oil
salt and pepper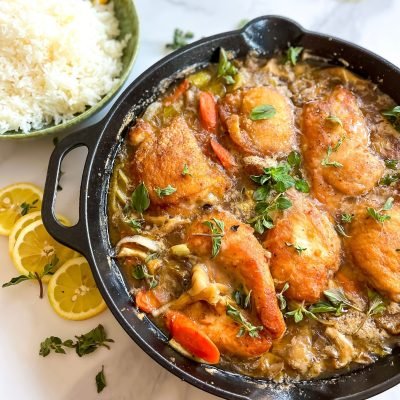 Chicken and vinegar
Ingredients
1

package

of boneless skinless chicken breast

1

package

of skin on chicken thighs

3

pieces

carrots, washed and roughly sliced.

3

pieces

celery stalks, washed and roughly sliced.

1

piece

onion, peeled and sliced

2

cups

of chicken stock or chicken broth.

1/4

cup

of red wine vinegar.

1

cup

of cassava flour

2

tbsp

of organic seasoning salt.

1

cup

of organic white rice

2

cups

filtered water

Avocado oil for drizzling

salt and pepper to taste
Instructions
Place cassava flour in a large bowl and mix in seasoning salt. Dredge the chicken on both sides and place it on a clean plate until ready to use.

Heat a large pan over medium heat and drizzle with avocado oil on the bottom.When the pan is hot, place the chicken skin side down and brown on both sides, about four minutes on each side.

When the chicken is brown, remove it and place it on a clean plate. In the same pan,add in your onions, carrots, and celery. Season with salt and pepper and saute for a few minutes until lightly tender.

Next, add your chicken back into the pan and pour your chicken stock and vinegar over top. Bring this mixture to a boil and then cover and reduce the heat to about medium low. Let the chicken simmer for about 20 minutes, or until fully cooked. While the chicken is cooking, make your rice.

Add rice to a medium pot and cover with water. Bring the mixture to a boil over high heat and then cover the pan with a fitted lid. Reduce the heat to low and let it steam for about twelve minutes.

When the chicken is fully cooked, remove the lid and taste the sauce. Add salt and pepper as needed for taste. To serve, place the rice on a plate and add chicken. Pour sauce and vegetables over top. Enjoy.