Homemade Pepperoni Pizza is a buttery homemade pizza dough, fresh tomato and basil sauce, and all your favorite toppings create this gorgeous pizza!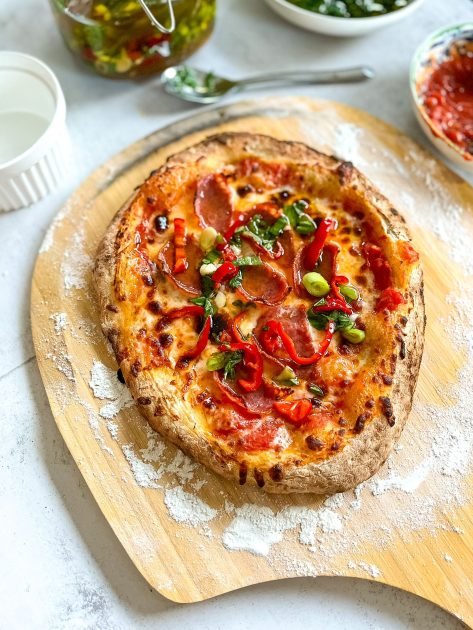 Who doesn't love fresh homemade pizza at home. Making your own dough and sauce will ensure you can enjoy a "clean" version of pizza and not feel the guilt afterwards ;).
I used a 00 flour imported from Italy, so it's quality flour and tastes just like it would if you were eating it from an Italian pizzeria.
Making pizza is easier than you think and once you create your first pie you will never want to order in again!
If you like this recipe, please leave a comment or share it with someone you know.
For more recipes like these try some of our other recipes:
To follow Nikki regularly and stay up to date on what she's doing, follow her on the gram!
Ingredient Lists:
double 00 flour
filtered water
active dry yeast
sea salt
Olive oil
Crushed organic tomatoes
basil leaves
garlic
salt and pepper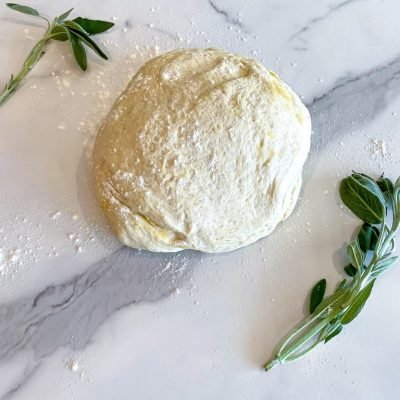 Pizza dough
Ingredients
2

cups

of double 00 flour.

2

cups

of lukewarm filtered water.

1

tbsp

of active dry yeast

1

tbsp

of sea salt 

Olive oil for drizzling
Instructions
In a large bowl, place the Double O flour, salt, and yeast. Mix well with a fork.

Slowly pour in your filtered water a little at a time while you continue mixing with your fork. Make sure not to oversaturate the dough with water if you want your dough to be nice and firm, but not sticky and not too dry.

Using your hands, start kneading the dough as you're adding water until the desired texture is formed. Once you have a ball of dough formed, place it on a floured surface, and using your hands, start kneading. Push the dough away from you and then pull it back towards you. Continue this process for about five to seven minutes.

Add flour if necessary if the dough is too sticky and add a little bit of moisture if the dough seems to be too dry.

When you are done kneading the dough, place it in a large bowl and drizzle it with olive oil. Allow the dough to rise in a dark place, covered. And then after that, let the dough rise for one to four hours. The longer you let it rise, the better the dough will be.

When the dough is done rising, cut the dough into four separate balls and place them on a cookie sheet. Let the dough sit for about 30 minutes before you're ready to use it.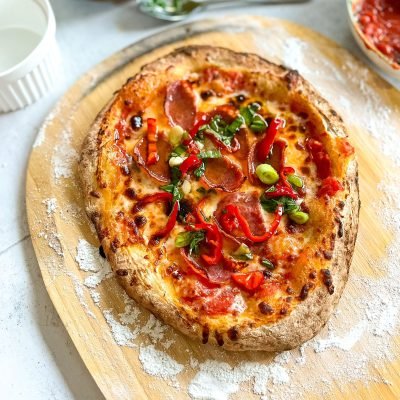 Pizza Sauce
Ingredients
2

jars

crushed organic tomatoes

1/2

cup

of a of basil leaves

3

cloves of garlic.

Olive oil for drizzling

salt and pepper to taste
Instructions
Place a medium pot over medium heat. Drizzle the bottom with olive oil and add your garlic cloves and basil. Saute for a few minutes.

Add in your crushed tomatoes. Season with salt and pepper.

Bring to a boil and cover with a lid. Reduce heat to medium low and let simmer for 20 to 30 minutes.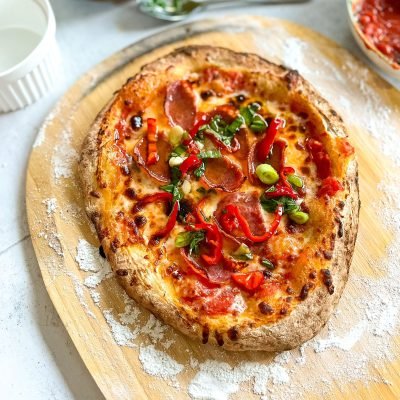 How to put your pizza together
Toppings:
Add your favorite toppings to the pizza. Some of my favorites are Buffalo mozzarella, shredded mozzarella, Parmesan cheese, pepperoni, sausage, chicken, pesto, jalapeños, chilies, etc. The possibilities are endless.
Instructions
Place one ball of dough on a floured surface. Using your hands, press it into a circle. Using a rolling pin, roll it into the desired shape and size. 

Drizzle with a quarter cup of tomato sauce, then top with your favorite cheese and toppings.

You can place the pizza in a pizza oven and cook until the dough is golden brown and the cheese is melted. Or, you can place it in a pre-heated 500° oven and bake until the crust is golden brown and the cheese is melted. Enjoy!