Oma's Arugula Salad is a fresh salad with mixed greens, red onion, cherry tomatoes, and avocado with a delicious and flavorful anti-Inflammatory dressing. My Oma, which means grandmother in German, passed down this recipe. It is a staple in our house, and I make this salad at least a few times a week.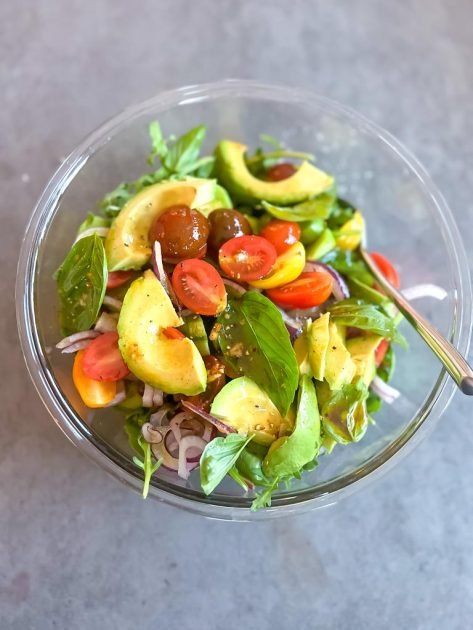 Oma's Arugula Salad was a part of almost every meal growing up. The dressing brings me back to her dinner table as a kid when we were all together as a family enjoying a beautifully made meal.
What I love about Oma's Arugula Salad is it's so fresh and tasty. Made with lemon juice, fresh olive oil, and a blend of seasonings, the dressing is great for any salad you want to create.
Use an array of different vegetables in this recipe. Diversity is great for gut health. One of my favorite veggies to add in are any type of radish. The radish adds a crunch and peppery flavor to the salad.
If you like this recipe, please leave a comment or share it with someone you know.
For more healthy options try some of my other recipes:
To follow me regularly and stay up to date on what I am doing, follow me on the gram!
Ingredient Lists
Baby arugula
mixed greens
Cherry tomatoes
Red onion
Avocado
Persian cucumbers
Carrot
Basil leaves 
Olive oil
Lemon juice
Liquid aminos (Braggs brand)
Paprika
Garlic salt
Salt
Pepper
Turmeric
Oma's Arugula Salad
Ingredients
2

cup

of baby arugula

2

cup

of mixed greens

1

cup

of cherry tomatoes, cut in half

1/2

red onion, sliced

1

avocado, sliced

3

persian cucumbers, peeled and sliced

1/2

cup

of carrot, shredded

1/4

cup

of basil leaves 
Dressing
1/2

cup

olive oil

1/4

cup

lemon juice

1/4

cup

liquid aminos

1/2

tsp

paprika

1

tsp

garlic salt

1

tsp

sea salt

1/8

tsp

pepper

1/8

tsp

turmeric
Instructions
Place the greens in a large bowl, and add the tomatoes, onions, carrots, and cucumbers.

In a small bowl, whisk together the ingredients for the dressing. Start with olive oil and lemon juice, then add liquid aminos and seasonings. Mix well and taste.

Add a touch more seasoning as needed for the dressing and toss over your salad. Add the avocado slices and basil and mix again. Serve and enjoy!