Minestrone Soup is a fresh tomato broth with an assortment of vegetables, pasta, and spices. This soup is an Italian classic and has been made by families for years.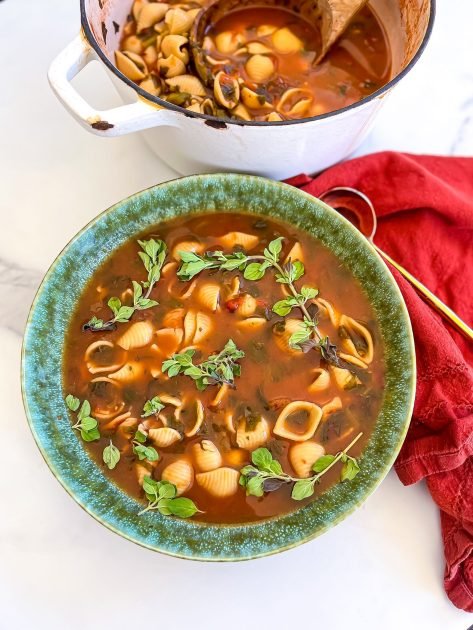 I have put my own little spin on this traditional recipe.
What I love about minestrone soup is that it can be made in a dash and uses an assortment of different ingredients. I will take a look at what's in my fridge and make my soup based on what I have available.
Feel free to substitute certain ingredients for your preference. Serve this warm and hearty classic with fresh bread (gf or regular) and Parmesan cheese. It takes the dish to the next level.
I hope you enjoy!
If you like this recipe, please leave a comment or share it with someone you know.
For more recipes like these try some of our other recipes:
To follow Nikki regularly and stay up to date on what she's doing, follow her on the gram!
Ingredient Lists
Chicken broth
Whole tomatoes
Zucchini
Potato
Oregano
Garlic
Pasta shells gluten free or regular
Red pepper
Kale or other grains
Salt and pepper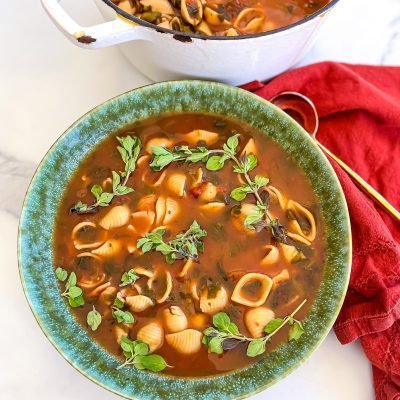 Minestrone Soup
Ingredients
4

cups

of chicken broth

1

jar

of whole tomatoes 

1

zucchini, halved and sliced

1

potato, peeled and cut into chunks

3

sprigs

of oregano

2

cloves

of garlic, chopped

1

package

of pasta shells, gluten free or regular

1-2

tbsp

of crushed red pepper ( optional )

1

bunch

of kale or other greens, chopped

salt and pepper to taste
Instructions
In a large pot over medium-high heat, add chicken stock and crush the tomatoes with your fingers as you pour them into the chicken stock. Bring to a boil and add potatoes, pasta, zucchini, garlic , greens, and oregano sprigs. Bring the mixture to a boil over medium-high heat, then reduce to medium-low heat.

Let it simmer for about 15 minutes, or until the pasta and vegetables are tender. When all the ingredients are cooked, taste and add salt and pepper as needed.

At this point, you can add the crushed red pepper, taste again, and adjust the seasoning as needed. 

Remove the oregano sprigs and ladle into individual bowls. Serve hot. You can also add grated parmesan cheese to finish the dish if you desire.